Short Distanced Food Hunt: What to Eat in Yew Tee
Two Grub Places in Yew Tee
Craving for a specific cuisine is hard to come by whenever you are in a cramped area. Are you limited to your place? Do you want to explore and experience the rich Asian culture out there? Well, we have good news for you!
Yew Tee is a place for a new food experience for everyone. For those who do not know Yew Tee, this is a subzone and residential area within the town of Choa Chu Kang. Choa Chu Kang can be found in the West part of Singapore.
Yew Tee is a place full of housing and development board flats. In addition, this place is full of private condominiums for you to enjoy.
This town started with 300 families, which consisted of small-time farmers. With the influence of modernization, Yew Tee grew as a small subzone under Choa Chu Kang.
Yew Tee got its definition from its rich history. Before it was a town, Yew Tee was a place for MRT or MASS Rapid Transit. First, Choa Chu Kang was its name. Then, it functioned as a place for the village's MRT station.
This name came from Teochew, which translates to oil pond. It is because this village was the oil storage during the Japanese occupation.
Currently, Yew Tee is the home of several short distanced food places. Most of these places are in Yew Tee Point and Yew Tee Square. These two areas cater to customers to the extent that they want to go back. So let's find out what to eat in Yew Tee.
Yew Tee Point
Yew Tee Point is in the north-western part of Singapore. This place is a summary of vibrant suburban food and lifestyle. With the help of the Yew Tee MRT station and the Kranji Expressway, Yew Tee Point is accessible.
This place points you in the right direction. Why? This is due to the different supermarkets and food courts that are here! This 2-story mall offers a plethora of lifestyle, fashion, food, and other services for you!
If you are longing for some of the bests food stalls in Yew Tew, worry no more since we have the right guide for you!
Credit: https://www.channelnewsasia.com/singapore/teenager-broke-into-yewtee-point-to-steal-drink-subway-kfc-857876
Fish & Chicks
Are you tired of the same old bland fast-food restaurants near you? All those typical western-style food that tastes bland are not enough for you? In what to eat in Yew Tee, Fish & Chicks provides solutions to both of these problems.
Fish & Chicks offers an exciting new Asian-infused Western food. All the juices and the savouriness of both cooking styles are present in Fish & Chicks' menu. Who would not want a unique experience of cuisine?
Best of Both Worlds
The word best describes something as the pinnacle of a particular trait. Since there are many traits available, what a surprise it is to find something better.
The Best of Both Worlds is a dish for those who want more. This dish contains not only one but two of Fish & Chicks' signature Fish & Chips.
You might be wondering, what is the big deal for a simple Fish & Chip? Imagine two large fried fishes which have different sauces on them. Next, add another special sauce to mix with the overwhelming sauce that this dish started. Their most popular sauces include the salted egg and the chilli crab. Now add crispy and juicy fries. Finally, add macaroni to serve as its side dish.
At first glance, you can smell the tempting aroma of the dish. Then, you will notice the dish's theme based on the sauce that you picked. Finally, when you start to take a fry and dip it in the sauce, the only emotion that you will feel is joy.
Then, you will take a bite of the fish drenched in special sauce. You can taste the variety of spices blooming and sprouting inside your mouth. Then, you will take another bite. The macaroni serves as a foundation for the tremendous flavour within the dish. It caters to the flavours and provides you with a steady pace of taste.
Best of Both Worlds is one of Fish & Chicks' best dishes. Be sure to visit Fish & Chicks for your Asian and Western-style food cravings.
Credit: https://food.grab.com/sg/en/restaurant/fish-chicks-yew-tee-point-delivery/SGDD08136
San De Green Vegetarian
San De Green Vegetarian is another great restaurant on what to eat in Yew Tee. Based on the restaurant's name, this place specializes in vegetarian dishes. This restaurant is perfect for all the health-conscious people out there!
Economic Bee Hoon
The word economic relates to acquiring something with justified profitability. This dish is sure to offer you a mix of nutrients and tastes. Most Bee Hoon present in Chinese style contains meat for their toppings. Do not worry because even though this dish does not have meat, this dish provides a whole new level.
The collection of vegetables and the consistency of the noodles are exquisite. With the addition of side dishes, this dish is the perfect rice noodles for people who want to be healthy.
This dish also features San De Green Vegetarian's special sauce. When you mix it with the Bee Hoon, you will not notice the lack of meat due to the burst of flavour of the sauce.
Credit: https://www.happycow.net/reviews/san-de-vegetarian-north-singapore-71129
Boon Lay Power Nasi Lemak
Boon Lay Power Nasi Lemak is another restaurant in Yew Tew Point. Currently, this restaurant has a very good reputation since it started way back in 1971. Based on its name, this restaurant is famous for its Nasi Lemak.
Nasi Lemak
An assurance in capturing the authenticity of Boon Lay Power Nasi Lemak's Nasi Lemak is there. You do not have to worry because they did not change their traditional way of preparing this dish.
The Nasi Lemak is a simple dish with an authentic taste. This dish includes a chicken wing, ikan, bilis, sambal, and a fried egg. It sounds simple. Yes, and the simplest dishes are the ones hardest to perfect.
Boon Lay Power Nasi Lemak, with their decades of experience, perfects the Nasi Lemak in every way. The single bite of the chicken dipped in their special sauce is enough for you to ask more. It has this unique taste of saltiness and savouriness. It also has the peanut flavour mixed into it to provide a complete meal.
This restaurant has other dishes on its menu but makes sure to try their world-famous Nasi Lemak.
Credit: https://www.misstamchiak.com/boon-lay-power-nasi-lemak/
Yew Tee Square
If you have already explored Yew Tee Point or want to venture into Yew Tee, you should visit Yew Tee Square! Yew Tee Square is right next to the Yew Tee MRT Station. The placement of this location is easy to find since it is near the station.
Yew Tee Square has a wide range of goods and services for you to enjoy. You name it, from food stalls to different kinds of shops, you can find them all here!
Of course, the main attraction in Yew Tee Square is the food places.
Credit: http://foodkmaestro.blogspot.com/2012/10/a-tribute-to-yew-tee-my-home.html
The Pau Shop By Kopitiam
Are you tired from walking and need a simple break? Well, The Pau Shop By Kopitiam is the perfect place for you! This restaurant offers snacks and beverages for your food break.
This place offers Paus and beverages perfect for your Asian snack desires. A restaurant to add to your list on what to eat in Yew Tee.
It is a given that those products in the name of the restaurants are the most popular and profitable ones. The Pau Shop By Kopitiam lives on to that statement with the variety of Paus. Paus, in simple terms, are Asian hot buns. These buns contain different flavours based on the fillings inside.
Pork Bau
Pork Bau is the restaurant's most famous bau. With a simple bun, you will be full not only in the stomach but also in your heart. This is due to the softness and the savouriness of the snack. Now, pair this with their signature Iced Teh; that is the perfect snack break for you.
With its low price and big size, this snack is profitable in every way imaginable. Moreover, you do not have to worry about the filling ratio and the bun since every bun contains many flavours.
This restaurant also offers delivery to your home with the closest The Pau Shop By Kopitiam near you!
You can also enjoy their Chicken Bau for those who prefer it. They also offer Char Siew pau and many more! You do not have to worry about getting a good beverage for their beverages since all their drinks are great. You will not run of beverages to enjoy, from their famous Iced Teh to the simple Iced Milo.
Credit: https://www.foodpanda.sg/restaurant/y9hr/the-pau-shop-by-kopitiam-735-pasir-ris
Ming Kitchen
If you are looking for a big meal, Ming Kitchen is the best restaurant in Yew Tee Square. This restaurant features different specialities like Baked Salted Egg Crab.
Ming Kitchen also specializes in seafood cuisine. So you do not have to worry about your seafood desires. This restaurant will please them all.
Baked Salted Egg Crab
One of their bestsellers is the Baked Salted Egg Crab. This dish will surprise you in every way! This dish is exquisite, from the sauce and the exquisite salty taste of the crab to the smoothness of the salted egg!
The first sight of the dish will capture your appetite due to its savoury colour. Next, the aroma of the Baked Salted Egg Crab will capture you for excitement. Then, after longing to taste the dish, you will finally experience the dish's flavours.
The first bite is enough for the dish to capture you. After that, the burst of the saltiness of the crab will entice your taste buds to ask for more. Due to the use of an oven to bake the dish, you will also enjoy the softness of the crab. You do not even have to worry about breaking the shell since this dish's crabs are so soft that you can open them.
This dish is not complete without rice. you can order different types of rice. You can choose from Venison Fried Rice, Beef Fried Rice, or top it off with a Seafood Fried Rice. The Baked Salted Egg Crab is enjoyable with any of these rice. The choice is up to you!
Let us get this straight: Baked Salted Egg Crab is the best restaurant for you for your seafood needs. This restaurant also provides delivery for you to enjoy their cuisine in your home.
Credit: https://food.grab.com/sg/en/restaurant/ming-kitchen-seafood-%E5%90%8D%E5%8E%A8%E7%85%AE%E7%82%92-woodlands-link-delivery/SGDD12002
Ah Chew Yong Tau Foo
Ah Chew Yong Tau Foo is another excellent restaurant in what to eat in Yew Tee. This restaurant is for those who want to experience the authenticity of a restaurant.
This restaurant features three sets in its menu. Set A, B, and C. These sets are customizable for those who want certain adjustments in their food.
Set A is for those health-conscious people. This set includes a hard-boiled egg, fishball, tofu with fish paste, xiao bai cai, and enoki mushroom. The set is perfect for those who want to experience healthy Chinese cuisine.
If you are want to enjoy the perfect set of Chinese meat cuisine, Set B is for you. It includes fried pork, fried wonton, fried luncheon meat, and tofu with fish paste. Some would say that this set is for your cheat meal, but this is the perfect definition of Chinese meat.
Finally, Set C is the combination of Set A and B. This set provides a healthy amount of Set A's and Set B's dishes. The set includes fried pork ball, fried bean sprout, tofu with fish paste, and enoki mushroom. Set C is perfect for every Chinese food lover!
You might be asking why this restaurant only serves sets on their menu. You can also order specific dishes. Sets are a must to experience authentic Chinese food.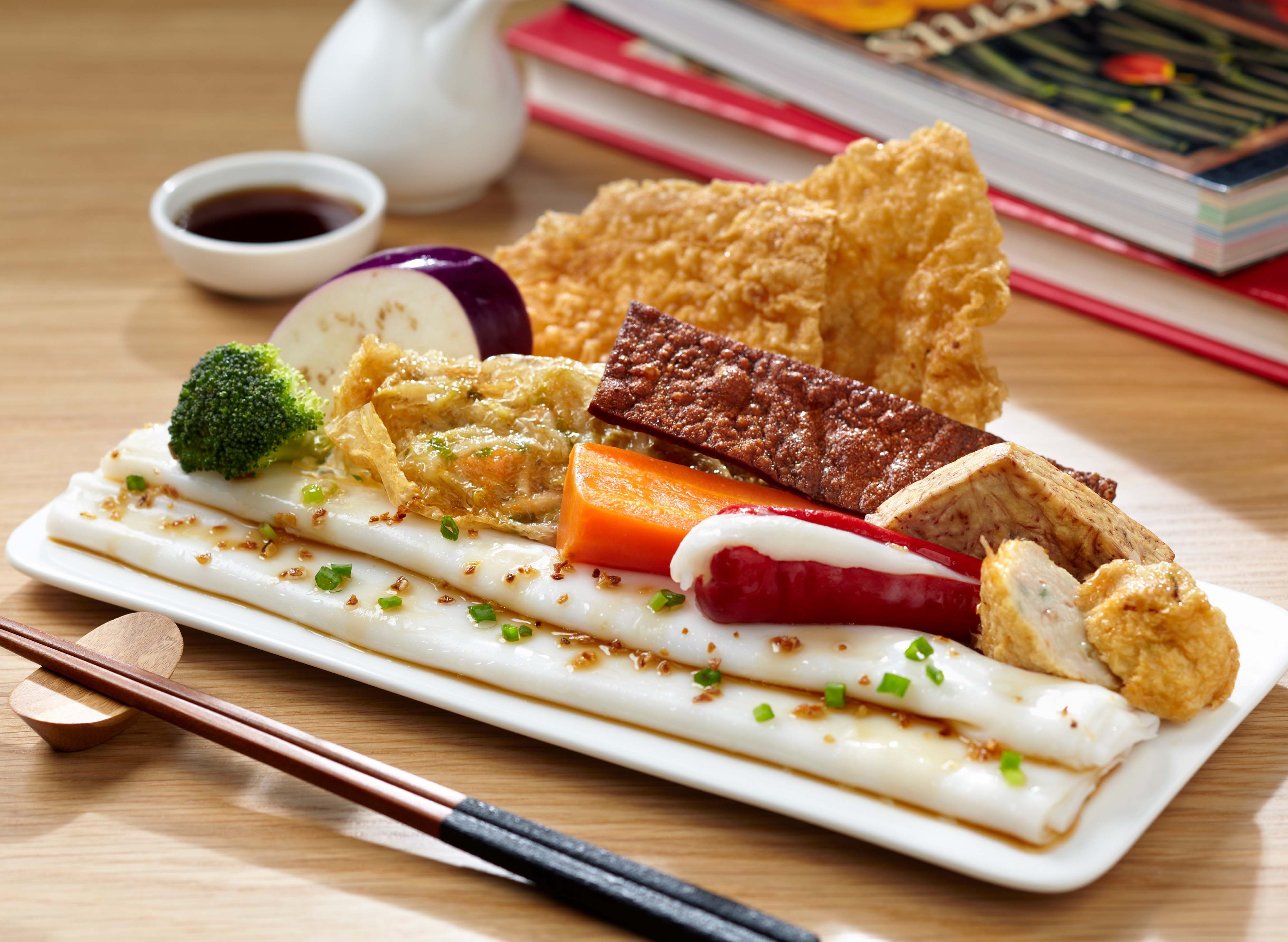 Credit: https://www.foodadvisor.com.sg/eatery/ah-chew-yong-tau-foo/
Conclusion
Yew Tee is an excellent place for your food longings. This place is for you, from the modern style of Yew Tee Point's restaurants to Yew Tee Square's restaurants. Different varieties of cooking styles are here to suffice all your longings. From Asian-Western-style to authentic Chinese-style, you can find something unique on what to eat in Yew Tee.
If you ever find yourself short on cash in your experience in Yew Tee, Cash Mart is here to help you! This licensed money lender enables you to get online loans for your needs! So be sure to check Cash Mart Singapore to avoid cashless and unenjoyable trips.