What to Eat in Tiong Bahru:

9 Must-Visit Restaurant
Tiong Bahru
It's impossible not to enjoy Tiong Bahru. Its old-fashioned charm and origins as one of the oldest housing estates make this quaint heritage neighbourhood an idyllic getaway. However, don't be fooled by its small-town charm. You'll find some of the island's most excellent cafes, restaurants, stores, and street art in this area. With our guide to Tiong Bahru, we point you to the best food destinations in what to eat in Tiong Bahru.
Credit: https://theculturetrip.com/asia/singapore/articles/the-top-10-things-to-do-and-see-in-tiong-bahru/
Tiong Bahru Bakery
An early Singaporean French bakery, Tiong Bahru Bakery opened in 2012 on Eng Hoon Street in Tiong Bahru.
As one of Singapore's first French bakeries, Tiong Bahru Bakery changed how Singaporeans enjoy bread. Tiong Bahru Bakery helped set the trend in French bakeries and added what to eat in Tiong Bahru.
Located in the heart of Tiong Bahru, Tiong Bahru Bakery serves a wide variety of freshly baked bread and pastries. Tiong Bahru Bakery croissants are considered the best in Singapore by many.
You'll immediately notice the blonde wood furniture and dusky olive accents. The decor warmly greets you as you enter the bakery. The cafe's unassuming and sophisticated design could not be more perfect. Several tables make it easy for tourists and regulars to sit down and relax.
They packed the place with young Singaporeans and ex-pats during weekday lunches and weekend brunches. In addition, many students and residents enjoy sipping coffee in the wee hours while working on their laptops.
Despite its Singaporean name, the bakery offers French pastries and bread with unusual ingredients like squid, turmeric, and arugula.
Regulars of Tiong Bahru's bakery enjoy Kouign Amann, a buttery sandwich pastry with many layers and almond croissants stuffed with frangipane. Here's a list of must-try pastries at Tiong Bahru Bakery.
Round Lemon Tart
Almond Croissant
Apple Crumble
Chocolate Croissant
Pandan Flan
Squid Ink Baguette
Fromage Blanc
You can find Tiong Bahru Bakery at 56 Eng Hoon Street #01-70. Open daily from 7:30 AM to 8 PM.
Credit: https://sgmagazine.com/restaurants/news/grab-sourdough-croissants-and-picnic-sets-new-tiong-bahru-bakery-foothills
Plain Vanilla Bakery
Another bakery in Tiong Bahru, Plain Vanilla Bakery, has one of the largest selections of baked goods, a daily brunch menu, and a complete range of grocery brands.
They offer a wide variety of products, but they make some of the best cupcakes in Singapore.
They offer a variety of cupcakes, including a variety of classics like:
Milk Chocolate Banana
Red Velvet
Dark Chocolate Ganache
Carrot
Strawberry White Chocolate
Milk Chocolate Chip
Chocolate Hazelnut
Cinnamon Brown Sugar
Cookies and Cream
Salted Caramel
Instead of pastries, you may also choose their breakfast menu or main dishes.
Plain Vanilla also sells home items like candles, room fragrances, jams, cups and glasses.
Visiting Plain Vanilla Bakery's store interior is a real treat. So, if you are usually on the lookout for a cafe where you can pull out your laptop, enjoy that perfect cup of coffee with friends and bask in the smell of freshly baked treats, this is the place for you on what to eat in Tiong Bahru.
You can find Plain Vanilla Bakery at 1D Yong Siak Street from 8 AM to 7 PM.
Credit: https://www.tripadvisor.com.ph/Restaurant_Review-g294265-d10748052-Reviews-Plain_Vanilla_Bakery-Singapore.html
Tiong Bahru Galicier Pastry
Tiong Bahru Galicier Pastry has been offering traditional handmade kueh since the 1970s. Currently run by the 4th generation of the family, this hidden gem is one of the oldest brands of traditional kueh on the island.
As the name suggests, Tiong Bahru Galicier Pastry provides a range of traditional pastries, cookies, and cakes.
Tiong Bahru Galicier often draws long queue times for its loyal customers, but its baked goods are worth waiting for.
On what to eat in Tiong Bahru, regulars will tell you that the Kueh Dadar is one of the must-try offerings. The coconut filling in these crepe rolls was exquisite. Just one bite into them, and you could taste the difference.
Its unique coconut filling with a white coating sets it apart from other kueh dadars. Instead of flavouring the grated coconut with gula melaka or palm sugar, Tiong Bahru Galicier Pastry used rock sugar.
Rock sugar helps it retain its original colour and provides a sweet taste that complements the pandan smell of the crepe.
It is moist without being too wet. With every bite, the nuts burst to life.
Tiong Bahru Galicier Pastry's Ondeh Ondeh are bite-sized sweetness-filled with melted gula melaka and generously slathered with coconut shavings.
The Lemper Udang, a roll of blue glutinous rice filled with hae bee hiam, is a wonderful savoury alternative to all that sugar.
This package of glutinous rice balls is made with just the proper ratio of glutinous rice to hae bee hiam, resulting in a crisp outer layer and chewy inside. The combination is an intriguing contrast of flavours and textures.
You can find Tiong Bahru Galicier Bakery at Blk 55 Tiong Bahru Rd, #01-39. From Monday to Saturday, 10 AM to 8 PM.
Credit: https://www.misstamchiak.com/tiong-bahru-galicier-pastry/
Drips Bakery
Drips Bakery Cafe, founded in 2010, is an artisanal café in the heart of Tiong Bahru. In addition to using the best ingredients, they also source exotic fruits from around the globe to offer the best flavour.
The decor in the store is minimalistic, with white walls and wooden flooring. Abstract paintings decorate the cafe wall and add colour.
In what to eat in Tiong Bahru, they're best known for their seasonal fruit tart. It combines the succulent sweetness of fresh fruits with the subtle flavour of vanilla-infused Madagascar custard. They tuck their tarts into a tart shell made from French butter that's carefully handcrafted.
Some other must-try tarts are:
Strawberry Tart
Lemon Meringue Tart
Mixed Berries Tart
Salted Chocolate Caramel
Dark Chocolate Tart
They also make a good cup of tea with their siphon technique that's not too acidic and lightly sweetened by the milk.
You can find Drips Bakery at 82 Tiong Poh Rd, #01-05. Open daily from 9 AM to 9 PM, except Friday and Saturday(9 AM – 10 PM).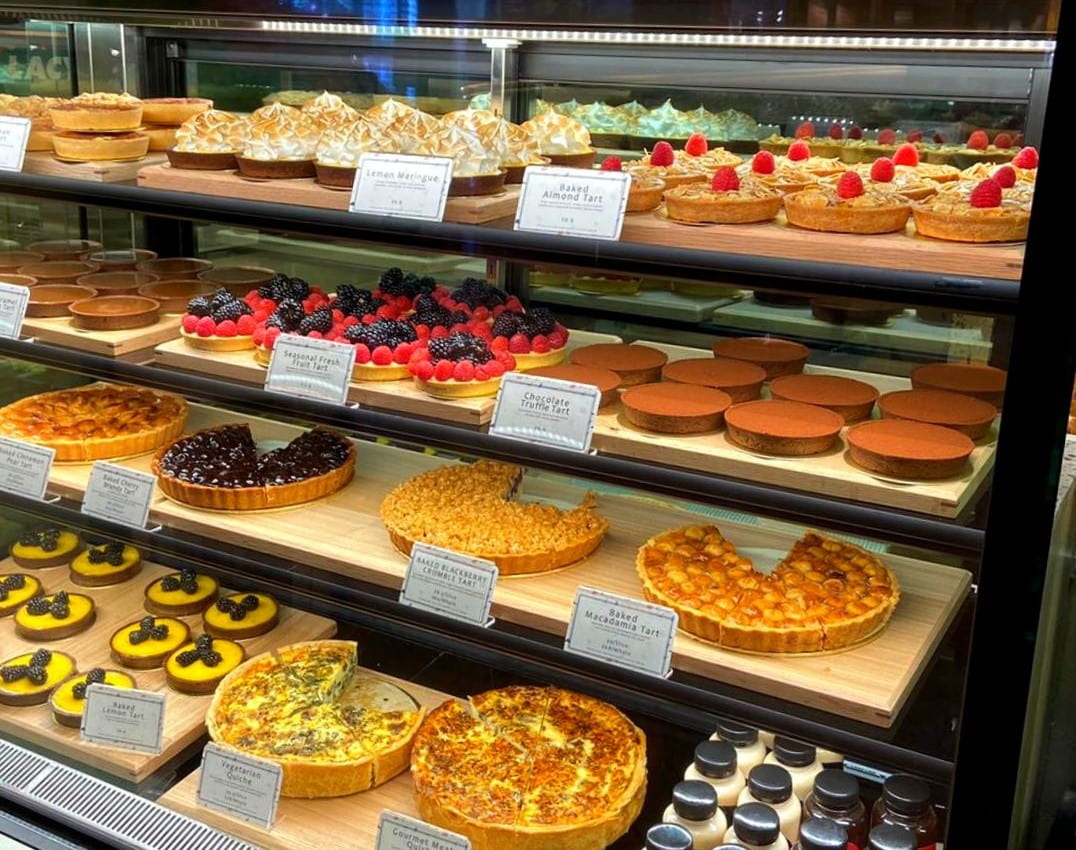 Credit: https://eatbook.sg/drips-bakery-ngee-ann-city/
Jian Bo Shui Kueh
A Michelin-recommended restaurant in Tiong Bahru, Jian Bo Shui Kueh, has served the renowned Chwee Kueh dish generation after generation since 1958.
Chwee Kueh is a simple dish from soft, smooth, steamed rice cake topped with oily preserved radish. Chwee Kueh or Shiu Kueh is a popular hawker dish in Singapore.
It is one of the best places to buy Shui Kueh on what to eat in Tiong Bahru.
Jian Bo still grinds its rice to make rice flour for their Shui Kueh. Jian Bo keeps this tradition, making their Shui Kueh so unique.
You can now find Jian Bo as kiosks in Nex, Century Square, and Seletar Mall. But if you stumble around Tiong Bahru, you must visit Jian Bo's original stall in Dish the Fish, Tiong Bahru Food Centre.
They included Jian Bo Shui Kueh in the Singapore Michelin Guide. Reviewers have called this restaurant Singapore's best Chwee Kueh.
You can find Jian Bo Shui Kueh at DIsh the Fish, 30 Seng Poh Rd, #02-05. Open daily from 6:30 AM to 9 PM.
Credit: https://thedeadcockroach.blogspot.com/2016/08/jian-bo-shui-kueh-tiong-bahru-market.html
40 Hands
In Tiong Bahru, 40 Hands is an Australian brunch cafe that first opened in Tiong Bahru. The company opened a second outlet on the East Coast, aligning its menu with local delicacies.
The café was named 40 Hands because 20 people take forty hands to grow the coffee from bean to cup.
The café also serves breakfast items such as granola, smashed avocado on toast, eggs benedict, and banana bacon French toast.
Asian influences are evident in the Banh Mi Bown and the Stinky Har Cheong Gai Waffle, their signature dishes.
They also have a menu with Western influences.
For example, the Eggs Benedict with Grilled Bacon & Sautéed Spinach has plenty of bacon, spinach, and roasted potatoes. It was a straightforward dish, but it was well-prepared. The yolks are perfectly runny, and the bread is fluffy.
As for the Cubanos, the dish was bursting with flavours. It was spicy, tangy, savoury and sweet all at the same time.
40 Hands use Common Man Coffee Roasters blends to create their espresso-based coffee. It is a nutty and satisfying cup of coffee. Decent, but not much to satisfy fussy coffee lovers who prefer a more sophisticated profile.
Give the Shaken Iced Honey Oat Latte a shot when you're in 40 Hands—a drink from The Rare Honey Company, which boasts raw coaster wildflower honey.
You might also want to try the Iced Bubble Coffee infused with gula melaka for a taste of home.
You can find 40 Hands at 78 Yong Siak St., Open daily from 7 AM to 5:30 PM, except Saturday and Sunday(7:30 AM – 5:30 PM).
Credit: https://www.tripadvisor.com.sg/LocationPhotoDirectLink-g294265-d1959016-i440480824-Forty_Hands-Singapore.html
Chapter 55
Tiong Bahru's Chapter 55 café offers a wide selection of food and desserts. In addition, this restaurant offers a 1-for-1 lunch promotion on weekdays from 11:30 AM to 4 PM that delivers value for your money.
Damien Low's bistro cafe is named after its location in Block 55 and represents a new chapter in his life.
You can find a homey, rustic feel throughout chapter 55 and the Italian dishes it serves. You'll be reminded of home thanks to a red brick wall and wall paintings above the tables.
Adding on what to eat in Tiong Bahru, If you go to Chapter 55, you must try their Signature Gelato Waffle. It comes with up to 2 scoops of gelato of your choice.
The gelato ranges from smooth fruit to rich chocolate flavours like Ferrero rocher and Snickers. Chapter 66 also offers Alcoholic flavours like Champagne Vanilla and Lychee Martini. The Sundae come with fruits and marshmallows — $ 7 for a single-scoop sundae and $12 for double scoops.
Mao Shan Wang durian and Strawberry Cheese gelato is the best waffle seller. The satisfying richness and creamy texture blended with the fruits is a treat. In addition, the waffle is crispy on the outside and soft on the inside.
The restaurant is also widely regarded as Italian. They offer various Italian dishes like pasta, risotto, and pizza. Several of them were available as lunchtime specials during the week.
Despite the many cafes located around Tiong Bahru, Chapter 55 has proved itself. It attracts the office crowd despite their short operation schedule.
You can find Chapter 55 at 55 #01-37, Tiong Bahru Rd. Open on weekdays from 11:30 AM to 4 PM and 5:30 AM to 10:30 PM. They're open from 11:30 AM to 10:30 PM on Saturday and Sunday. 
Credit: https://www.epicureasia.com/dbs-1-for-1-deals/
Lor Mee 178
You should check out this stall if you're a Lor Mee lover.
Singapore's Michelin Guide lists Lor Mee 178 with a "Michelin Plate". In addition, they featured Lor Mee 178 often on local television.
A typical bowl of Lor Mee at Lor Mee 178 is a thick, flat yellow noodle dish with thick gravy.
The gravy at Lor Mee is not too starchy and has a smooth consistency. So slurping down a bowl wouldn't fill you up too much.
Sometimes, customers may feel that the basic $3 bowl is too plain because it lacks the usual ingredients, such as Ngoh Hiang, and they slice the braised pork belly thinly.
You may want to try the upgraded version topped with crispy fried shark fritters, making this dish stand out. Then, you could add the braised egg and fishcake to make the Lor Mee more satisfying.
Adding a drizzle of Chinkiang rice-based wine vinegar for spice lovers will add some sour notes. Sambal chilli and minced garlic will also enhance the savoury notes of the Lor.
You can find Lor Mee 178 on 30 Seng Poh Road, Tiong Bahru Market & Food Centre #02-23. They're open every day from 7 AM to 2:30 PM.
Credit: https://danielfooddiary.com/2019/06/13/lormee178/
Tiong Bahru Lee Hong Kee Cantonese Roasted
Be ready for a long line when you try Tiong Bahru Lee Hong Kee Cantonese Roasted.
A family-run business since 1969, they have already passed down four generations of roast meat expertise.
Their humble beginnings began as a pushcart stall before the government eventually established physical stalls in hawker centres.
The restaurant offers a wide selection of roast meat dishes paired with rice or noodles.
Lee Hong Kee Cantonese Roasted in Tiong Bahru serves delicious roast meats, particularly char siew and roast pork. The sweetness of its char siew comes from its charred marinade, and the meat is tender. A crisp and crunchy skin covers the tender roasted pork.
With their Char Siew Noodles, noodles are topped with delicious char siew, vegetables, and chilli sauce on the side. You will also receive a small bowl of pork wonton soup cooked with Ikan Bilis. The noodles are perfectly cooked. They also serve rice dishes as a substitute for noodles if that isn't your thing.
You can find Tiong Bahru Lee Hong Kee Cantonese Roasted on 30 Seng Poh Road, Tiong Bahru Market #02-60. They're open every day from 8:30 AM to 8:30 PM, except on Thursdays(closed).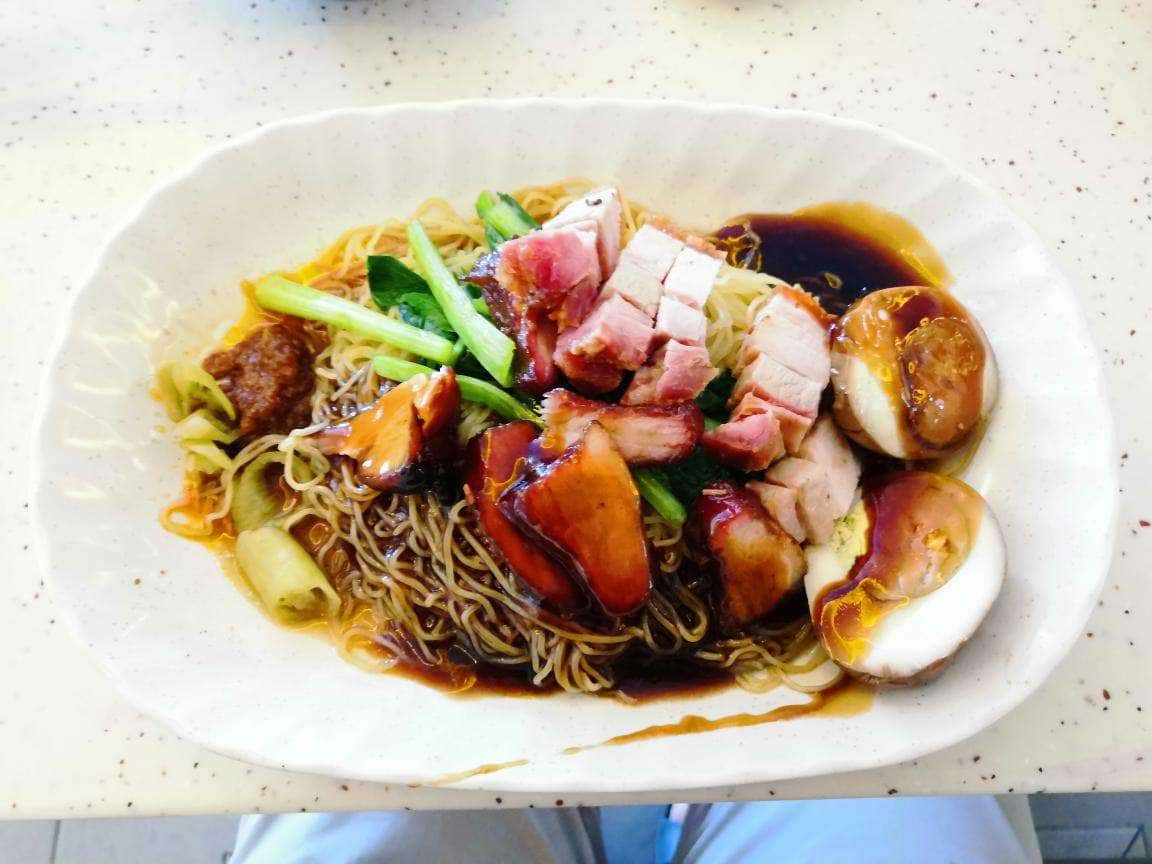 Credit: https://www.zomato.com/pl/singapore/tiong-bahru-lee-hong-kee-cantonese-roasted-bukit-merah
You can stay longer and enjoy the food with the help of Cash Mart. As a legit money lender, they can offer you different loan products such as Personal Loan and many more. There are so many places you can visit here in Tiong Bahru. Moreover, you can indulge in different treats such as delectable desserts and heartwarming meals around the area. 
Related Article: What to Do in Tiong Bahru: A Happy Day-Trip