What to Eat in Telok Blangah: Food Guide
Finding the best place to eat is sometimes tricky, especially if you have no idea which food you like. Fortunately, Singapore is bountiful with delicious cuisines locals and tourists love. One of the most visited areas of the country is Telok Blangah. Find out what to eat in Telok Blangah as you read along on this food guide. But before we delve deeper into that, let's know more about this part of Singapore. 
Telok Blangah
Telok Blangah is one of the many subzone regions of Singapore. The housing estate is right behind Keppel Harbour of Bukit Merah. In addition, it is a district between Tanjong Pagar and Pasir Panjang. 
During the olden maps, the name spelling of Telok Blangah differs. It can be Teluk Blanga, Teluk Belanga, and Teluk Blangah. Nevertheless, it all means the same part of the country. 
The area is quite popular in the neighbourhood. Therefore, the name itself is significant. In Hokkien, Teluk Blanga takes an alternative name of sit lat mng. Nevertheless, the name signifies "North-West gate" or "Singapore gate." 
In Malay, Telok means "bay," while Blangah means "a type of cooking pot." So if you combined these two words, it simply means a "cooking pot bay." That's why the name represents its shape. 
Furthermore, Telok Blangah takes pride in its name. Many food places bloom in the area. One of the most visited spots is Telok Blangah Crescent Food Centre. It is quite a big name in the area. Get to know more about what to eat in Telok Blangah are you continue reading.
Credit: National Parks Board
What To Eat In Telok Blangah Crescent Food Centre
Telok Blangah Crescent Food Centre caters to almost all of the resident's cravings. So whether you're feeling under the weather or just want to have something in particular, the food centre is the right place for you. 
The food stalls here serve various recipes you can imagine. It offers main dishes to sides and even desserts to cap off your supper. Find out what to eat in Telok Blangah that can satisfy your palate. Also, learn which among stall has long dinner queue. 
Fei Lou Porridge
Fei Lou Porridge is a prominent food stall that carries out a night business. Its best-selling menu brings out the comfort that most diners need. So if you want a warm bowl of porridge, you can get it here. 
The Century Egg Porridge is thick and flavorful. Every bowl has loads of century eggs and peanuts. Thus, making it stands out among other porridge selling stalls in the neighbourhood. 
The Boneless Chicken Wings is full of well-seasoned meat. The cooking process lets you sink in your teeth to savour all the taste. Fei Lou Porridge is an excellent choice if you're looking for the best crispy fried boneless chicken wings. 
However, you have to prepare yourself for the long lines. No worries. Locals flocking in the stall proves the excellent food taste of every dish.
Enjoy a spoonful of warm goodness at 11 Telok Blangah Crescent Food Centre, #01-116, Singapore, 090011.
Credit: Small Potatoes Makes The Steak Look Bigger
Guan Seng Carrot Cake
Guan Seng Carrot Cake is the answer to your fried carrot cake yearning. The food spot hooks all customers, making them come back for more. 
Guan Seng serves both black and white carrot cake. Both of these versions are equally satisfying to taste. Plus, it comes along with a lot of eggs. 
The most favourable version of patrons is the Black Carrot Cake. It's pretty different among other folks selling these kinds. They ditch the method of skimping the dish into the sweet dark sauce. Instead, they fry the ingredients until it is beautifully caramelised. Thus, giving the entire plate a deep charred wok hei flavour. The pinch of sweetness is a bonus. 
Nevertheless, the White Carrot Cake is not something you can overlook. Just like the black version, this also has a different touch. Guan Seng has a unique approach. If other shops stir fry their dish with just eggs and chye poh, they don't. Instead, they add a typical ingredient used in the black carrot cakes – a dark soya sauce. The tiny addition boosts the flavour that white ones need. Thus, making it more notable to diners. 
Get your sumptuous dishes at 11 Telok Blangah Crescent Food Centre, #01-81, Singapore, 090011.
Credit: Zbout
Uncle Lee's Hong Kong Noodle and Rice
Uncle Lee's food stall is famous for its never-ending queue lines. Every time a customer finally places an order, someone lines up at the end. That's why there is no sign of reducing in size.  
The only secret of Uncle Lee's Hong Kong Noodle and Rice is the succulent soya sauce chicken. It brings out the most delicious chicken noodles among other stalls. So it's no surprise that there's always a long line at the shop. 
The Chicken Noodles have big pieces of savoury chicken. They soaked up the meat to the soy sauce. It coats the whole chicken, thus making the seasoning blends perfectly suitable. Also, the chicken skin is smooth. Slurping every mouthful serving is easy and flavourful. 
In addition, the noodles are springy. It complements the whole dish. The justifying price of every bowl makes lining up worth it. 
Although its top menu is noodles, the rice version is indeed a great choice. It's up to your preference if you're out there for carbs made of noodles or rice. 
Take your pick at 11 Telok Blangah Crescent Food Centre, #01-127, Singapore, 090011.
Credit: Miss Tam Chiak
Song Heng Fishball Noodle
Singapore boasts of over a dozen of fishball noodles stores. It constantly sprouts in every district. In fact, it is one of the best gems when finding what to eat in Telok Blangah. 
Among the long list of food stalls selling this dish, Song Heng Fishball Noodles is a famous name. An evident proof of this is being consistent for garnering the longest queue. The friendly stall owner is a bonus. That's why customers are patient enough to wait for their turn. 
Song Heng's signature dish is the Dry Fishball Noodles. Every plate has a mixture of spring mee pok and pork lard. Also, there is a concoction of soy sauce, vinegar, and chilli that blends well with the other ingredients. The soup is delicious and peppery. Plus, the six handmade bouncy fishballs completes the whole meal. 
Another distinctive matter about the stall in comparison to others is its chilli. Adding it to every serving brings out the savoury of every this. Moreover, every bowl of fishball noodles has generous servings. The noodles are plenty enough to feed two people. 
Savour the generous plate at 11 Telok Blangah Crescent Food Centre, #01-124, Singapore, 090011.
Credit: Miss Tam Chiak
Noordima Malay Food Stall
Aside from the popular food spots, there are also underdog stalls available in the food centre. Although there are no snaking lines present, it still serves mouthwatering dishes you'd never thought you'd like.
Another must-try of what to eat in Telok Blangah is Noordima. Their menu offers humble, home-style Malay food. It is pretty known for being humble. There are no gimmicks and premium ingredients used in its setting. Every dish is standard. Nonetheless, every component is done right. 
The number one on their menu is the Classic Nasi Lemak. It has a fantastic sambal taste. The fluffy coconut-infused rice stands out in the dish. Nevertheless, it does not overpower the rest of the ingredients on the plate. 
If you're quite adventurous with your palate, you can also order something spicy. Instead of getting a fried egg, try out the chilli omelette. It is a pack of heat you'd need during the cold season. But still, every bite is indeed worth it. 
Experience a Malayan taste at 11 Telok Blangah Crescent Food Centre, #01-178, Singapore, 090011.
Credit: Miss Tam Chiak
Uncle Lim Traditional Pancakes
On top of the main dishes available, sweet confectionaries are a must to start or end your meal. While in search of what to eat in Telok Blangah, look for Uncle Lim Traditional Pancakes. 
The shop maintains the tradition of serving well-loved traditional pancakes. Every bite is nostalgic for the older generation. It's like taking you back to the old school treats. But, on the other hand, it is an excellent game changer for the younger generation. Instead of their usual processed hot dog bun, it brings breakfast to another level. 
The traditional pancakes is a product of a lot of hard work. First, the batter itself came from scratch. Then, the flour is mixed perfectly until the desired mixed perfectly.
Peanut Pancake or Min Jiang Kueh is still the best-seller up to date. It hits both the kids and young at heart. It has a generous amount of peanut filling. That's why it has a mouthful of nutty, savoury, and slightly sweet taste. In addition, the peanut provides a gritty texture yet a satisfying crunch. 
Also, the stall serves Red Bean Pancake. It is a chewy pancake that oozes a velvety red bean filling for every munch. It has a whiff of sweetness and is moist from the red bean. Thus, it drags you back to the great heydays. 
Aside from these two popular flavours, other variants are also available. For example, you can pick either coconut flavoured or cheese flavoured pancakes. On top of that, Uncle Lim's stall also serves other food like BBQ Chicken Wings and Otah. 
Have your fair share of sweet treats at 11 Telok Blangah Crescent Food Centre, #01-120, Singapore, 090011.
Credit: Tidbits Mag
Xiang Ji Porridge
Xiang Ji Porridge offers calming food for its customers. It serves the best comfort food – a bowl of congee. The warmth of every serving is just like how your grandmother does it. So help yourself and know what to eat in Telok Blangah. 
The best signature dish is the Century Egg Minced Pork Porridge. Every bowl has a silky smooth porridge. Plus, it has a generous amount of pork balls, lean pork slices, and century eggs. 
The flavour of every scoop is potent. It came from the nuances of fresh ginger, shallots, spring onions, and sesame oil. Thus, it makes you recover faster than you can imagine. 
Even though you are at the peak of your health, stopping by at Xiang Ji is still a great choice. It is highly advisable, especially during the cold weather or rainy season in Singapore. 
Overcome the feeling of being under the weather at 11 Telok Blangah Crescent Food Centre, #01-198, Singapore, 090011.
Credit: Why Q Singapore
Su Yuan Vegetarian
If you want to try something new and nutritious, visit Su Yuan Vegetarian. It offers a menu similar to the everyday foods you eat. But it takes the healthy alternative. Nevertheless, it does not compromise the taste. 
The best-seller Vegetarian Bee Hoon has springy bee hoon. It has a variety of ingredients as toppings. It has chewy mushrooms, crunchy cabbage, and flavourful vegetarian char siew. A few pieces of crispy beancurd skin completes the whole serving. 
A piping hot mushroom gravy finishes the entire look of the dish. Furthermore, it gives you a plate of vegetarian goodness. 
Although Su Yuan serves a different menu, it does not deter diners from waiting in the long queue. The old couple running the stall prepares every meal just like how you expect it. 
Try out the healthy meal at 11 Telok Blangah Crescent Food Centre, #01-113, Singapore, 090011.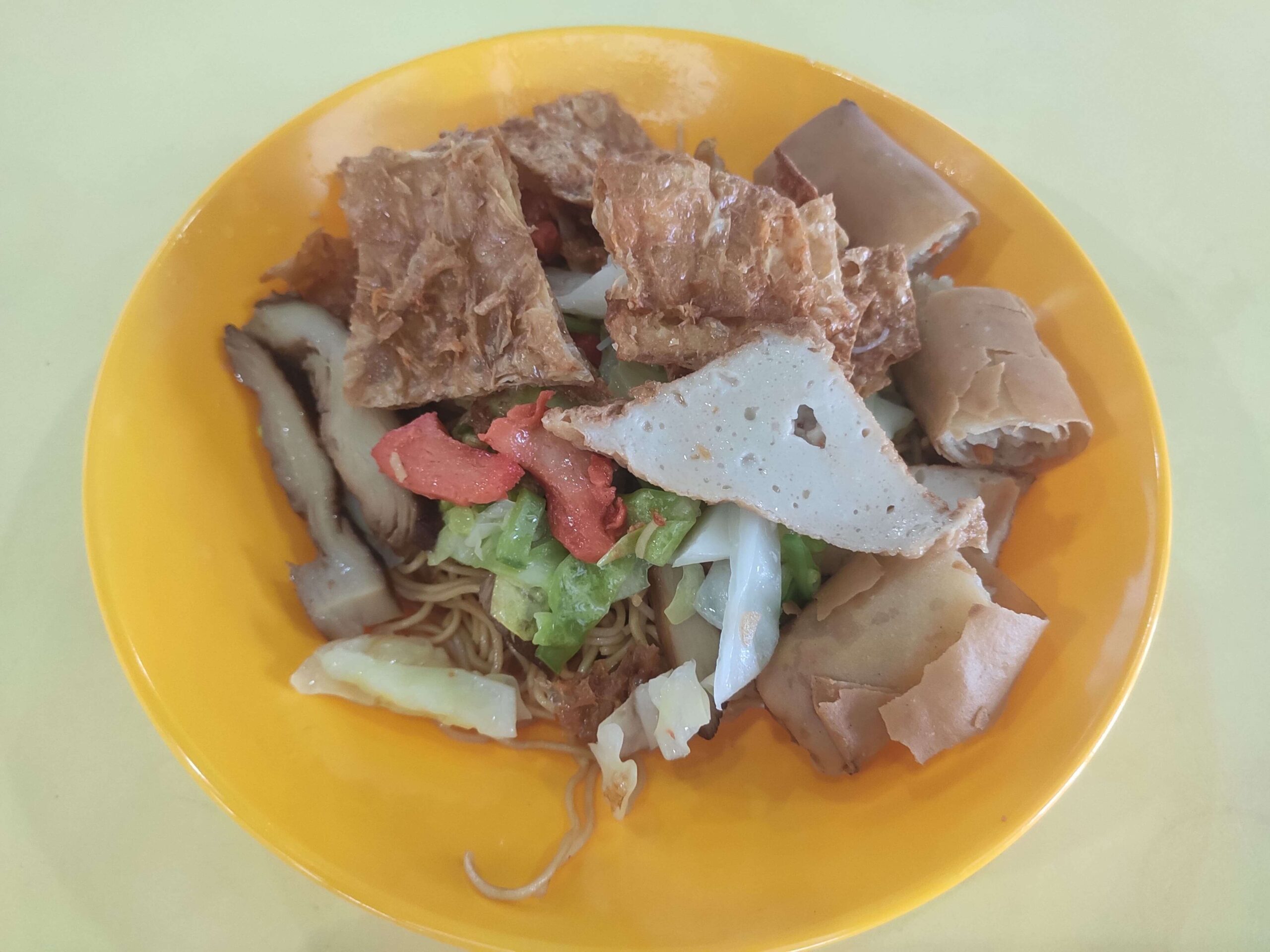 Credit: the.fat.guide
Hai Kee Char Kway Teow
Hai Kee Char Kway Teow is an elite class of what to eat in Telok Blangah. The aromatic smell of the food stall invites people to place an order. 
Another factor that sets this stall apart from others is the plate preparation. Unlike other stalls that cook by batch, Hai Kee only fries when you order. The stall owner fries one at a time. That's why expect a long queue if you want to order a plate. It takes your time, but it's undoubtedly worth your time and money. 
A must-order dish is the Char Kway Teow. Each plate serves an overflowing hum and lup cheong. The robust wok hei dishes out the flavour to fulfil your palate. The noodles are slightly charred. Nevertheless, it complements each element present on your plate. Therefore, making it the go-to food stall when craving for char kway teow. 
Furthermore, the pork lard used came from the fats at the rib portion of the pig. So, the pork lard disintegrates with one crunch. Thus, giving you the alluring and satisfying flavour that is worth the calories. 
Be early at 11 Telok Blangah Crescent Food Centre, #01-102, Singapore, 090011 to secure the delicious dish. 
Credit: Miss Tam Chiak
Telok Blangah is rich in succulent food stalls. It ranges from the carbs of noodles and rice up to sweets like pancakes. So, identify what your tastebuds genuinely want. For sure, you'll find it in this food guide of what to eat in Telok Blangah. 
Suppose you know what to eat in Telok Blangah but have no sufficient funds for it. Take out an instant cash loan from the legit moneylenders called Cash Mart Singapore. It lends out money to qualified borrowers with less hassle. So avoid starving without hurting your pocket. Visit the official website of Cash Mart now.