What to Eat in Tanjong Pagar: Rundown List
Regarding food journeys, Tanjong Pagar is a great place to visit. It offers more than one can imagine.
Fortunately
, we have a rundown list of what to eat in Tanjong Pagar.
But first, let's get to know more about Tanjong Pagar, Singapore.
Tanjong Pagar
In the downtown southern top of Central Singapore lies a district called Tanjong Pagar
. Before, the place was a sleepy fishing village. Forty years later, it transformed into a lively business and commercial centre.
Today, Tanjong Pagar, Singapore, is famous as one of the leading and modern container ports worldwide
. It
continuously
develops to conquer other countries.
Aside from the glorious transformation of the neighbourhood, Tanjong Pagar adapts to the flavourful tastes entering the country: restaurants
, bars, bistros, cafes and more pop to serve every resident.
Because of this, even tourists travel
just
to have the exquisite taste the place offers. Patrons help them by providing a list of locations and what to eat in Tanjong Pagar.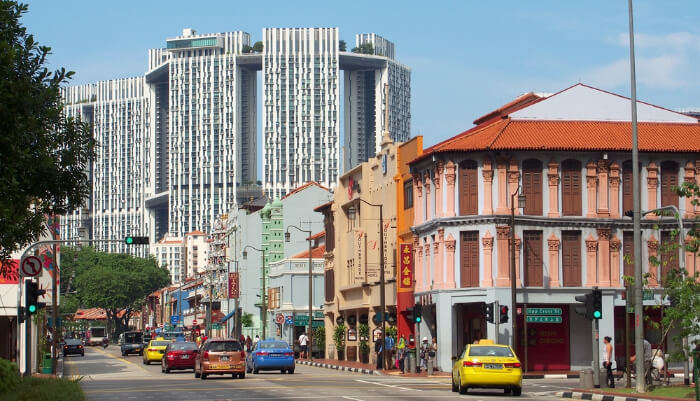 Credit: https://traveltriangle.com/blog/things-to-do-in-tanjong-pagar-at-night-bdp/


Tips on what to eat in Tanjong Pagar
Tanjong Pagar is famous for having the best of both worlds. If you prefer fine dining restaurants, you can reserve your spot here.
In addition
, world-class bars are also available in the area.
If you're looking for cheap happy hours, it is also a place you shouldn't miss. It offers you and your friends an all-you-can-eat Korean barbecue and an F&B hotbed.
Regardless if you're a local, a work-from-home, or a foreigner, the area is a must-visit. It's up to you to take the time and check it out.
As stated earlier, we list the most common spot to check out. Below are the recommended sites and what to eat in Tanjong Pagar.
Credit: https://guide.michelin.com/sg/en/article/dining-out/7-new-michelin-plate-hawkers-in-the-michelin-guide-singapore-2019
Japanese Food Of Terra
Terra is an
Omakase-only
restaurant in Tanjong Pagar. It is a one-Michelin-star restaurant managed by Japanese Chef and Owner Seita Nakahara. But what's intriguing here is the menu offers. Terra has a Japanese food culture in Italian cuisine.
Furthermore, Terra has no a la carte menu. Every meal for lunch and dinner is a fresh creation of Chef Seita. Each Omakase course represents the vision and harmonisation of the cook. The hand-picked seasonal flavours and ingredients bring out a memorable dining experience.
Because of the unique approach by Terra, it is only reasonable that the price is
relatively
high.
In addition
, the plating looks delightful to the diners.
One great example of their meal is Deep Fried Amadai. It has a bafun uni and cauliflower mousse. Another incredible creation is the Char Grilled Pyrenees Milk Lamb. What made it special is its combination with risotto Milanese.
Indulge yourself in the rich culinary legacy at 53 Tras Street, Singapore, 078993.
Just
a reminder: make a reservation beforehand.

Credit: https://terraseita.com/
Menya Sanji
Menya Sanji means three warriors. It is well-represented in the shop through the large framed paintings of warriors. As a result, it exudes the rustic vibes of the shop during lunch hour in Japan.
Menya Sanji takes the Kagoshima set up. The restaurant has 18 seats available, which allows diners to sit up close at the counter. So, you can watch the chef cook your ramen.
One of the reasons patrons
highly
recommend the place is because of Sanji Ramen. Tonkotsu broth
ultimately
sets it apart from other ramen shops. They use pig heads instead of the typical pork bones for soup preparation. This part makes the soup thick, creamy, and almost white. Plus! It's not as salty compared to others.
In addition
, the noodles are of medium thickness rather than the usual thin ones. Mochiko or rice cake powder makes the noodles extra chewy.
Furthermore, Sanji ramen has a magnificent mash-up of flavours and textures.
It consists of crunchy bean sprouts, seasoned bamboo shoots, sweet pork, and kikurage mushrooms
.
The fried shallots, springy noodles and ½ of a seasoned soft-boiled egg perfectly combine
.
If you want to spice up your bowl, Black Sesame Ramen and Spicy Ramen are your choices. Although it takes the same soup base, the black sesame and chilli oil make it different from Sanji.
On top of the sumptuous ramen bowl, Menya Sanji caters to a few sides up to a bulk meal. The signature Karaage and Roast Pork On Rice is an excellent tandem for your dish.
Satisfy
your ramen craving at #01-14, Orchid Hotel, 1 Tras Link, Singapore, 078867. Bring your family and enjoy the fragrant and fiery masterpiece.
Credit: https://danielfooddiary.com/2013/02/22/menya-sanji-ramen/
Kko Kko Na Ra
Kko Kko Na Ra is 100% authentic homemade Korean cuisine. It serves up a main dish of KFC, but not the famous bucket from Colonel. Instead, it highlights Korean Fried Chicken.
In 2008, Kko Kko Na Ra was the first restaurant to introduced the menu in Singapore. The central location brings convenience to people who finish late at work. And it is an excellent spot to hang out.
The fried chicken is the perfect partner for beer during chill time with friends and colleagues
.
The Korean fried chicken recipe fits all sorts of taste buds. There are flavours of sweet and spicy, soy garlic, and cheese sprinkle. Also, it is
nicely
fried without too much oil. So, for sure, you have something you'd look forward to trying out.
Aside from the Korean fried chicken, the Kko Kko Na Ra menu includes seafood pancakes, japchae, kimchi stew, rice sets, Ox bowl soup, and more
.
Most
importantly
, the ambience of the restaurant makes you feel like you are travelling to Korea. Plus, the food choices are
truly
commendable.
Take a bite of the flavourful Korean cuisine at 68 Tanjong Pagar Road, Singapore, 088489. Well, nothing goes wrong when you pair beer and soju with chicken, right?
Credit: https://danielfooddiary.com/tag/tanjong-pagar-korean-restaurants/
Restaurant Euphoria
The former head chef of Corner House, Jason Tan, took the leafy adornments and textural additions
. Restaurant Euphoria, his latest venture, showcases the beauty of humble vegetables. The eating place is a paean to plants in every detail, including sauces to the silverware.
What stands out about Restaurant Euphoria is the Gastro-Botanica Essences. Jason made sure to reinvent the mother sauces to French haute cuisine.
All of
these came from pure botanical extracts and reductions. Even though it is meatless, the sauce enriches the flavour of every dish.
Nevertheless
, it does not mean that meat is off the menu. It is still there. But the veggies are the star of the euphoric show.
Restaurant Euphoria is fine dining with a six-course Secret Garden and an eight-course menu Journey of Euphoria
. Both are the best seller, starting with a trio of amuse-bouche.
However
, each course is
equally
impressive. The medley of onions from the starter to the last part is
delicately
plated.
On top of that, Euphoria offers a delicate splash out of alcohol pairings.
You can take the usual wine of sommelier Marcus Tan to the
daringly
sweet-style Emshiki Monsoon sake
. Or you can drink a Gravner amphora aged orange wine. It all depends on the preference of your mood.
Reserve your table at 76 Tras Street, Singapore, 079015. and experience delightful fine dining.
Credit: https://irisslove.com/2021/05/19/restaurant-euphoria-an-onion-inspired-affair/
Brasserie Gavroche
Brasserie Gavroche is a homely Parisian bistro in Tanjong Pagar. It is a little shophouse where locals and tourists enjoy a French fare of recipes.
Frederic Colin is the chef-owner who utilises the secrets of every dish passed down from his family
.
Patrons love dining at this place. It serves fish quenelles and steamed mussels with white wine.
In addition
, the shop also offers other authentic dishes like the Angus beef tartare. Once you taste it, it keeps you coming back.
The signature dish of Brasserie Gavroche is the Weekend Breakfast A La Francaise. It is a rustic and hearty
portion
of freshly baked croissants with French jams and egg dishes. Diners also enjoy the Tartines topped with delicious ingredients. It includes charcuterie and cheese boards, salads, and hearty cocotte.
Make your visit more memorable by ordering affordable wines from all over France
.
Treat yourself to a meal you
truly
deserve at 66 Tras Street, Singapore, 079005.
Credit: https://brasseriegavroche.com/
Chef's Table by Chef Stephan
Among all the fine dining cafes and what to eat in Tanjong Pagar, Chef's Table by Chef Stephan is unique. It has a philosophy of no signature dishes and no repetition. Instead, the customers see the list of 28 ingredients on the daily degustation menu.
Diners have the power to cross out produce they don't eat. The remaining element goes to your four-course, six-course, or eight-course meals. Then, it's up to Chef Stephan and the crew to enter new dishes and recipes. And it's all based on the ingredients available.
In addition
, the restaurant has an open kitchen and intimate space. It allows real interaction between the customers and the chefs. The set-up does not only feed the diner's stomach but the inquisitive mind as well.
Furthermore, Chef's Table also offers a quite
extensively
curated wine list. So, decide for yourself what you feel like having for the day.
Savour your most favoured produce at 61 Tras Street, Singapore, 079000.
Credit: https://therantingpanda.com/2015/10/16/food-review-chefs-table-by-chef-stephan-the-next-big-thing-on-tras-street/
Cake Spade
Cake Spade is the place to visit if you're looking for some sweet dessert. The cafe is famous for its legendary Strawberry Tofu Cheesecake. It's appealing as it has fresh strawberries encased in jelly. The bottom crust is from the digestive biscuit.
Moreover, Cake Spade is well-known for its generous slices of lychee rose cakes and cookie-cutter cheesecakes
. The shop also caters to tarts and brownie lovers.
Other than cakes, Cake Spade offers milkshakes too. Their best-seller is the OTT Milk Shakes, or Cake Shakes come in various flavours. Some of them are Vanilla, Matcha Azuki, and Mudslide.
A Mudslide Cake Shake is a dark chocolate ice cream shake. But it
is topped
with a small slice of chocolate cake and Oreo cookies. It has toasted marshmallow popcorn on top, drizzled with caramel sauce.
Head down to 83 Tanjong Pagar Road, Singapore, 088504 and treat your sweet tooth to a spectacular dessert
. Don't
be confused
. Cake Spade has moved from the Orchid Hotel to its current location.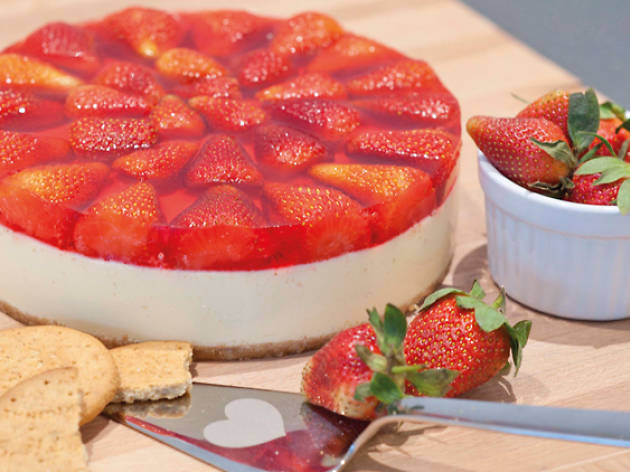 Credit: https://www.timeout.com/singapore/restaurants/cake-spade
A Noodle Story
A Noodle Story is a food stall that
consistently
received a Michelin Bib Gourmand award from 2016 to 2018
. Thus making its name popular with Singaporeans looking for a hot bowl of soup.
The owners, Gwern Khoo and Ben Tham, admitted that the shop limits its serving.
However
, a
maximum
of 200 bowls daily for lunch and dinner servings is always achieved.
The shop's signature dish is Singapore-style ramen. Every serving has a distinct local flavour. The nostalgic wonton noodles are springy and quite al dente. The combination makes every bite so delicious. The soup tastes
slightly
sweet with a pinch of the herb called bak kut teh. Plus, it has shredded bits of pork that make the bowl extra tasty.
Other menus include Hong Kong-style wontons, cha-su, soy-flavoured hot spring egg, and crispy potato-wrapped prawns
. There
are sliced
scallions and red pepper as well. If you want to add more, you can order an onsen egg.
Dive into a delicious bowl of soup at 7 Maxwell Road, #01-39 Amoy Street Food Centre, Singapore, 069111. It is not far away from Telok Ayer MRT Station.
Credit: https://sethlui.com/a-noodle-story-singapore-style-ramen-singapore/
Issan Thai Food
If you want to travel to Thailand but have no funds for a ticket yet, Issan Thai Food can bring you there. The restaurant brings your cravings for authentic Thai cuisine to satisfaction. It
is underrated
compared to other CBD food centres. But it is a beautiful gem when looking for what to eat in Tanjong Pagar.
Issan Thai Food serves an
abundance
of Thai dishes. It is also part of Singapore's Michelin Guide.
So it's no surprise why Singaporeans, Thai people, and other citizens go here to give in to their longing for meals rich in different spices
.
The top food choice is the Basil Rice. The meal comes with white rice and sunny side up. Moreover, it has a generous serving of basil chicken. The minced chicken is juicy with wok hei flavour. It is a complete meal you shouldn't miss that will
surely
tantalise your taste buds.
Other Thai staples included in their menu are Tom Yum Soup with Rice, Green Curry with Rice, Hor Fun, Pineapple Fried Rice, Pad Thai and more
.
All of
these have a balance of all the flavours. Likewise, noodle dishes taste sweet, sour, savoury, and spicy.
Enjoy a sumptuous Thai meal at 6 Tanjong Pagar Plaza, #02-13, Tanjong Pagar Plaza Market and Food Center, Singapore, 081006.
Credit: https://danielfooddiary.com/2019/04/04/issanthaifood/
To Tanjong Pagar!
It is truly amazing to know what to eat in Tanjong Pagar. The area offers all types of cuisines to both locals and foreigners. You don't have to travel further just to satisfy your cravings. Some cafes serve sweet desserts, too. And if you want to cap off the weekend with drinks, restau-bars are also available.
Now that you know where to go and what to eat in Tanjong Pagar, you can indulge yourself more. Also, you can bring your family and friends to enjoy exquisite meals together. Nevertheless, make your fun time more memorable by bringing sufficient funds.
Cash Mart Singapore provides the financial aid that you need. With Cash Mart as your legit moneylender, you can take out a Payday Loan to pay it off on your next paycheck. There's no more stopping you from fulfilling your food journey. Treat yourself to what you deserve with Cash Mart.