What to Eat in Tanglin: 12 Best Food Spots
Tanglin
Before we know what to eat in Tanglin, let's get to know the area. It comes from the Chinese word twa tang leng, which means great east hill peaks. So the name might be because the place has a lot of hills. It is a planning area that you can find in the Central Region of Singapore.
The place was overrun with tigers before the Chinese colonised the area. They turned the site into a nutmeg plantation. Then, from a nutmeg plantation, the business turned into a military camp in the mid-19th century. From then on, Tanglin became a leafy residential area. So, composed of luxury hotels, grand houses, and high-rise condominiums is what Tanglin is now. It is also the home to many embassies, like the embassy of America, the Philippines, Brunei, Indonesia, France and many more.
This is also the place for the 162-year-old tropical garden called Botanic Gardens, located within the Orchard Road shopping district. Aside from that, Tanglin is also the home of Tanglin Halt Food Centre and Tanglin Halt Market. These places are well known for their many popular food stalls. So let's find out what to eat in Tanglin.
Tanglin Halt
Tanglin Halt Food Centre and Tanglin Halt Market are often confused as the same place. However, Tanglin Halt Market is smaller. And you can find it across the Tanglin Halt Food Centre. So, to give way for the redevelopment of the area, they will demolish these two establishments. The demolition of Tanglin Halt Food Centre is set by the end of this year, while they set Tanglin Halt Market for 2024.
Unfortunate news indeed for many hawker food fans out there. So what are you waiting for? So when you go and explore the wonderful dishes they are offering before it's too late. To help you, I have listed some popular stalls on what to eat in Tanglin.
Credit: Greyloft
Queenstown Lontong
Queenstown Lontong first operated in the 1960s. Chef-owner Kak Yatie is the third-generation owner of this stall. Chef Kak is very hands-on; she cooks the food with the help of her assistants. And she is keeping them in check from time to time.
This place is well known for its delicious Mee Rebus. You have to call in for a cheat day if you eat here because they serve very generously with the portions here. They first soak soft yellow noodles in their signature thick broth. You can see the consistency of the gravy clinging well onto the noodles, and the flavour is so rich. Second, they top the dish with lime and a scoop of sambal and with the option of adding pieces of green chilli. Moreover, this dish is savoury with a hint of sweetness and a kick of spice if you add chilli.
In what to eat in Tanglin, we would not want to miss their Lontong. The restaurant will not put it in their name if it is nothing special. From the coconut-to-milk ratio to the right texture of the broth, Queenstown Lontong has perfected it. So, you will immediately smell the aroma of the coconut from the bowl of Lontong that they serve. The fried coconut, rice cakes and sambal lift the dish to the bar. Imagine all that goodness in a bowl!
Address: Tanglin Halt Food Centre 1A Commonwealth Drive #01-21, Singapore
Credit: the.fat.guide
Mei Jia Fried Bee Hoon
Mei Jia Fried Bee Hoon is a great stall in Tanglin Halt Market. This stall is a go-to stall in what to eat in Tanglin, and if you want a hearty breakfast at an affordable price. This stall has been operating for four decades already. Their tradition and recipe are proving their worth. However, Mei Jia Fried Bee Hoon is primarily the kind of stall where you would not mind standing in a queue.
You can get a hefty serving of noodles, with choices between vermicelli, kway teow and fried bee hoon for less than a dollar. They are also known for their fragrant and moist fried bee hoon. While their noodles are flavourful, evenly covering each of the noodles with spices and sauces.
The kway teow is soft, and the sauce has the right combination of dark and light soy sauce. Therefore, this dish has the right amount of colour and flavour with a slight hint of charred taste.
Address: 48A Tanglin Halt Rd, #01-18, Singapore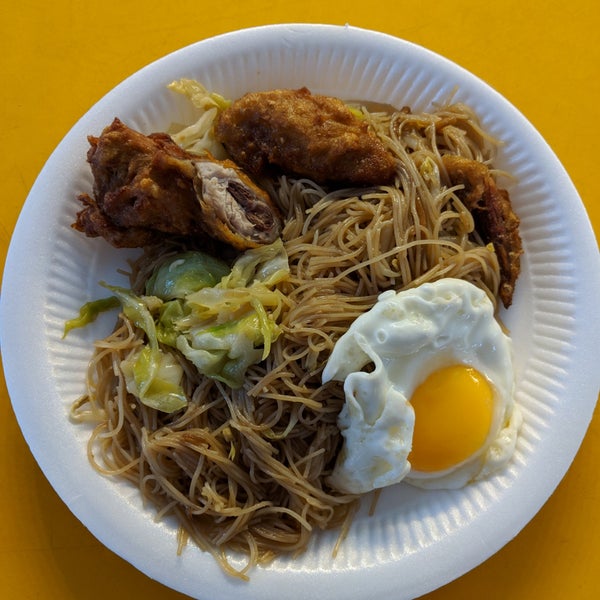 Credit: Four Square
Chef Hainanese Western Food
Chef Hainanese Western Food is in Tanglin Halt Food Centre. A father and son tandem is the one who runs the place. They are famous for serving authentic Hainanese dishes with a kick in of Western flavours. With its affordable price and generous servings, you should expect a long queue. But they have mastered dealing with the line efficiently. So don't worry, you will not wait that long.
In what to eat in Tanglin, Their Mixed Grill is one of the reasons why people do not mind the long line. The plate contains fish fillet, chicken chop and pork chop. Also, beans, baked potato, coleslaw, sausage, fried egg and french fries are on the plate. Their fish fillet is crispy and juicy. The chicken chop is juicy and tender with a hint of grilled flavour. Lastly, I can say that the pork chop steals the show.
Pork meat has a rich, umami flavour. So, you will be quite surprised because most grilled pork often turns out tough. But the grilled pork chop here is tender. It is easy to cut through the meat and enjoy every bite of savoury. However, side dishes are pretty average, aside from their own coleslaw, which is delicious. The whole dish itself is very satisfying!
Address: 1A Commonwealth Dr, #01-04 141001, Singapore
Credit: Daniel Food Diary
Jiu Ye (Chee Choeng Fun)
Jiu Ye is a stall that you can visit in the Tanglin Halt Market. If you are looking for some Hong Kong-style chee choeng fun, this is a must that you should try. Here they served chee choeng fun with different fillings that you can choose. They also have porridge on their menu.
I came down to choosing their fresh prawn chee cheong fun and their char siew chee cheong fun with various choices. Therefore, you will find a generous amount of lean meat in your char siew chee cheong fun, making it a heavy meal. At the same time, the prawn chee cheong fun is the lighter choice. They make their dishes with freshly made rice rolls. They are also served with sweet soya sauce, topped with sesame seeds and adding the fillings with crunchy strips of vegetables. To complete your Jiu Ye experience, order a tasty porridge to go with your chee cheong fun.
Address: 48A Tanglin Halt Rd #01-09, Singapore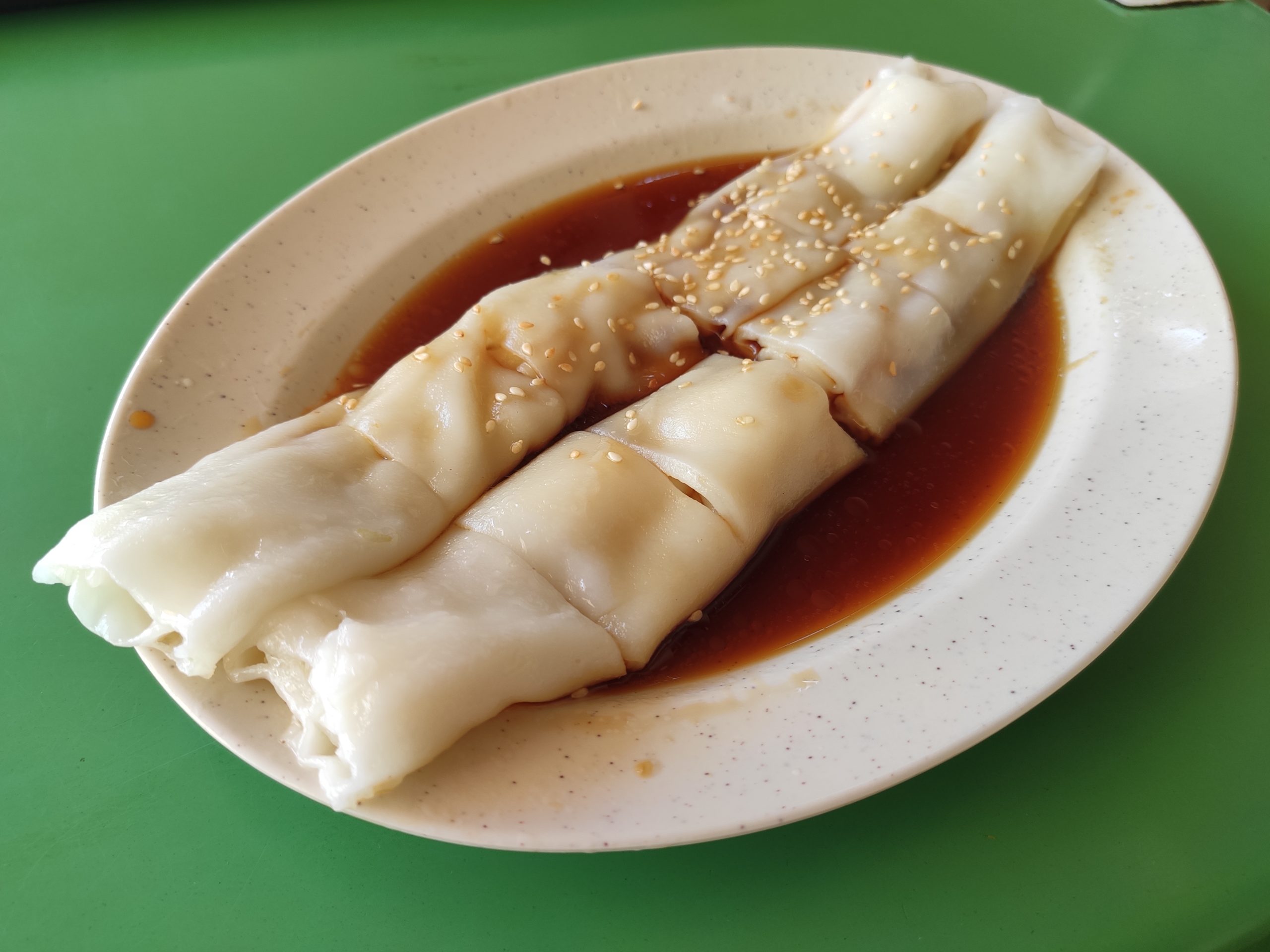 Credit: the.fat.guide
Alimah's Kitchen
Alimah's Kitchen is a stall that sells traditional Malay food. It is passed for two generations already with current by a couple. Their humble beginnings start with Yusof and his father selling traditional Malay food in a pushcart along the streets. Then they moved to Tanglin Halt food centre, and from there on, they have been serving delicious food. Sad to know that they will close soon because of the demolition. But I hope that they find their way to a new location after.
They are known for their aromatic and delicious nasi lemak—best paired with their fried chicken wings. First, you can taste the coconut from their soft rice. Then, you will want to order some extra wings to snack on. Finally, serve it with ikan bilis, fried egg and sambal chilli. So, each ingredient compliments the other. No wonder why many people recommend their nasi lemak!
Address: 2A Commonwealth Dr, #01-23, Singapore
Credit: Daniel Food Diary
Tanglin Halt Delicious Duck Noodles
Delicious Duck Noodles started in the business way back in 1969. That being said, they have already achieved many regular customers. Tanglin Halt Delicious Duck Noodles is one of the stalls with a long queue in front. Well, if you cannot blame the regulars for patronising this stall. Their duck noodles give out a unique old-school taste.
They serve their delicious duck noodle soup with tender slices of duck meat. The soup has a strong aroma, a rich flavour, and a hint of healthy herbal taste. In contrast, They cover their dry duck noodles in a sweet and spicy dark sauce. It is topped with slices of duck meat and served with a herbal broth on the side. Whether soup or dry, they will not disappoint you.
Address: Tanglin Halt Market #01-20, 48A Tanglin Halt Road, Singapore
Credit: Daniel Food Diary
Jing Shu Shi (Curry Rice)
Jing Shu Shi is one of the curry places with long queues because this stall is very popular with the residents. They are selling Hainanese curry rice and a variety of dishes that you can choose from. Therefore, a restaurant to add in what to eat in Tanglin.
Porkchops and curry rice is their star dish, mostly because of the crispiness of the pork and the fragrance of the curry. Their curry has an aromatic smell and a flavourful taste. So, it has a perfect taste of both sweet and spicy.
Potatoes are lightly fried, adding texture to the curry rice. So, Ikan Bilis and peanuts have a mild, sweet taste with a crispy and crunchy texture. A nice flavour and crispy crust are what you may expect in their pork chop. This duo is just absolutely incredible!
Address: Tanglin Halt Food Centre, Blk 3A Commonwealth Drive #01-28, Singapore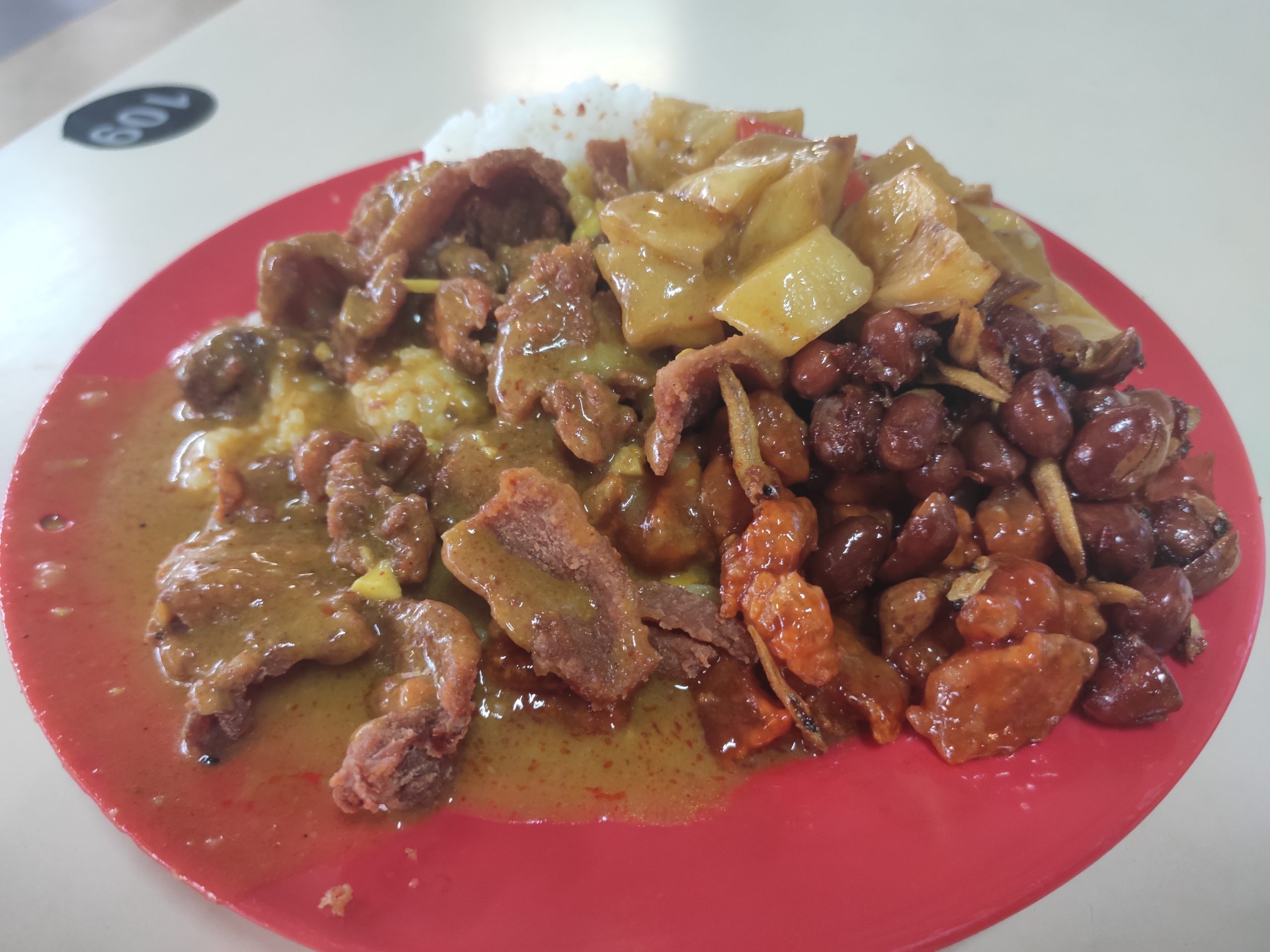 Credit: the.fat.guide
No.1 Western Food
No.1 Western Food is at Tanglin Halt food centre. The owner of this stall is two elderly who specialise in old-school western-style dishes with special sauce, where they serve a generous portion of food at a fair price.
In what to eat in Tanglin, No wonder it's popular. The chicken cutlet is the most popular dish on the menu. The chicken cutlet is huge and crunchy on the outside and juicy on the inside, then add their homemade sauce that is a little to the sweet side. Alongside the chicken are the beans, french fries and cucumber. They assemble all the ingredients on a metal plate. So, fried chicken is one of my go-to foods when I don't know what to eat. And this is one of the best so far that I have tried out there.
Address: 1A Commonwealth Dr, #01-13, Singapore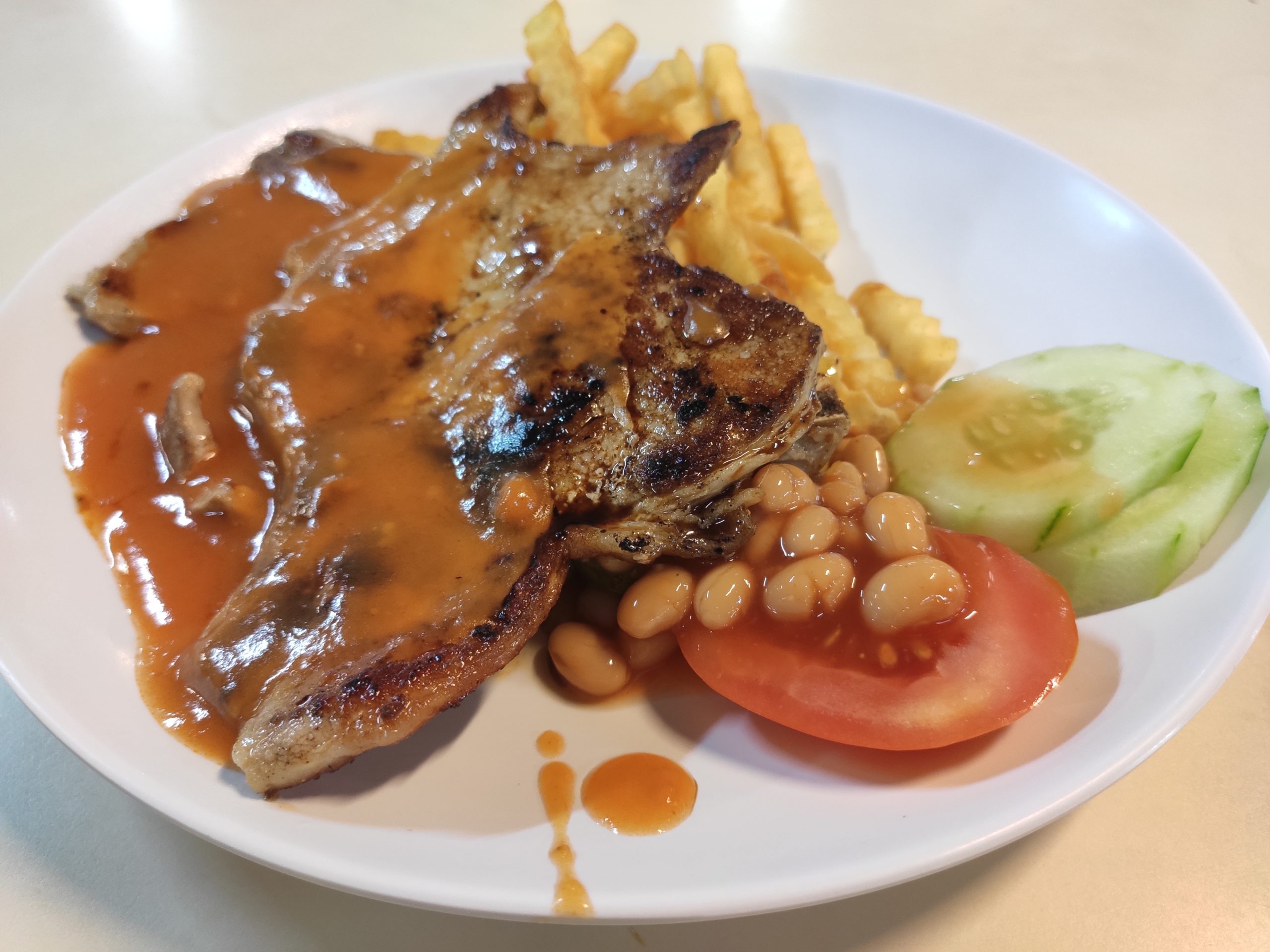 Credit: the.fat.guide
Cheng Mei Shi Lor Mee
Cheng Mei Shi Lor Mee is in the Tanglin Halt food centre. This stall is not famous for the taste of its lor mee. Because honestly, more places offer more delicious lor mee. But here in Cheng Mei, they are popular because of their generous toppings, large servings and affordable price.
If you order a bowl of lor mee, they will serve you a hefty serving of noodles brimming with various toppings. Toppings are fried wonton, fried fritters, braised egg, braised pork, shredded chicken, veggies and chillis. Their gravy does not have the vitality I am looking for in a lor mee, but it is also not bad. It has a good consistency. But hey! We are not here to be astonished by the taste. We are definitely here for the hearty portions and generous toppings.
Address: Tanglin Halt Road Market and Food Centre, Block 48A Stall 14, Tanglin Halt Road, Singapore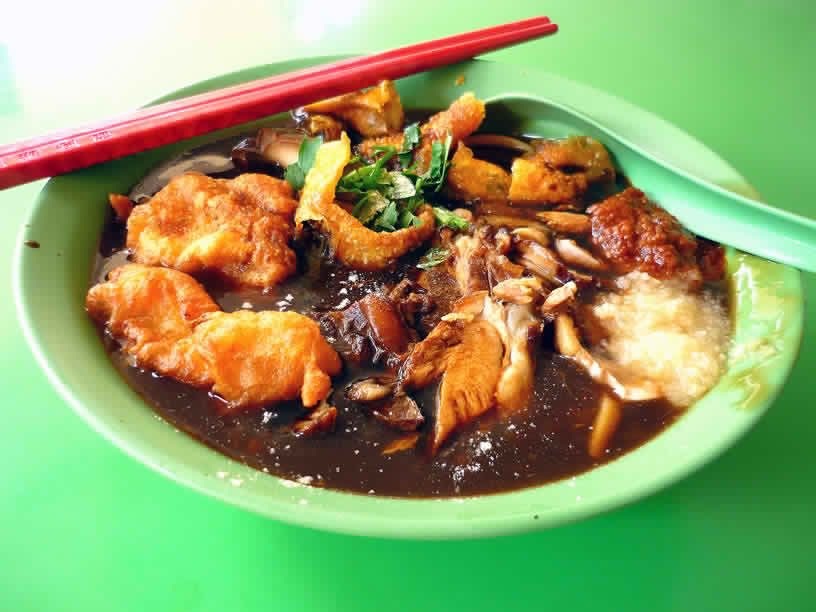 Credit: OpenRice Singapore
Wei Yi Laksa & Prawn Noodle
Mr Yin Wei Chai owns Wei Yi Laksa & Prawn Noodle. He is known as the younger brother who owns another food stall called Delicious Duck Noodles. Mr Yin started to sell laksa in the '90s, and since then has become one of the local's favourites.
One of the secrets to his success is the coconut milk he uses in the laksa. The quality of the coconut milk should not be too thick and should still be aromatic. He is very particular in choosing the right ingredients.
Their laksa is so light and fragrant that you can finish the whole bowl up to the last drop of the soup. Moreover, the aroma and the excellent colour of the dish that comes from the different toppings are mouth-watering.
The coconut flavour is mild and soft with a hint of tanginess, making the extra dish special. They have a diverse variety of toppings. You can choose from prawns, chicken, taupok and cockles. You can add some sambal chilli if you want it to be spicy.
You can visit their stall at 48A Tanglin Halt Rd #01-20, Singapore 148813
Credit: Miss Tam Chiak
Indulgence
Indulgence offers delicious Italian food on its menu. It is one of the hawker food stalls in Tanglin Halt food centre. Their service here is swift and efficient. They are serving generous portions of food. Indulgence will help you with that at a low price if your goal is to add up carbs!
Here, you can customise your dish. You can choose your meat and pair it up with one of their pasta or fries. Grilled dory, Crispy Dory, Crispy Chicken, Chicken Cutlet, Chicken Chop, Pork Chop and Ribeye Steak are the meats to choose from. Top it up with your choice of pasta. They have Carbonara, Bolognese, Pomodoro and Alfredo. Try to mix and match and discover the perfect combination for you.
Address: Tanglin Halt Food Centre #01-09, 1A Commonwealth Drive, Singapore
Credit: Burpple
Guangzhou Mian Shi Wanton Noodle
Guangzhou Mian Shi Wanton Noodle is one of filmmaker Erick Khoo's favourite stalls in Tanglin Halt. Operated by a mother and son tandem, this stall has stood up for three generations already. So if you are looking for a place to eat dinner or got hungry during midnight, this is one of the stalls you can go to.
Their addictive sauce and springy mee pok have the taste that will send you out here often. Their dumpling noodles are al dente in texture. The dumplings have a savoury flavour on the inside and a soft texture on the outside. You will find the taste of their dish homier as you take a bite. And you will leave the place with not only your stomach full but also your heart.
You can visit them at Tanglin Halt Market #01-04, 48A Tanglin Halt Road, Singapore
Credit: Seth Lui
Conclusion
Tanglin has many restaurants you can fill your stomach with and beautiful sites to relax on these hill peaks. The variety of flavours you can taste will keep your taste buds excited for each dish you try. So make sure you're wallet and stomach are ready for this trip here in what to eat in Tanglin. Be sure to prepare your money for any journey you decide to take. With Cash Mart as your legit money lender, you will receive money instantly with their instant cash loan. So have fun eating in Tangling and enjoy!