What to Eat in Redhill: Tips from the Locals
Redhill is one of the top spots you shouldn't miss. It boasts about the good old days, perfect for a field trip. Fill in your tummy with mouthwatering dishes as advised by the locals. It makes exploring Singapore an exciting activity. Both residents and tourists look forward to going around the country.
But before discussing what to eat in Redhill, let's have a little backstory about the place.
Redhill, Singapore
History
Redhill beholds a legendary story. The name itself came from the folklore telling how the hill turned red.
Hang Nadim is a brilliant young boy. A bright future awaits him. During his time, Singapore
was infested
with savage swordfish. These people kill anyone who comes close to the sea. Hang Nadim thought of a great idea on how to manage the situation. He placed the banana stems erected in front of the shoreline. Thus making them succeed in capturing swordfishes.
The solution made by the boy gained popularity. People adore Hang Nadim, but the Sultan got jealous of him. Because of this, the Sultan ordered his men to kill the kid. And he achieved what he wanted – Nadim's cruel death. The blood of the boy spilt over the hill. Thus earning the name Redhill.
Present
Up until today, the story continues to pass from generation to generation. Even so, the history aside didn't stop it from proving how legendary the area is. Instead, it shows off fame for being rich with hawker heritage.
Find out what dishes can
satisfy
your palate. Follow the tips from the locals about what to eat in Redhill.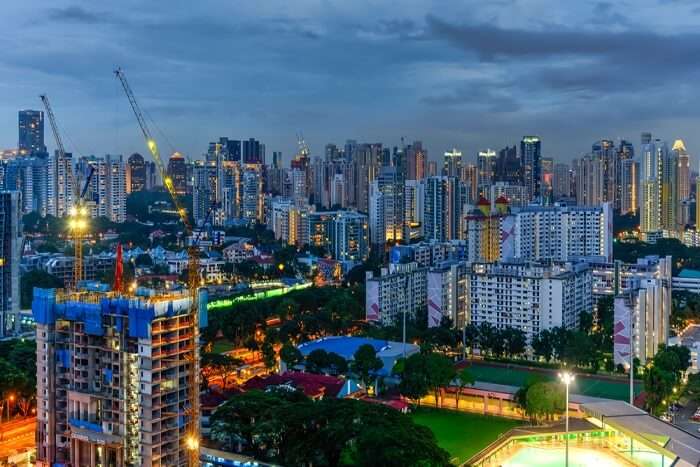 Credit: https://traveltriangle.com/blog/museums-in-redhill-bdp/
Locals' Advice On What To Eat In Redhill
Redhill Food Centre is the best place to go for food excursions. It takes only 10 minutes of walking from Redhill MRT Station. But if you look at the site map, there are other nearby eating spots available.
To help you with your little adventure, here is a list of what to eat in Redhill.
Hong Seng Curry Rice
Hong Seng Curry Rice has been a family business for over 20 years. As of today, it
continuously
stands out among 2nd generation hawker stalls. Why? Because they serve more than 20 different dishes
freshly
cooked every day. The best part is that their menu is cheap but tastes
excellent
.
Of course, the stall's signature dish is Hong Seng Curry Rice. Deep-fried porks are on top of stewed cabbage. The curry sauce leans towards a stronger flavour spread over the rice. It is spicy with a more Assam taste.
Overall
, it has a closer piquancy to Curry Fish Head, far from the typical sweet and bland Hainanese curry rice sauce.
Also, local patrons
highly
recommend their Pork Chop and Char Siew. Also, they
advise
you to get add-ons on your plate.
Dong Po Pork, Braised Pig's Trotters, Curry Sotong, Boneless Curry Chicken, and Battered Prawn Fritters are excellent choices
.
Or you may call for Pork Meatballs, Stir-Fried Long Bea, Ikan Billis, and Chye Poh Omelette to fill your stomach
. It goes along with your main dish without hurting your wallet.
Bring with you your colleagues and order a small variety. You get to taste their various menu for the day
economically
.
Enjoy the delicious meal at #01-74 Redhill Food Centre, Blk 85 Redhill Lane, Singapore, 150085
.
Credit: https://www.misstamchiak.com/hong-seng-curry-rice/
Hock Shun Traditional Homemade Curry
Hock Shun
truly
lives by its name as a traditional homemade curry. Every dish came out from clay pots to
retain
the flavour and heat of each meal. Making it taste addictive, you'd
surely
order for more.
Claypot Curry Chicken Wings
The Claypot Curry Chicken Wings is the all-time favourite of locals. Every plate comes with two chicken wings and potatoes. Plus, you can choose whether to dine it with rice or bread. It has a mild spicy flavour. So, if you're not into tangy tastes, this one is good for you.
In addition
, the curry sauce is rich in coconut milk.
Therefore
 completing the authenticity of the dish.
Another best-selling on the menu is the Claypot Fish Curry. At first look, you'll notice it comes in a
slightly
darker, reddish hue. The fish is soft and flaky but not overcooked.
In addition
, it comes with a flavourful Assam curry. As a result, it complements the whole meal.
Grab the tasty dish at 85 Redhill Lane, #01-66, Redhill Lane Block 85 Food Centre, Singapore, 150085.

Credit: https://the.fat.guide/singapore/eat/hock-shun-traditional-homemade-curry/
Yan Fried Bee Hoon and Chicken Wings
The stall is
truly
popular for its chicken wings, and even Prime Minister Lee Hsien Loong queues in to have a bite.
The famous chicken wing is quite costly. But you get your money's worth. The wings are
incredibly
fragrant and crispy. It took well the marinade and
freshly
fried. It makes every bite crunchy yet tender and juicy.
A plate of bee hoon makes your chicken a full meal. It is not clumpy and never leaves a greasy trail on your palate. You may pour some sweet chilli sauce over. Plus, you can add deep-fried sides like luncheon meat, sausages, and fish cakes. Take note that all these are available at an affordable price.
Get an indulgent supper treat at 85 Redhill Lane, #01-09, Redhill Lane, Block 85 Food Centre, Singapore, 150085
.
Credit: http://www.allaboutceil.com/2015/02/yan-fried-bee-hoon-chicken-wings-why.html

Ming Yun Fried Hokkien Mee
Hokkien Mee in Redhill is quite an underdog. It is not the typical food stall with snaking lines.
Nevertheless
, the quality of their dishes is definitely worth the try.
The owner started frying Hokkien Mee in his teens.
Initially
, the shop at Tampines Round Market opens in the evening for 1 to 2 hours only. Why? Because everything sold out fast. Nonetheless, they moved to Redhill for a change in the operation. Since then, the shop has served fantastic meals in the area.
Hokkien Mee is a thick bee hoon with gravy. It
is fried
until the gravy becomes greyish brown. It might look far from the usual plates, but Hokkien Mee lovers adore the taste.
Visit #01-12, 117 Aljunied Avenue2, Singapore, 380117, and taste their mouthwatering menu
.
Credit: https://www.sgfoodonfoot.com/2017/09/ming-yun-famous-fried-hokkien-prawn.html
Zhong Ji
One of the best tips on what to eat in Redhill is the carrot cake. Zhong Ji is the best hawker place for this. You can't miss how it brings justice to the dish.
Black Carrot Cake is a top-selling meal in Zhong Ji. It has a sinful yet satisfying taste. The radish is in
slightly
larger chunks, and the same goes for the pieces of fried eggs.
Fortunately
, the black sauce coats each piece
evenly
. It brings a yummy flavour to every bite.
Also, there is a strong wok hei that balances everything else. Finally, add a nice kick to the dish by mixing in sambal belachan.
Don't forget to try their Hokkien Mee too. Loyal patrons enjoy eating this menu here.
Be at #01-73, Blk 85 Redhill Market Singapore, 150085, and dive into all their savoury dishes.

Credit: https://the.fat.guide/singapore/eat/zhong-ji-delicacy/

Qing Tian Leng Re Tian Pin
Complete what to eat in Redhill by going down to desserts. Qing Tian Leng Re Tian Pin serves not only cold desserts but warm ones as well.
Tau Suan is their signature warm dessert. The soybeans add a nice texture for not being too mushy. The
slightly
salty youtiao remains chewy even though coated with sweet soup. The contrast of flavours is not overwhelming. Instead, it
perfectly
blends.
Mango Milk Ice is a go-to cold dessert. Every serving satisfies every sweet food lover. The scoop of shaved ice is creamy and milky. The mango chunks are
naturally
sweet and large. It is an excellent way to end your day trip in Redhill.
Indulge your sweet tooth at Redhill Food Centre, Blk 85 Redhill Lane, #01-60 Singapore, 150085
.
Credit: https://pixelm6.sg-host.com/redhill-food-centre-singapore/
Jia Xiang Mee Siam
Jia Xiang
is known
for being old-school. The owner got exceptional cooking skills from his mother. Diners
mostly
line up for the Mee Siam, Lontong, and Nasi Lemak. You get your money's worth at each serving.
Mee Siam recipe has existed for more than 50 years. The plating includes all the ingredients spread atop the orange bee hoon. These are hard-boiled eggs, tiny fried crouton-like flour puffs, and tau pok. Also, there is a thin piece of eggs and fried Ikan billis. On top of it is a dollop of chilli and shallot oil.
The gravy tastes heavenly. It is sour with a zing. Although not everybody finds it satisfying, the majority discover it alluring.
On top of that, Jia Xiang at Redhill has an upgrade to your plate. Ingredients like a fried omelette, ngor hiang, fish cakes, and tau kwa are add-ons you'd
surely
want to try.
Experience the savory dishes at #01-35 Redhill Food Centre, Blk 85 Redhill Lane, Singapore, 150085
.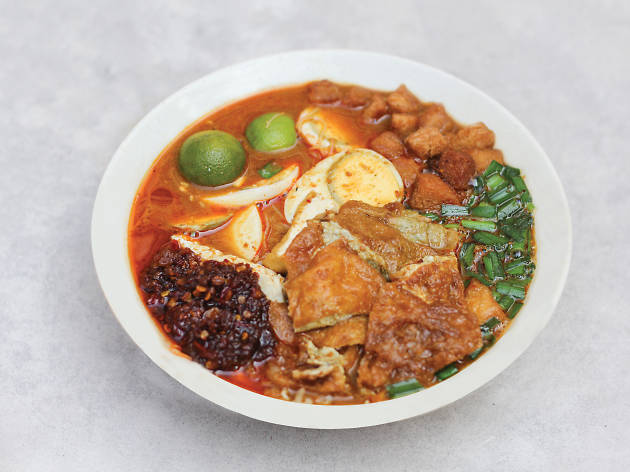 Credit: https://www.timeout.com/singapore/restaurants/hawker-spotlight-jia-xiang

Fu Ming Cooked Food Carrot Cake
Fu Ming Cooked Food is famous for supper treats like Fried Carrot Cakes. The menu serves both black and white versions. Although most patrons order the white versions, the black ones taste exceptional.
Fu Ming serves every order with large chunks of soft radish cakes. The stall still steams carrot cake instead of buying the factory-made. That's why the texture is softer and more watery. The flavour has a hint of radish and some pieces of eggs.
The white carrot cake is crispy wok hei. Meanwhile, the sweet black sauce adds extra sweetness to every serving.
Dine at a Michelin Bib Gourmand when searching for what to eat in Redhill. Check out at #01-49 Redhill Food Centre, Blk 85 Redhill Lane, Singapore, 150085.
Credit: https://cavinteo.blogspot.com/2013/08/black-carrot-cake-from-fu-ming-cooked.html
Ye Shang Hai Teochew Porridge
Nothing can beat a white porridge for being the best comfort food. Ye Shang Hai Teochew Porridge is where you can find a warm bowl.
The signature porridge of the stall is simple. But it is delicious for any meal of the day. Also, the place offers over 50 dishes. Choose any food you like and get a
portion
of meat and vegetables at a reasonable price. If you need a bigger serving, ask for a meal with two vegetables and two portions of meat as add-ons.
A
highly
commendable dish is the Braised Pork Belly and Teochew Braised Duck. The pieces of meat are tender from
being cooked
in the braised sauce. Thus
perfectly
complimenting your porridge bowl.
Also, you can order a Fried Chicken Feet. It brings extra crunch and taste to your meal.
Finish your bowl at 107 Jalan Bukit Merah, #01-1826, Singapore 160107.
Credit: https://mugentech.net/index.php?/topic/1592-ye-shang-hai-teochew-porridge-discover-this-taxi-drivers%E2%80%99-secret-porridge-haunt-in-redhill/
Lan Xin Delight
Lan Xan Delight is not difficult to miss. There's a lineup of people waiting to order their meals. Loyal customers opt for it here because of the home-cooked taste. It's
undoubtedly
cheap but pretty filling.
Cai Fan is a mouthwatering dish known to the stall. Each order includes one meat and two vegetables. If you need more food, you can order a plate with three vegetables or two portions of meat.
Other foods listed in their menu are pork belly, fried pork chop, and sweet and sour pork.
Also, they serve curry chicken and potatoes, fried kuning fish, bean sprouts, chap Chye, omelette, and more
.
In addition
, all orders served have an inclusive bowl of soup. Every spoonful does not taste like the typical msg-ridden soup. Instead, it came from the boiled pork meat. Also, there are carrots and cabbage included in the bowl. What a great accompaniment to fulfil your hungry stomach, isn't it?
Line up early at #01-87 Redhill Food Centre, Blk 85 Redhill Lane, Singapore, 150085.
Credit: https://danielfooddiary.com/2019/04/04/redhillfoodcentre/
Fei Zai Xiang Roasted Meat
Fei Zai Xiang is famous for its char siew. It satisfies your mood for roasted meat since the service is fast and efficient. After your order, your food will be at your table before you know it.
The stall serves a variety of Hong Kong dishes like rice and noodles.
Their menu includes Char Siew Rice, Roasted Meat Rice, Roasted Duck Rice, Dumpling Noodles, and Wanton Noodles
.
Aside from Char Siew, Wanton Noodles are their fast-selling meal. The Hong Kong-style noodles are thin and springy. The char siew slices are thick, rich, and fatty. Plus, it
is caramelized
and placed on top of the dish.
Although Fei Zai Xiang does not ring a bell to others, loyal customers boast about its servings. Every plate has a good proportion of well-charred meats.
Give in to your cravings at #01-91 Redhill Food Centre, Blk 85 Redhill Lane, Singapore, 150085.
Credit: https://www.misstamchiak.com/fei-zai-xiang-shao-la-wanton-mee/
Conclusion
It's no surprise why Redhill maintains to be legendary in Singapore. On top of history, it brags about the numerous places of what to eat in Redhill. Indeed, you won't think twice about having a day tour in the area.
Accomplish
one of your go-to destinations in Singapore by securing funds in your wallet
. Get it fast and secure from Cash Mart Singapore. It is a licensed moneylender that lets qualified borrowers take out a Personal Loan. Apply now, and you'll surely enjoy scouring for what to eat in Redhill.