Top 15 Great Food: What to Eat in Raffles Place
A lot of delicacies to choose from join us and discover what to eat in Raffles Place. It
is known
to be a busy place surrounded by MRT stations, corporations and offices
. So, here are a couple of options for lunch out with your friends. Select on these top 15 great food of what to eat in Raffles Place. If you happen to work around the area or even pass by through it, you'll never run out of selections.
Wheat Baumkuchen
If you are a person who is cautious of what you eat, then this place is perfect for you. In what to eat in Raffles Place, you can get generous portions at an affordable price here in Wheat Baumkuchen. The most popular dish on the menu is the Grilled Salmon Soba. For $10, you can enjoy soba with a firmer texture topped with a slab of salmon. Next, fill up your appetite with their Chicken Breast Rice. Also, you can enjoy this meal without worrying about calories. Plus, this dish
is composed
of chicken breast, red rice, avocado, sous vide egg and salad.
In addition, you can check out their menu for a wide range of Japanese and Asian style salads, and you can find the restaurant at One Raffles Place, Asia Square Tower 1. They are open on weekdays from 10:30 am to 9 pm and at weekends from 10:30 am to 4 pm.
Credit:https://brocnbells.com/singapore/boutique-fitness/wheat-baumkuchen-raffles-place
Gochi-So Shokudo
Gochi-So Shokudo is famous for its menu that offers a wide range of selections for Japanese cuisine
.
However
, the most renowned dish that people order around here is the Charcoal Grill Iberico Don range
.
Among the Charcoal Grill Iberico Don range, you can buy the most famous dish is the Pork Jowl Don, at $13.80. Enjoy this sumptuous meal during your lunch-out with your workmates. Also, you can choose to try their Iberico Pork Belly Don and Iberico Pork Collar Don. These two dishes are tasty and have the most value for money. These dishes cost $11.80 each.
If you are a katsu lover, why don't you try their Bellota Loin Katsu Curry and the Bellota Loin Katsu & Cheese Roll? Bellota Loin Katsu Curry costs $15.80, and you can already enjoy savoury and tender katsu meat. Also, Bellota Loin Katsu & Cheese Roll is a melting cheese that will add flavours that you will enjoy. Bellota Loin Katsu & Cheese Roll costs $21.80.
The restaurant is open every day from 11 am to 9 pm.
Credit: https://smallpotatoesmakethesteaklookbigger.blogspot.com/2020/11/gochi-so-shokudo-one-raffles-place.html
The Providore in Raffles Place
The cafe is perfect for romantic dinner dates, meetings and catch-ups with your friends
. This place has a pretty interior, so you can enjoy eating inside a glasshouse. People
mostly
order Club Sandwich and Lobster Mac & Cheese, priced at $18.50 and $27.50
respectively
.
Roasted Chicken Leg is one of the main dishes that patrons always order. They serve it with Baharat spice with their house-made aubergine chutney, and the dish also has minted yoghurt. In what to eat in Raffles Place, it is definitely worth trying when you visit The Providore. Also, you can pair this dish with a guilty serving of Roasted Sweet Potato Wedges with Garlic Aioli.
You can enjoy these sumptuous dishes every day from 8 am to 10:30 pm.
Credit: https://theprovidore.com/2021/06/the-providore-raffles-city-now-open/
Waa Cow
Waa Cow is a tiny hidden gem in what to eat in Raffles Place that specialises in flame-torched Wagyu beef bowls. Their chosen weapon of choice is their flame torch that adds an extra smokey flavour to their meals. Also, you can choose from various flavours of Wagyu beef.
Choose from Original, Mentai, Spicy Mentai, Truffle, and Yuzu Fois Gras, priced at $19.90, $21.90, $21.90, $22.90 and $25.90
respectively
.
If you want to try other meals that do not involve beef, you can choose Mentaiko Salmon Poke Set at $17.40 and the vegetarian Truffle Mushroom Set at $14.90
.
Credit: https://www.misstamchiak.com/waacow-sushi-bar/
Salmon Samurai
Salmon Samurai offers meals that are sumptuous for the heart but will definitely not hurt the bank
. It will give you satisfaction in their value-for-money salmon donburi, and t
heir target market is the hungry office workers who lack time and those people who want to have a quick donburi fix
.
Here, you can customise and create your bowl of Salmon Donburi. First, the choice of the staple to the type of salmon for
just
$9.90, and then
 y
ou can choose between mixed grain brown rice udon noodles, and salad for your source of carbohydrates
. For salmon, here are the choices. Choose between salmon poke, sashimi, salmon mentaiko, spicy salmon poke, or garlic shoyu.
Salmon Samurai is open daily from 11 am to 11 pm.
Credit: https://thehoneycombers.com/singapore/salmon-samurai-in-singapore-these-salmon-specialists-offer-maki-donburi-and-customisable-lunch-bowls-in-the-cbd/
Hans Im Glück in Raffles Place
Hans Im Glück is a German burger restaurant that is a must-try if you are looking for a delicious burger restaurant in what to eat in Raffles Place.
When you order your burger, choose which bun you prefer between sourdough and multigrain
. Also, they named their famous burger alike with their restaurant.
It is filled with juicy grass-fed beef patty, shavings of Parmesan cheese and Parma ham hidden underneath a heaping of rocket leaves
. This burger costs $17.
If you are a vegetarian, you can also have a burger with the same taste as beef. In fact, t
hey have a lot of options for vegan and vegetarian patties, including olive, wheat, cheese and spinach, and walnut
. Kutscher is one of their vegetarian burgers that is definitely a must-try.
You can also enjoy the relaxed atmosphere, and refreshing cocktails as the restaurant is open until 1 am
.
Credit: https://www.thefork.com/restaurant/hans-im-gluck-gottingen-r595233
Robust what to eat in Raffles Place: Souperstar
The star of their menu is their healthy fusion popiah. Souperstar makes sure that their popiahs are handmade fresh daily. Their popiahs also come in a variety of flavours. One of these is the Sesame Chicken which costs $4.50. It is the most famousong the menu.
Also, it offers a variety of salads and soups.
Choose between the salads hearty soups from Corn Chowder, Mushroom to the Classic French Onion
. These dishes are low-calorie which will make it guilt-free as you indulge in their tasty menu.
Souperstar is also perfect for family dinners and office meetings in what to eat in Raffles Place. They have Popiah and Soup bundles that range from $36.8 to $114.2.
Credit: https://sethlui.com/souperstar-singapore/
Guzman y Gomez
You can find this Mexican food chain at the underground walkway of Collyer Quay. Of course, the favourite dish on their menu is their Burrito. It's made of a flour tortilla, fluffy white or brown rice and meat and veggies of your choice.
The burrito can also contain jack cheese, beans, fresh-chopped tomato salsa and their house-blend salsa
.
Other sumptuous dishes on their menu are quesadilla, nachos and of course, their soft-shell tacos
. In what to eat in Raffles Place, they also have the perfect beverages to pair with their meals, such as sodas imported from Mexico.
You can find their food chain in Ocean Financial Centre, Singapore. The restaurant is open from 8 am to 8:30 pm.
Credit: https://japantoday.com/category/features/food/mexican-premium-fast-food-restaurant-guzman-y-gomez-opens-4th-store-in-japan
Kipos: Calorie-free what to eat in Raffles Place
On a diet but need to fill up your tummy for energy? In what to eat in Raffles Place, worry no more as you won't feel sluggish for work because of your diet. Kipos will give you filling meals that will not add to your calorie intake. It is very popular with people who want to stay fit without compromising their intake of food.
Their Keto Bowl, priced at $14, has veggies, salmon sashimi, guacamole, and nuts. Also, there are other set bowls such as The Vegan Bowl, priced at $10, The Paleo Bowl at $12 and the Gluten-Free Bowl at $14.
You can also choose among their extensive selection of dressings such as Truffle Shoyu and Apple Cider Yuzu to Mala and even Rojak
.
Credit: https://www.happycow.net/reviews/kipos-central-singapore-164372
Haakon: Bowls of what to eat in Raffles Place
Haakon is famous for its poke bowls. it claims to offer nourishing superfoods with the fusion of Hyggelig Scandinavian Living. Also, they offer brunch dishes, salads and protein platters. They even offer soba noodles and acai bowls.
The most famous among their menu is their Blackbean Tahini Salad priced at $11.90, Falafel and Quinoa Grain Bowl which costs $10.90 and The Mentaiko Salmon Poke Bowl priced at $14.90
.
In what to eat in Raffles Place, The Mentaiko Salmon Poke Bowl has salmon sashimi, mentaiko mayo with fish roe, and various fruits and vegetables under a bed of warm brown rice
. Haakon also offers nutritious juices and beverages. Try their Acai Detox and Spirulina Strong. It has nutrients and anti-oxidants.
A guide in dining and drinking by the busy neighbourhood of Telok Ayer.
Explore every corner of Telok Ayer. Here, you will find a variety of restaurants, cafes and bars. In what to eat in Raffles Place, here is a list of our top-tier places where you must try to ease your stress from work. Do not forget to bring your friends to add more fun to your food journey!
Credit: https://www.313somerset.com.sg/store-directory/haakon-superfoods-and-juice/
Fu Lin Bar & Kitchen
Here in Fu Lin Bar & Kitchen, you can enjoy a bowl of yong tau foo and a glass of alcohol in the same place. In what to eat in Raffles Place, this bar and kitchen give off an oriental and rustic vibe that transforms into a bar at night.
Enjoy sumptuous meals during the day such as Crispy Pork Belly, Fu Lin Noodles and of course, the legendary Yong Tau Foo
. These dishes will
surely
fill your stomach up as you cap off the night with their amazing cocktails.
If you want to explore, choose their House Cocktails priced at $20. The bartender will mix various concoctions that you can't find on their menu. However, if you are not that adventurous and only want to try sweet cocktails, then Buah Long Long is perfect. Buah Long Long is a mixture of gin, Midori, and sour plums.
Fu Lin Bar and Kitchen is open every day except Sundays, from 10 am to 12 am-midnight.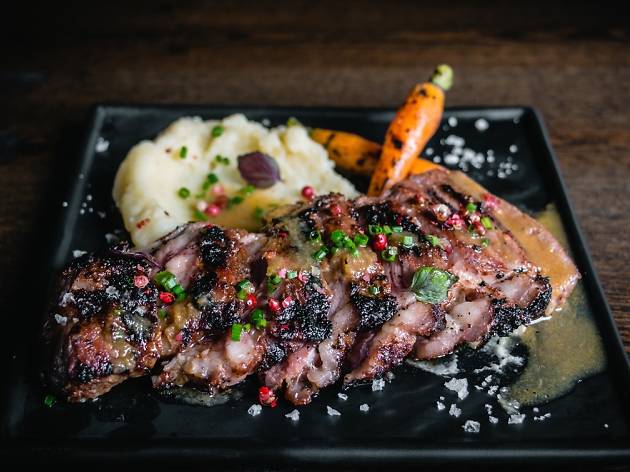 Credit: https://www.timeout.com/singapore/bars-and-pubs/fu-lin-bar-kitchen
Plain Vanilla Bakery
Plain Vanilla Bakery is the perfect place to
satisfy
your sweet tooth cravings. Patrons said their cupcakes are one of the best in the neighbourhood. Cupcakes and other baked products are available from 12 pm. You can also enjoy their breakfast, brunch and lunch menu. In what to eat in Raffles Place d
uring breakfast, try their granola bowls which will
surely
give you energy before going to work
. They also offer plates of pasta, Eggs Benedict and Avocado Toast.
Credit: https://danielfooddiary.com/2021/04/23/plainvanillabakery/
Napoleon
Napoleon claims to only offer high-quality dishes with traditional ingredients that they get from their authentic French suppliers
.
You will immediately feel like you are in an amazing French wine cellar with the ambience that this restaurant gives off
.
As you enter Napoleon, you're embraced by the vibrant, glowing tones of natural materials
.
This underrated bar and French bistro is definitely a must-try if you want to unwind after a long day at work.
Some of their famous plates are burrata salad, beef tartare, prawn rigatoni and pan-roasted duck breast
. These dishes are perfect to pair with their exquisite wine collection.
Credit: https://www.chope.co/singapore-restaurants/restaurant/napoleon
Moosehead Kitchen Bar
Moosehead features a collection of palate-teasing Mediterranean food in the neighbourhood of Telok Ayer
.
You will immediately feel a laidback and chill ambience as you enter Moosehead Kitchen Bar
. For their main dishes, you must try their Australian striploin and roast chicken.
If you only want to indulge in their small plates to partner with their selection of wines and cocktails, try out their crispy spiced pig's ears, burrata and lamb kofta
.
Moosehead Kitchen and Bar also has a wide range of cocktails and wines to choose from. Their signature Moosehead G&T is a mixture of Gin, tonic and grapefruit. They also have a happy hour here in Moosehead Kitchen Bar. Their happy hour is every Monday to Friday from 5 to 7 pm.
Credit: https://www.misstamchiak.com/moosehead/
The Market Grill
If you are looking for a sumptuous meal of fresh seafood and high-quality meat, The Market Grill is the perfect place to try out
.
This restaurant will leave you wanting more with its exquisite menu of grilled meat and seafood
. They claim to serve meat and seafood that
are grilled
to perfection.
In addition
, they offer burgers, steaks and lobsters. These dishes are perfect to pair with their array of wine selections.
A Friday night with your workmates will be a lot more fun here in The Market Grill. You can watch and sip through your wine while you watch for your dishes to be cooked. It is definitely a perfect way to unwind after a long day at work. Their wine selections are composed of white, pink and red wines. The Market Grill also offers happy hour during weekdays from 11:30 am to 2:30 pm and 6 pm to 7 pm.
Credit: https://themarketgrillwine90.com/
Despite its busy place, it didn't stop you from your food journey to taste a lot of delicacies and what to eat in Raffles Place. Be sure to have enough money to be able to explore the different restaurants. With Cash Mart as your legit moneylenders, they'd be able to offer you many products that'll fit your needs, including their instant cash loan.
Related Article: A National Treasure: What to Do in Raffles Place