What to Eat in Queenstown: Ultimate Foodie Guide

Find out what to eat in Queenstown but first, let's take a step back and remember how this town came to be and appreciate its history.
It's also an excellent destination for foodies, and there are a lot of fantastic restaurants and hawker centres in the area. But how did it become a diverse location? 
A Heartland is a self-sufficient housing estate located away from the city centre. It is complete with shops, schools, markets, cinemas, and churches.
What's in Queenstown
In 1952, when Singapore was still a British colony, it became their first satellite town. That was a precursor to what is known today as a "Heartland."
Today, it serves as a centre of high technology and high-tech innovation.
Queenstown is home to high-tech and multinational companies such as the Asia-Pacific Economic Cooperation (APEC), Grab, Razer and Shopee.
 Credit: https://commons.wikimedia.org/wiki/File:Queenstown,_Singapore_(Unsplash).jpg
A Little History About Queenstown
The city of Queenstown was named after Queen Elizabeth II to commemorate her coronation in 1952.
In fact, this area was previously known as Wu-Wei-Gang in Mandarin or as Boh Beh Kang in Hokkien. Also, 1954 marked the official naming of Queensway as an arterial road.
The area of Queenstown was formerly swampy and had a southeast channel running through it. Also, there were two hills on either side of this agricultural area – Feng Xing and Feng Ling. 
Before, Feng Xing used to be a rubber plantation, and Feng Ling was a cemetery known as Boh Beh Kang. There are hundreds of people in the village, with the majority of whom speak Hokkien and Teochew.
They cultivate vegetables, grow fruits, pigs and chickens, and horses as well. Additionally, The British military camp Buller Camp also occupied the site until they cleared the land for the new housing estate in 1953.
Credit: https://www.timeout.com/singapore/things-to-do/skyville-dawson
A Town of Many First
A construction project began in 1952 at the Buller Camp in Princess Estate. Thus laid the foundation for the concept known as
Heartland
today.
New buildings replaced the old burial ground and farmland at Boh Beh Kang village and began a new era in Singapore's public housing
.
Forfar House at Queenstown became Singapore's first skyscraper for public housing in 1956. A modern toilet and a built-in rubbish chute are among its remarkable features.
However, They replaced the remnants with even taller 30 to 40-storey residential towers in Forfar Heights today.
Credit: https://traveltriangle.com/blog/things-to-do-in-queenstown-singapore-bdp/
How to Get to Queenstown
By Mass Rapid Transit
The nine stations of the East-West Line and Circle Line serves the planning area. Also, the Buona Vista station serves both lines as an interchange. So here are the nine stations you can go through before learning what to eat in Queenstown:
Credit: https://www.streetdirectory.com/stock_images/travel/normal_show/13333503480407/17739/queenstown_mrt_station_ew19_main_view/
By Bus
The planning area contains three bus terminals.
You can find Ghim Moh Bus Terminal along Ghim Moh Road, while Buona Vista Bus Terminal is along Holland Drive
. Both are close to Buona Vista MRT Station.
Then, in the southwest corner of the planning area, you can reach Kent Ridge Bus Terminal. In addition, it is in proximity to the Kent Ridge campus of the National University of Singapore.
The three bus terminals are part of the Clementi Bus Package under the Bus Contracting Model.
 Credit: https://www.straitstimes.com/singapore/transport/four-new-bus-routes-for-choa-chu-kang-punggol-and-queenstown-by-march
By Car
Queenstown connects to the rest of Singapore via the Ayer Rajah Expressway, connecting western Singapore to the Central Area and Johor through the Tuas Second Link
.
The Outer Ring Road System (ORRS), a semi-expressway, and Portsdown Avenue are significant roads in the planning area
.
At Buona Vista, Queensway intersects Commonwealth Avenue, a major highway that parallels the East-West Line
.
At its southern end, the West Coast Highway has become a major arterial road linking Pasir Panjang to the Jurong Industrial Estate to the west and the Central Area to the east
.
Meanwhile, the Alexandra Road runs along the eastern border of Bukit Merah, connecting Pasir Panjang Road with the Ayer Rajah Expressway, Queensway, and Commonwealth Avenue
.
Credit: https://www.torque.com.sg/advice/driving-in-singapore-tips-for/
Queenstown Foodie Guide
Keng Eng Kee Seafood
Credit: https://neardine.com/restaurant-name/keng-eng-kee-seafood/
If you're going for the best Zi Char in Singapore and don't know what to eat in Queenstown, you'll
probably
hear Keng Eng Kee. It has exceptional food at meagre prices. Also
, they have a wide variety of dishes that you can choose from.
In 1989, a couple from Hainan Island emigrated to Singapore and founded Keng Eng Kee Seafood (KEK). Cooks at heart, Low Peck Yah and Koh Yok Jong sold Hainanese Chicken Rice in Singapore in the 1970s before co-founding KEK, which specialised in Zi Char cuisine.
Later, their daughter and her Malaysian husband added Southeast Asian elements to the menu, adding their spin.
KEK is a
highly
acclaimed restaurant.
It's ranked in the Top 50 World Street Food Masters in 2017 and the Top 50 Global Gourmet List Destinations in 2018 by Michelin
.
The late Anthony Bourdain and British Celebrity Chef James Martin were both fans of KEK.
You can find Keng Eng Kee Seafood at Blk 124 Bukit Merah Lane 1 #01-136. If you're planning to go, visit their website Keng Eng Kee Seafood, first to make a reservation. 
Foods to Try at Keng Eng Kee
Prawn Rolls
 Credit: https://cavinteo.blogspot.com/2016/05/keng-eng-kee-seafood-kek-in-2016.html

Signature Moonlight Hor Fun
 Credit: https://sethlui.com/keng-eng-kee-seafood-zi-char-singapore/
Coffee Pork Rib
 Credit: https://book-recipe.com/easy-coffee-pork-ribs/
Butter Cereal Prawns

Credit:https://www.foodelicacy.com/butter-cereal-prawns/
The Carvery, Park Hotel Alexandra
If you're looking for some modern European food, The Carvery at Park Hotel Alexandra is a great place to go.
The Carvery chefs use only the freshest ingredients to create culinary masterpieces. Indeed, y
ou can choose from an assortment of
meltingly
tender roasts to a medley of complimentary delights. Definitely,
 a feast of flavours awaits you.
The Carvery offers ala-carte food and a buffet. As a meat lover, The Carvery's buffet offers a wide variety of delicious meat.
You can find The Carvery at level 7 of Park Hotel Alexandra.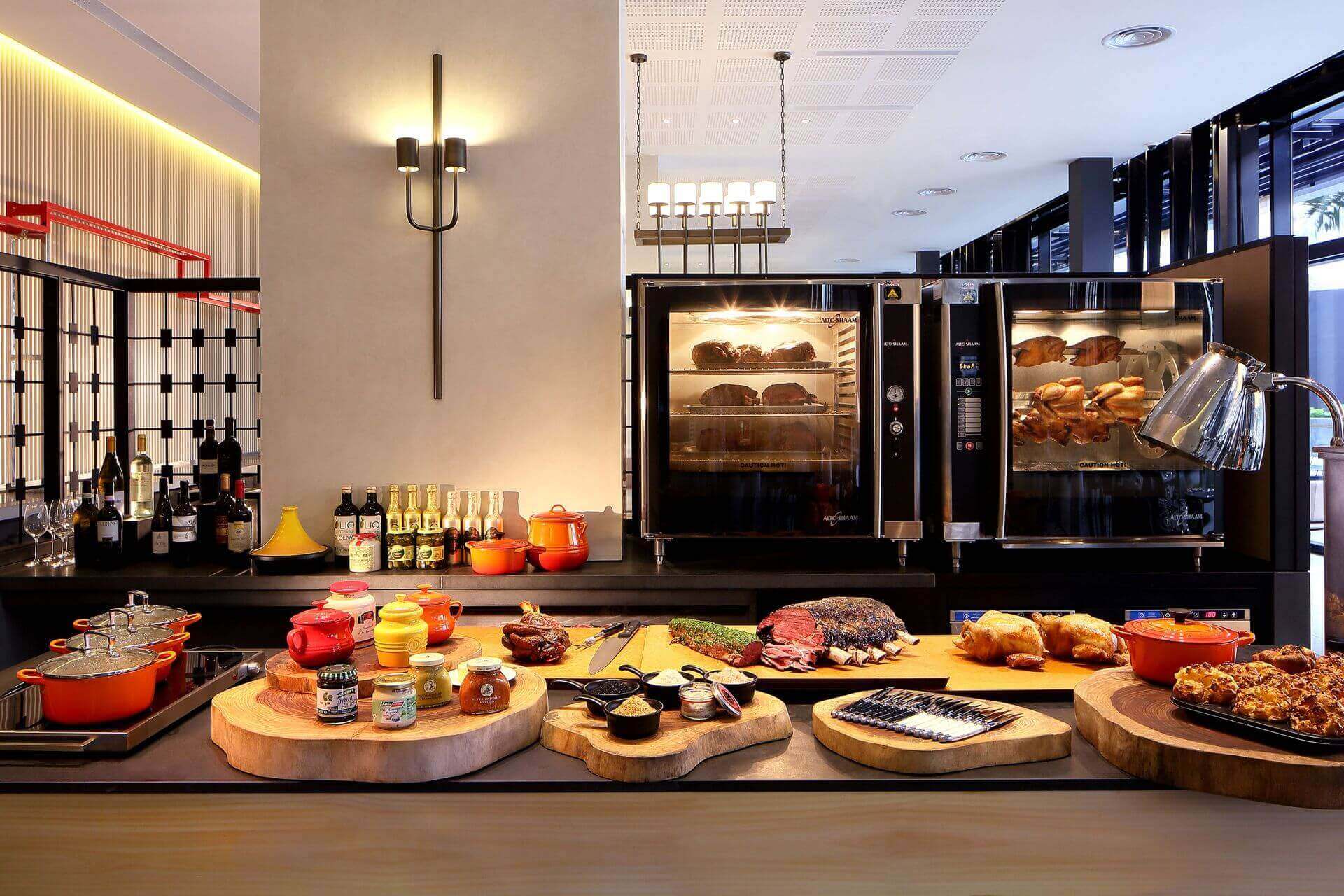 Credit: https://www.tripadvisor.com/Restaurant_Review-g294265-d8649766-Reviews-The_Carvery-Singapore.html
Foods to try at The Carvery
100 Days Grain Fed Beef Striploin
 Credit: https://www.istockphoto.com/photos/beef-strip-loin
Margarita Pizza
Credit: https://www.epicureasia.com/food/1854/best-margherita-pizzas-in-singapore/
Wagyu Beef Burger and Fries
 Credit: https://trip101.com/article/ferg-empire-the-best-burgers-pastries-and-gelato-in-the-world
Chef Hainanese Western Food
If you're looking for Hainanese food and what to eat in Queenstown, you've got to check Chef Hainanese Western Food.
You will need to hurry, as this place only opens between 7 pm and 10 pm. Also, you can expect a long line when dining here.
So,  for those who would like to try Chef Hainanese, I suggest you arrive earlier than 7 pm as there are already lines at 6:30 pm. Despite the long queues and short operating times, the food here is superb.
 Credit: https://eatbook.sg/chef-hainanese/
Portion
sizes here are huge! There are four main sets available; Chef sets 1 to 4. Food portions are overflowing in each set. O
ne of the most popular options is the Mixed Grill Platter, including a pork chop, chicken chops, fish cutlet, and chicken sausage
.
Served alongside the meats were fries, baked potato, baked beans, and coleslaw. To sum up, this is a lot of food for one person, so make sure you are hungry.
You can find Chef Hainanese Western Food 海南西餐
at Tanglin Halt Food Centre, 1A Commonwealth Dr
.
Queensway Famous Curry Chicken
In what to eat in Queenstown, Chicken curry is a Singaporean favourite.
When you have a plate of the best chicken curry in Queensway, you should check out Queensway Famous Curry Chicken.
It's not only delicious but also affordable.
The chicken
is cooked
perfectly
with a thick and savoury curry sauce. Also, the potatoes are cooked to perfection. You can eat the curry chicken dish with white bread or rice.
There is also the Katong Laksa, which is worth trying.
You can find Queensway Famous Curry Chicken at 1 Queensway #01-60 Queensway Shopping Centre, Singapore 149053.
 Credit: https://www.burpple.com/quensway-famous-cury-chicken
ABC Brickworks Market and Food Centre
From hotel restaurants and food stalls, we'll now explore one of Singapore's famous hawker centres
.
Another great place to take a culinary adventure is the ABC Brickworks Market and Food Centre
.
With a history dating back to the 1970s, this hawker centre has stood the test of time. The following is a list of stalls at ABC Brickworks Market and Food Centre you should visit.
Credit: https://thesmartlocal.com/reviews/singapore/eateries/local-fare-a-hawker/hawker-centres/abc-brickworks-market-and-food-centre/
Ah Er Soup
Ah Er Soup serves refreshing Chinese herbal soup. Their soup is on the Michelin Bib Gourmand list. Indeed, The best-selling Buddha Jumps Over the Wall soup pairs well with cold and rainy weather. So, the soup pairs perfectly with their Pumpkin rice.
There is no MSG in Ah Er Soups' food, which is impressive because they have amazing flavours.
 Credit: https://www.misstamchiak.com/ah-er-soup/
Tiong Bahru Yi Sheng Fried Hokkien Mee
Tiong Bahru Yi Sheng Fried Hokkien Mee is unquestionably one of the big names at ABC Brickworks Market and Food Centre.
They used to be a pushcart business, but now they are a full-fledged hawker stall. In what to eat in Queenstown, it is a trendy place so expect long queues.
Their famous Fried Prawn Noodles are Michelin Bib Gourmand recognised dishes. Years of cooking from the same wok gave this dish an intense wok hei flavour.
In addition, this dish comes with a spicy sambal chilli kick. There are no doubt spice lovers will enjoy this.
 Credit: https://danielfooddiary.com/2018/07/31/tiongbahruyisheng/
Fatty Cheong (肥仔详)
It would be impossible for a hawker centre to be complete without the usual roasted delight, especially on what to eat in Queenstown. However, a real standout at ABC Brickworks Market & Food Centre is Fat Cheong.
They have earned a reputation for serving some of Singapore's best char siew (barbecued pork)
.
Also, they
are known
for their popular Duo Combo Rice order. This dish contains char siew and siew yoke (roasted pork), their signature dishes.
A thick layer of sweet sauce
is caramelised
on top of the char siew. A delicious combination that contrasts very well with the char's smokiness. Char siew is among the most popular dishes in Hong Kong, and it's easy to understand why.
Credit: https://therantingpanda.com/tag/fatty-cheong/
Bao Zai (飽仔)
Bao Zai is a must-visit hawker stall for dim sum lovers. They prepare handmade pao at ABC Brickworks Market and Food Centre.
The same pao has
been made by
them for about 40 years using traditional methods. So it's safe to say that they've perfected their recipes.
Char Siew Bao, their legendary dish, is what keeps customers coming back. 
Their barbecued pork is
exceptionally
juicy and oozy, promising every bite to be a delight also, their
Smoky flavours are
apparent
in the pork as well.
You can find a wide variety of food options at ABC Brickworks Market and Food Centre. So,  don't forget to visit them at 6 Jalan Bukit Merah.
Credit: http://www.makeyourcaloriescount.com/2011/12/sg-bao-zai.html
Depot Road Zhen Shan Mei Claypot Laksa
Zhen Shan Mei Claypot Laksa—a Four-time Michelin Bib Gourmand Winner—is a must-try for Laksa fans.
Bib Gourmands awards
 street food stands and restaurants that offer quality food for a
maximum
of 45 Singapore dollars
.
Don't
be confused
with the name. Though the title says Depot Road, the stall
is located
at Alexandra Market.
In her early days at Depot Road, Madam Ang Siew Yan sold laksa in clay pots for over a decade until she retired because of poor health
.
Mr Zhang, her nephew, took over the mantle and learned the recipe from scratch. The stall of his aunt was dear to him, and he did not want it to disappear. Since then, he has been running the booth.

Clay pots make their laksa so much better. The level of spiciness is just right. While, the rice noodles are perfectly cooked and blend seamlessly with the broth. 
Also, the soup is rich and thick. A generous serving of tau pok also enhances this dish. Thus, Clay pots make food taste better.
Credit: https://thedeadcockroach.blogspot.com/2018/01/depot-road-zhen-shan-mei-claypot-laksa.html
In conclusion
With so many places to enjoy and food to eat in Queenstown, you're sure to get your money's worth. If you have Cash Mart as your legit money lender, you'll be able to continue your adventures hassle-free with their instant cash loan.
Related Article: What to Do in Queenstown: Impressive Experience