What to Eat in Outram Park: A Quick Guide
Singapore is a must-visit country in Asia. Because the state boasts of culture, attractions, and foodstuffs, it's no surprise why thousands of travellers opt to hop on the island. Learn about the different cultures in Singapore and discover what to eat in Outram Park.
With the number of places to visit, a globetrotter needs a guide on how to explore. It's essential to have an itinerary for famous tourist destinations. Learning about the different cultures enriches your knowledge. 
Outram Park
Outram Park is a suburban area in Singapore. It is the best spot for living and starting a family.
The place itself is near to school buildings for growing kids called Outram Secondary School
. Also, it has easy access to health centres like Singapore General Hospital.
Furthermore, Outram Park houses municipal buildings for everybody's safety. Some of these are The Police Cantonment Complex and Central Narcotics Bureau.
On top of that, the suburb brings convenience to anyone who stays or visits the area—all thanks to the Outram Park MRT Station.
It is an underground MRT interchange station between the East-West Line and the North-East Line. These stations are popularly known as the EW16, NE2, and TE17.
With the strategic location of Outram Park, everything you need is within reach. It aids you and your family to travel around Singapore. And if you're in for a food hunt, it bridges you to find what to eat in Outram Park.
Credit: https://www.smh.com.au/world/asia/now-is-not-the-time-to-risk-it-all-singapore-returns-to-lockdown-20210720-p58bfn.html
Finding Where to Eat
There are many food gems found at Outram Park. With the one MRT station away, no one will have a second thought of enjoying food trips with their friends.
Below are the best restaurants, cafes, bars, and coffee shops to eat in Outram Park.
Bao Makers
If you're up for buns, Bao Makers is a perfect choice.
However
, they do not serve your standard order. Instead, every bun is on a top-notch level with its unusual flavours.
One of their best-selling menus is Salmon Mentaiko Bao. The filling is a thick yet fried salmon fillet. But what sets it apart is the steamed mantou sandwich and Mentaiko sauce. Other flavours are Chili Crab Bao, Veggie Bao, Salted Egg Chicken Bao, and many more.
Aside from the buns, Bao Makers does an excellent job of filling their customer's tummies. The shop also serves Lobster Pasta and Chicken Cheese Volcano. Try out the fantastic recipe at 4 Jiak Chuan Road, Singapore.

Credit: https://www.caterspot.sg/caterers/bao-makers
Gaston Burgundy Bistro
Along Keong Siak Street lies a French restaurant called Gaston Burgundy Bistro. It serves all-day regional specialities of Burgundy.
Therefore
, the place is abundant with wine and classic wine-based dishes.
Regulars
highly
recommend the set lunch menu, which can be a 2-course- or 3-course lunch
. You can pick your starters, mains, and desserts according to what you prefer.
For starters, select from Rillettes de Maquereaux, Celeri Remoulade, and Jambon Persille. At the same time, the main entrees are Filet de Barramundi, Boeuf Bourguignon, and Ravioles. And the dessert is a Flan patissier. All these are
remarkably
fulfilling.
Gaston is a must-try restaurant and bar, especially if you want to taste something new. Visit it at 25 Keong Saik Road, Singapore.
Credit: https://sethlui.com/gaston-burgundy-bistro-wine-bar-french-cuisine-singapore/
Keong Saik Bakery at Keong Saik Road
Desserts play an essential role in every meal. It clears out the taste that lingers from the main menu you had. Grab the best delicacies to eat in Outram Park at Keong Saik Bakery.
One of them is the delicious zang zang bao. Most customers flock to taste the Matcha Burnt Cheese Cruffin. Also, it serves Chendol Delight, Attap Chee Rose Cheesecake, Orh Nee Cake, and more.
Another signature of the bakery is Sor Hei. It is a black and white Danish pastry with fillings of chocolate chips in every layer.
The shop offers an extensive list of desserts. It is an excellent store to bring goodies at home. Check it out at 41 Keong Saik Road, Singapore.
Credit:https://www.shiroang.com/blog/tag/Keong+Saik+Bakery
Kok Sen Restaurant for Michelin Bib Gourmand
Kok Sen Restaurant is the number one spot for authentic Singapore local food. It serves well-known dishes at a reasonable price.
Their Claypot Yong Tau Foo is pieces of eggplant, tofu, and capsicum. Stuff them with seafood pasted, and then cooked in a clay pot.
Har Cheong Kai, or prawn paste chicken, is a unique hit for snacks. It goes
perfectly
well with a cold beer. The beef hor fun has a delectable taste of wok hei boomed by a smoky smell.
Kon Sen exudes a zi char vibe named after Michelin Bib Gourmand restaurant. The set-up looks like an original old-school coffee shop.
Overall
, Kok Sen is a top hit for foreigners to enjoy the local taste of Singapore. Check out their service at 30-32 Keong Saik Road, Singapore.
Credit: http://www.allaboutceil.com/2017/09/kok-sen-restaurant-awarded-bib-gourmand.html
Mount Faber Nasi Lemak
When looking for what to eat in Outram Park, Mount Faber Nasi Lemak is a must-try.
The place offers natural, hearty meals like Crispy Chicken Drumstick or Crispy Chicken Wings
.
It also serves a menu filled with curry chicken, vegetables, and prawns. Some loyal customers suggest you order their set plans.
One of the commendable sets comes with coconut rice, otah, egg, and a fried chicken wing with Ikan Bilis and peanuts sides.
Keep your heart and belly full at 47 Kreta Ayer Road, Singapore.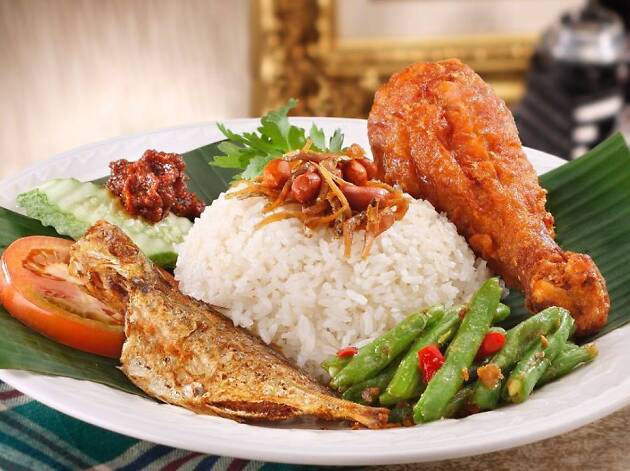 Credit: https://food.grab.com/sg/en/restaurant/mount-faber-nasi-lemak-since-1975-kreta-ayer-road-delivery/4-CZEHNFWZNU41A6
Steamov
Do you crave a steamboat feast? Then, hit up Steamov to
satisfy
your hunger. The food place serves individual hot spots even in the wee hours of the night. Plus, the soup comes with a wide array of bases.
The leading choices for soup bases are Mushroom and Black Chicken Pot, Spicy Pot, Herbal Duck Pot, and more.
Also, it offers shabu goodness to fill your grumbling stomach. Make sure to order Beef Rolls and Pork Bellies.
On top of that, it has a conveyor belt where fish balls, beancurd skin, and lotus root rotate around to serve you.
What a great way to indulge your cravings, right? So, stop by at 325 New Bridge Road, Singapore.
Credit: https://steamov-outram.business.site/
The Guild
The Guild is a popular hip bar to eat in Outram Park. The menu includes an eclectic mix of dishes and drinks.
The main star of Guild Singapore is the drinks.
During happy hour, patrons flock to taste the most endorsed beverage, The Guildhouse G&T (On Tap) and the Another One
.
The Guildhouse is a signature gin & tonic drink with a peachy colour. It
readily
flows out of one of the taps. Thus, the name. Meanwhile, the Another One has a smell of captivating floral bouquets. The alcohol level is as low as 3.3%. So it's no surprise why most guests prefer it.
Well, you cannot start your session without food to partner it. The Guild Singapore food menu ranges in variation. Residents can have Western staples, Buffalo Wings, and Mac N Cheese.
Foreigners can also taste local items like Ham Dan Fried Chicken, salted egg and kosher dill aioli with homemade hot sauce. And General Tso's Frog Legs are fried legs with a special sweet, sour, and spicy sauce.
Start your weekend with The Guild at 55 Keong Saik Road, Singapore.
Credit: https://therantingpanda.com/tag/the-guild/
Tong Ah Eating House
Tong Ah Eating House is the best bet if you're looking for comfort food during breakfast. It is one of the typical go-to places for most Singaporeans.
The best-seller is the Traditional Kaya Toast, which has two soft-boiled eggs, toast, and a drink.
Nevertheless
, they still serve variations aside from the traditional toasts. These include French Toast with Kaya, Crispy Thin Toast Kaya, and Steamed Bread with Kaya.
By evening, the Tong Ah transforms into a zi char food place.
Indulge yourself with familiar dishes like Claypot Fragrance Chicken and Salted Egg Yolk String Beans
.
Experience every mouthwatering dish at Tong Ah Eating House at 25 Keong Saik Road, Singapore
.
Credit: https://www.firststopsingapore.com/en/place/tong-ah-eating-house/
Wine & Chef
Wine & Chef extends a broad-based of food items. It ranges menus from zi char stalls, French restaurants, and Japanee izakaya. Plus, it offers an extensive list of Italian wines. The pair indeed brings out a successful blend of both worlds.
The cross-cultural mix of foods is why regulars often visit the restaurant. The most recommended food is soy sauce chicken, grilled hamachi collar, and Hokkien mee. Also, Har Cheong kai or deep-fried chicken with prawn past and pan-seared foie gras are of their smash hits.
Dropping by Wine & Chef completes your day with an excellent tummy fill. Experience the same thing when you go to 7 Keong Saik Road.
Credit: https://danielfooddiary.com/2018/05/15/wineandchef/
Outram Park is a fantastic place to tour around Singapore. Aside from viewing the different cultures and attractions, the suburban brings the whole world to you.
You get to taste many cuisines even though you're just along the Keon Saik Road. It is well-known, from family-friendly dishes like fried chicken to unusual authentic meals like fried frogs.
Outram Park truly holds a treasure of food places in Singapore. So, list the area in your itinerary when you visit the country. But, most importantly, take note of these quick tips on what to eat in Outram Park.
Not sure if you have enough money for your food spree? Cash Mart is ready to lend you the money you need! As a licensed money lender, they can provide you with products such as instant cash loans so that you'd be able to continue your itinerary hassle-free. 
Related Article: What to Do in Outram Park: A Captivating Place