What to Eat in Lucky Plaza: The Ultimate Food Guide
There is an array of Southeast Asian cuisines here to try on what to eat in Lucky Plaza. You can find a treasure trove of delicious foods at Lucky Plaza, whether you are a Singaporean, PR, or a tourist.
We've compiled a list of top-notch foods at the plaza and where to find them to assist you in your culinary journey
. Enjoy visiting the bustling crowd on what to eat in Lucky Plaza.
Singapore Stir-Fried Noodles
There is nothing more comforting than Singapore Rice Noodles, also known as Singapore Style Noodles
.
The dish consists of curry-infused rice noodles, shrimp, vegetables, and eggs, all bathed in umami, garlic, and ginger sauce with subtle curry notes
. The layers of flavour and texture will
surely
make your taste buds want more. This dish is one of my personal favourites. 
Most restaurants for what to eat in Lucky Plaza serve this signature dish, which is why it is very popular for take-out orders
. They also call it Fried Bee Hoon or Xing Zhou Mi Fen. 
Credit: https://www.seriouseats.com/singapore-curry-noodles-stir-fry-recipe

Where to eat Singapore Noodles
Bakmi Town
Ban Mian
China, Malaysia, Singapore, and Taiwan are popular eating destinations for ban mian. This soup usually serves egg noodles with meat, fish, vegetables, and spices.
Traditionally
cut on a board (ban), these thick, handmade egg noodles (mian) are a Singaporean favourite
. A steaming bowl of this comfort food in the savoury soup will warm you up on a rainy day.
Credit: https://asianfoodnetwork.com/en/recipes/cuisine/singaporean/ban-mian.html
Where to eat Ban Mian
Lucky Food Centre
Level: B1 Unit: #B1-95-101
Yong Mei Ban Mian
Asian Food Mall
Level: B1 Unit: #B1-38 / 149 
Hor Fun
Hor Fun is one of Singapore's classic hawker centres (street food) dishes. It's Singapore's Zi Char at its best, with flat, soft rice noodles in a silky, thick sauce.
People confuse Hor Fun with other dishes, such as Kway Teow, because of their similarities. But, there is a difference between Hor Fun and other noodle dishes based on the noodles. The noodles in Hor Fun are wide and thick. So, the noodles are wider than those found in Pad Thai.
Hor Fun is usually made with beef at various Hawker Centres of what to eat in Lucky Plaza. But any kind of meat is acceptable.
Credit: https://danielfooddiary.com/2019/02/19/beefhorfun
Where to eat Hor Fun
Yun Heng Authentic Ipoh Shredded Chicken Hor Fun
Lucky Chicken Rice
Yong Tau Foo
One of the most popular Hakka dishes is Yong Tau Foo, which consists of tofu stuffed with meat and fish paste with vegetables such as bitter gourd, okra, peppers, eggplants, and mushrooms
. They can serve it either dry or you can add a sweet bean sauce in soup.
A Hakka Chinese dish called Yong tau foo translates as "stuffed tofu". Stuffing Fish or meat paste between thick layers of tofu and bean curd, hence the name. After deep-frying, they serve it with soup. Even though it's called stuffed tofu, you can use other ingredients to stuff with meat or fish filling.
Singaporeans have even more choices of vegetables stuffed with meat or fish paste
.
For example, restaurants can use bitter gourds, okra (lady's fingers), large chillies, and eggplants
. 
 Credit: https://danielfooddiary.com/2015/05/28/myfavouritecafe/
Where to eat Yong Tau Foo
Lucky Food Centre
Level: B1 Unit: #B1-95-101
My Favourite Cafe
Level: 6 Unit: #06-46 / 47
Bak Chor Mee
In Singapore, Bak Chor Mee (minced pork noodles) is a dish that combines chewy noodles with savoury, tangy, spicy seasoning
. Add braised mushrooms, minced pork, and meatballs with pork liver to complete the meal.
The term Bak Chor refers to minced or ground meat. Mee
simply
means noodles. The noodles in Bak Chor Mee can be thin (mee kia) or wide (mee pok). That's why it is one of the great dishes when exploring what to eat in Lucky Plaza.
Where to eat Bak Chor Mee
Famous Eunos 
Credit: https://dobbernationloves.com/food-drink/bak-chor-mee-recipe/
Hainanese Chicken Rice
It is one of Singapore's national dishes.
It is
commonly
associated with Singapore's cuisine, and you can find it in most food courts and hawker centres nationwide
.
There are also variants of the dish throughout Southeast Asia, particularly in Malaysia, where it remains a staple
.
Immigrants from the servant class created this dish out of frugality to stretch the chicken's flavour
.
Today, You can find Hainanese Chicken Rice in hawker stalls everywhere in Singapore. It is a staple and beloved food by Singaporeans. It is an absolute must-try if you check out what to eat in Lucky Plaza, Singapore. 
Credit: https://steamykitchen.com/5068-hainanese-chicken-rice.html
Where to eat Hainanese Chicken Rice
Clunythai Restaurant & Bar
Lucky Chicken Rice
Ayam Penyet
Ayam Penyet, or smashed fried chicken, is an Indonesian dish popular in Singapore. They mash the fried chicken between a pestle and a mortar to make it softer. Then they fry Tofu and tempeh, serving the dish with sambal and cucumbers.
The dish is famous because of the Spicy sambal they make by combining chilli, anchovies, tomatoes, shallots, garlic, shrimp paste, tamarind, and lime juice
. The chilli paste is then made with the mixture to
accompany
the dish.
Penyet means "squeezed" or "pressed", so Ayam Penyet means "pressed chicken".
If you're looking for a unique and spicy chicken dish, try Ayam Penyet. It is best partnered with nasi goreng or fried rice.

 Credit: https://ayampenyetria.com/
Where to eat Ayam Penyet
Ayam Penyet President
Level: 3 Unit: #03-36 / 37
Ayam Penyet Ria
Fried Chicken
The best thing about fried chicken is that it is
unquestionably
delicious.
Juicy chicken combined with crispy, crunchy fried coating has a magic quality that makes people crave it
just
by talking about it
. For most people, It's an all-time favourite comfort food. Thinking about fried chicken makes my mouth water.
Credit: https://thehalalfoodblog.com/the-chicken-rice-chronicles-part-8-as-shifaa-cafe/
Where to eat Fried Chicken
Jollibee
Level: 6 Unit: #06 – 48(A)
As Shifaa Cafe
Ayam Penyet President
Level: 3 Unit: #03-36 / 37
McDonald's 
Level: B1 Unit: #B1-19-24 / 44-46
Bebek Goreng
An Indonesian delicacy, Bebek Goreng or fried duck,
is prized
for its crispiness and tender, succulent meat
. The duck is usually boiled or steamed, then fried until crispy. Before frying, spices like garlic, ginger, turmeric, galangal, or coriander are generously applied to the duck
.
They serve Bebek Goreng throughout the country with rice, cucumbers, cabbage, and spicy sambal on the side
.
Credit: https://www.tasteatlas.com/bebek-goreng/wheretoeat
Where to eat Bebek Goreng
Bebek Goreng Pak Ndut

Tom Yum
The words "tom yum" originate from several Thai words. Tom means 'boiling', and yam means 'combined'. In the broth of tom yum, spices and herbs are
generously
used to create a distinctive hot and sour taste.
They prepare this delicious soup from fresh ingredients of kaffir lime leaves, lemongrass, lime juice, galangal, fish sauce, and crushed red chillies
.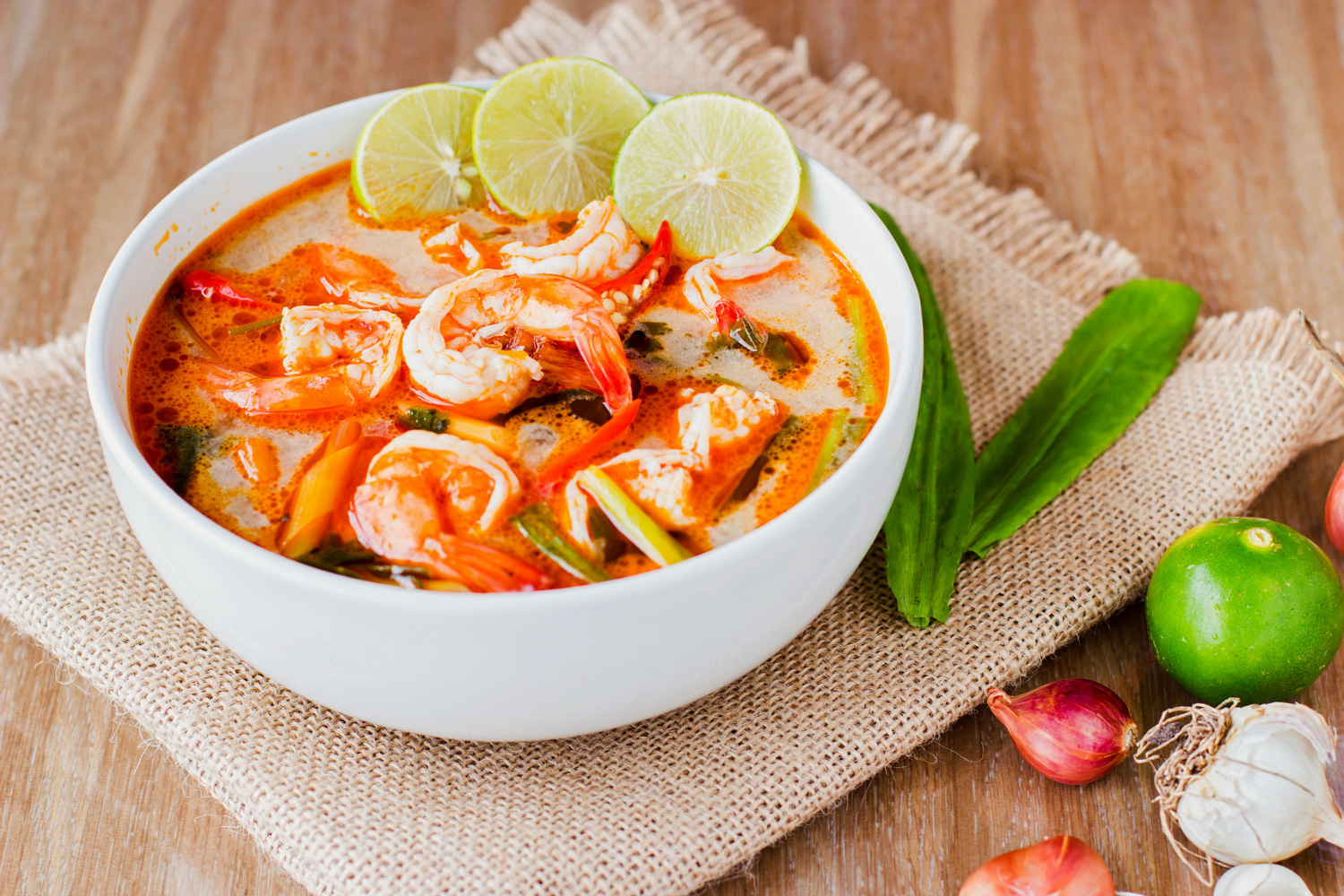 Credit: https://asianinspirations.com.au/recipes/seafood-tom-yum-soup-tom-yum-thale/
Where to eat Tom Yum
Clunythai Restaurant & Bar
Lechon
One of the most popular dishes in the Philippines is Lechon, a Spanish word for roasted suckling pig. They roast the pigs over an open fire with lemongrass, tamarind, garlic, onions, and chives.
They usually serve this dish with a rich and thick liver sauce made of sugar, fresh herbs, and vinegar.
Credit: https://purple-eats.blogspot.com/2015/10/lechon-pinoy-lucky-plaza.html
 
Where to eat Lechon
Rendezvous Pub / Cafe & Lechon

Laksa
Laksa is a savoury dish with ingredients such as broth, noodles, and meat or seafood, originating in Southeast Asia
. 
The dish is usually prepared with a flavorful broth, a variety of ingredients, and some noodles, followed by frying or blanching
. Throughout the region, hawker centres sell delicious Laksa.
Credit: https://migrationology.com/singapore-food/
 
Where to eat Laksa
Killiney Kopitiam Orchard
Lucky Food Centre
Level: B1 Unit: #B1-95-101

You can try many delicious foods in Lucky Plaza; be sure to check them out.
You can find Singapore's Lucky Plaza at 304 Orchard Road.