What to Eat in Kallang: Resident's Best Bet
Top 9 Food Choice Of What To Eat In Kallang
Often, people think that Kallang food is quite underrated. Compared to other places like Joo Chiat, Katong, and Changi, Kallang never loses its touch. But that's far from what most of the locals experience. Get to know the resident's bet on what to eat in Kallang. Then, decide for yourself if the place is an underdog or not.
Kallang, Singapore, has hidden gems that are hard to find. But with this food guide, you can
satisfy
your tummy with what to eat in Kallang.
Carbon&
Carbon& is the go-to spot for craft beer fans. The restaurant serves affordable dons and ramen and satisfying frothy beer. These drinks are such a rare find since it is Japanese craft beers on tap.
The most favoured dish here is the Sansho Yakitori Chicken Ramen. Patrons love it since it is available both in spicy and non-spicy versions. Meanwhile, the Yakiniku Beef is a quick yet satisfying lunch. The tender beef fats melt in your mouth. Plus, it has a
perfectly
cooked onsen egg and fluffy white rice.
For the drinks, order their Miyazaki Hideji Kuri Kuro Dark Chestnut Ale. It fills out the palate with creamy, nutty notes. It exudes a coffee aroma and brown sugar, too.
Savour the delicious meals and drinks at 12 Kallang Avenue, Aperia Mall, #01-43, Singapore, 339511
.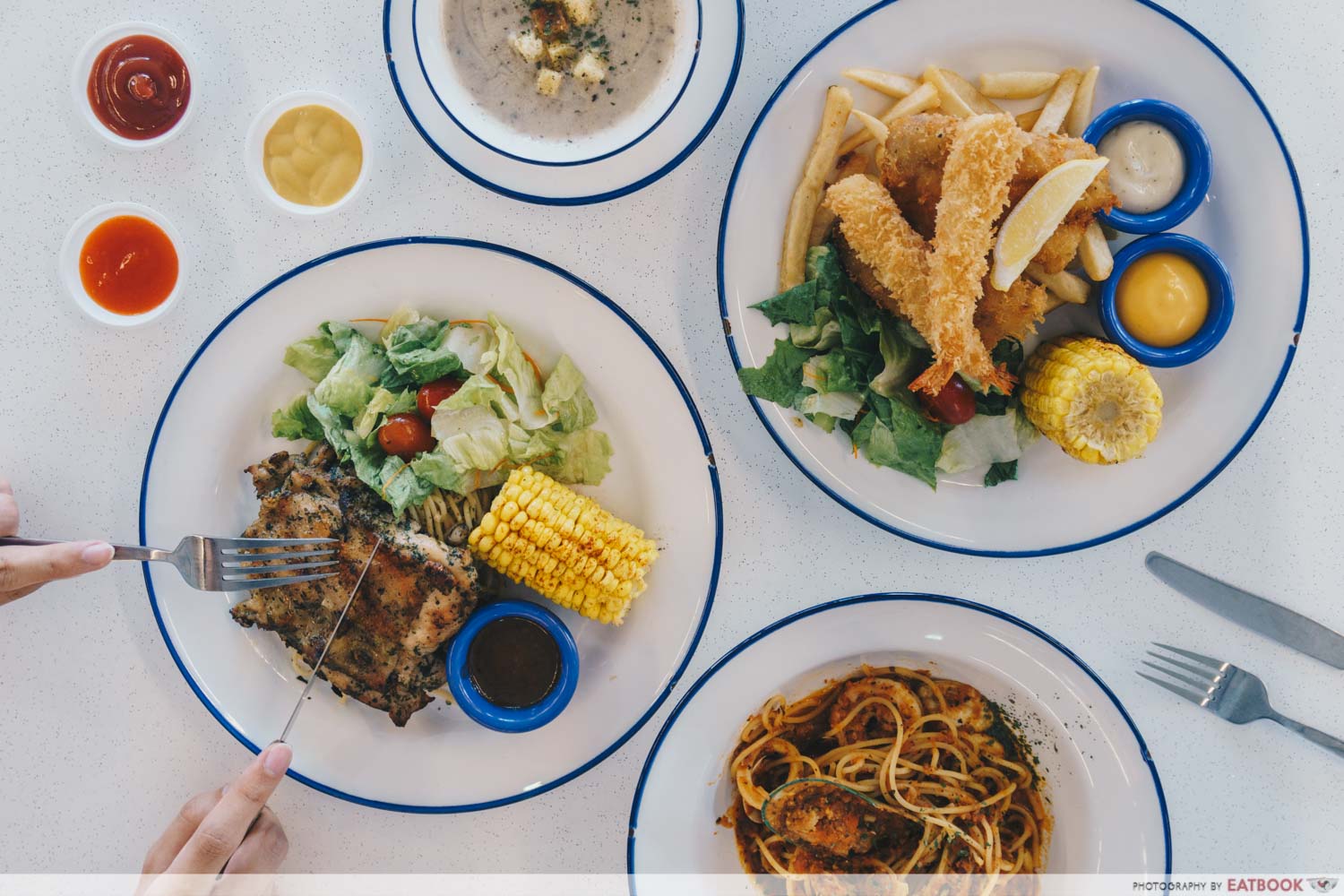 Credit: https://eatbook.sg/el-carbon-grill-house/
Swee Choon
See Choon is Singapore's oldest yet most successful dim sum place. It is only open at night. That's why it is a famous spot for youngsters and midnight suppergoers. For some, it is their next stop for post-clubbing supper.
Although other dishes served to increase their prices, the dim sum still fits your budget
. The fried Swee Choon or Mee Suah Kueh tastes heavenly. So it's no surprise why the Swee Choon restaurant became one of the staples in the area. Plus, it became the go-to dim sum spot when looking for what to eat in Kallang during the wee hours.
Ready your chopsticks skills at 183-191 Jalan Besar, Singapore, 208882.
Credit: https://eatbook.sg/swee-choon-mala/
Mongkok Dim Sum
Contrary to Swee Choon, Mongkok Dim Sum serves cheap yet tasty dim sum at any time. The eatery is open 24 hours to cater to all sorts of diners.
People line up for several varieties they offer, like House Special Prawn Dumplin, Shanghai Pork Dumpling, and Custard Bun
. Also, it dishes out 3 Yolk Crab Porridge that is big enough for four people.
Every serving includes crab meat, chopped century egg, crumbled salted egg yolk, and soft-boiled egg yolks
.
Enjoy a certified dim sum meal at 214 Geylang Road, Singapore, 389274.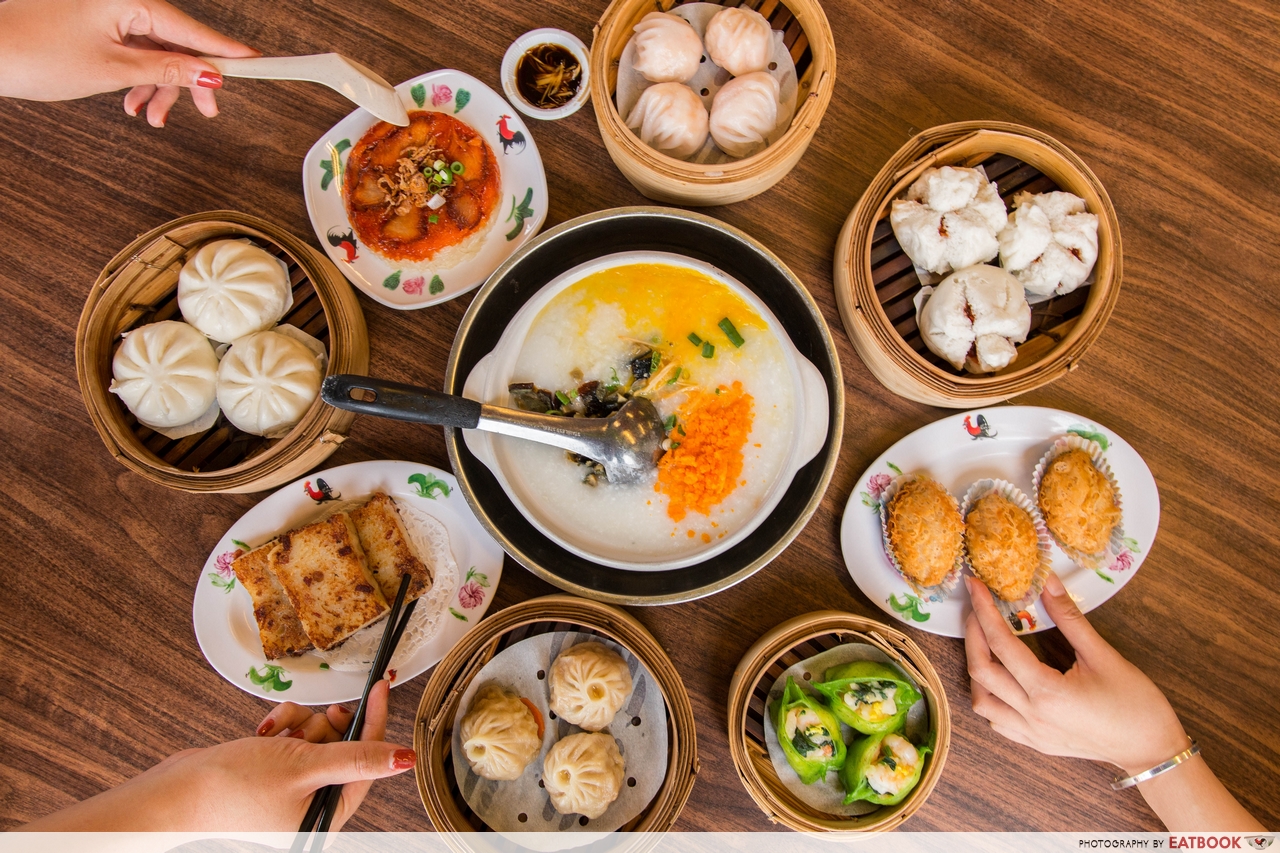 Credit: https://eatbook.sg/mongkok-dim-sum/
G7 Live Seafood & G7 Frog Porridge
If you're up for quirky meals, G7 Live Seafood & G7 Frog Porridge is the place for you. The menu includes frog legs that you'd
surely
love. It comes in two flavours Ginger Spring Onion Bull Frog and Dry Chilli Bull Frog. Furthermore, it serves excellent deals. For every three frogs, a diner will get two free frogs and a bowl of porridge.
If you're not a fan of frog recipes, don't worry.
They also have zi char dishes like Taiwan Style Deep Fried Chicken Wings and Fried Prawns with Salted Eggs and Cereal
.
Find out what it takes to eat frogs at 161/163 Geylang Road, #01-01/02, Singapore, 389240.
Credit: https://sethlui.com/g7-live-seafood-restaurant-singapore/
Dynasty Fried Porridge
Dynasty Fried Porridge is quite a name for its unusual dish – fried porridge. After frying the porridge, the chef transfers it to a clay pot. Then, let it cook more until there is the smoky wok hei effect.
The signature dish is the Dynasty Famous Fried Porridge. Every bowl is unique and authentic. Also, it is available in small and large servings.
Grabe your heartwarming comfort food at 30 Foch Road, Singapore, 209276.
Credit: https://pixelm6.sg-host.com/dynasty-fried-porridge-lavender-singapore/
Sheng Kee Cooked Food
Sheng Kee Cooked Food is the home of wanton noodles and Hong Kong-styled soy chicken noodles. It serves firm noodles in light with an aromatic and savoury sauce. Every bowl served has a delicious char siew or tender and moist braised chicken. The wanton itself is yummy, with thin wrapping and an ample amount of fillings.
Sheng Kee is always consistent for every serving. That's why loyal customers patiently wait in long queues
just
to get their order.
Line up early for your lunch or dinner at Blk 69 Geylang Bahru, Geylang Bahru Market and Food Centre, #01-2795, Singapore, 330069
.
Credit: https://www.sgfoodonfoot.com/2017/02/sheng-kee-cooked-food-geylang-bahru.html
Chilli King Wanton Mee
What to eat in Kallang in spicy terms is Chilling King Wanton Mee. It serves wanton noodles at five levels of spiciness.
Tam Po Hiam is
slightly
spicy in Hokkien. Resident diners suggest it for people who cannot take spicy dishes. Also, there is a strong aroma of sesame oil and soya sauce found on the brown sauce covering the noodles.
Pair up your order with fried wontons, too. It completes your meal and satisfies your stomach.
Dine at Blk 5 Upper Boon Keng Road, #01-22, Change Cheng Coffeeshop, Singapore, 380005.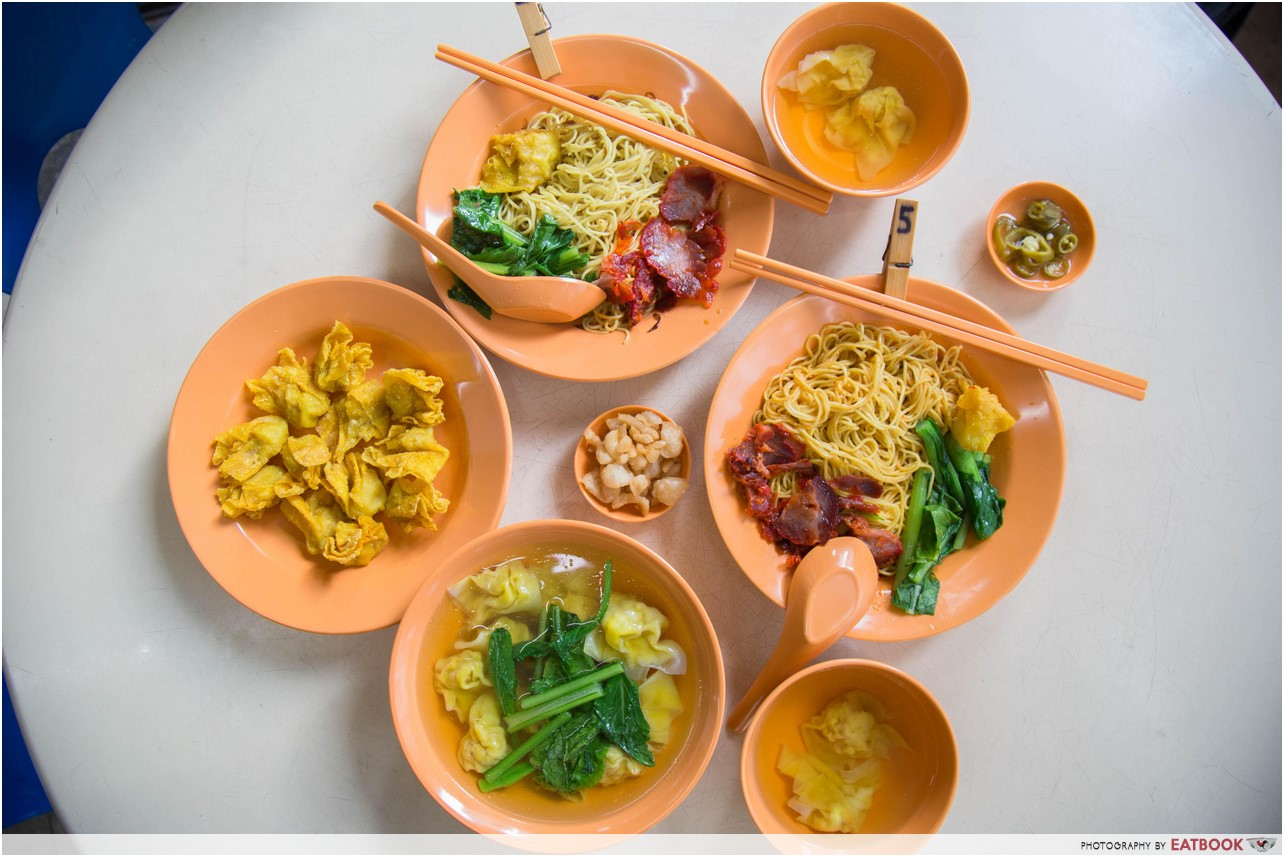 Credti: https://eatbook.sg/chilli-king/
Lai Makan Thai Food
Lai Makan is the best food place for Thai cuisine.
Citizens of Kallang, who are spice lovers,
highly
suggest dishes like Green Curry, Tom Yum Seafood Soup, Mango Salad, and Spicy Chicken Salad
.
Also, the Thai spot offers quick snacks too. The classic Mango Sticky Rice is available for you to order. The Thai Fish Cake is something you shouldn't miss.
Experience Thai dining at 12 Kallang Avenue, Aperia all, #01-42A, Singapore, 339511.
Credit: https://sethlui.com/lavender-jalan-besar-food-guide-singapore/
Jalan Sultan Prawn Mee
Jalan Sultan Prawn Mee serves a mouthwatering Prawn Mee. It is available in both dry and soup versions. But most of their patrons prefer the latter since it is flavourful and gao.
Also, the menu has Pork Rib Prawn Mee and King Prawn Pork Ribs Mee. Both dishes come with prawns and pork ribs.
However
, the size of each ingredient varies depending on what you order.
Have a sumptuous meal at 2 Jalan Ayer, Singapore, 389141.
Credit: https://danielfooddiary.com/2019/04/01/jalansultanprawnmee/
What to eat in Kallang is
truly
impressive.
However
, not all are aware of it. That's why it remained to be a hidden gem in Singapore. With the knowledge of the must-try food places in Kallang, you can explore them. Follow the resident's advice for a better dining experience.