What to Eat in Jurong: Top Halal Certified Food
Jurong
Now that it has become one of the most populated areas in Singapore, you will also have vast choices on what to eat in Jurong. So to help you narrow down your choices, I have listed some Halal Certified restaurants!
Located in the west part of Singapore, Jurong is a large neighbourhood. The name Jurong comes from a Malay word that means shark. It is an unpopulated area back in the 1900s. All you can see from the region are rubber plantations, low hills, thick jungles and swamps.
They industrialised Jurong during the 1960s, which led to housing estates development. But due to its location and lack of infrastructure, Jurong still lacked population.
To increase their populations, they developed different kinds of amenities. Also, they made it accessible through transportation, such as the Jurong MRT line, buses and private vehicles using the expressways.
Credit: https://en.wikipedia.org/wiki/Jurong
Trusted Halal Restaurants
Hanok by Masizzim
Hanok by Masizzim is the halal version of the popular Masizzim chain of restaurants. The restaurant has a cosy location right outside the first level main entrance of West Gate, which specialises in Galbi jjim.
They also serve other dishes like shabu-shabu, omelette, rice balls and many more. Hanok by Masizzim is a truly excellent addition to the Korean food scene in Singapore.
In what to eat in Jurong, if you are a soup person like me, you would love their Beef Stew. They will give you a large portion with slices of beef that is tender and juicy. Each piece of beef has a healthy amount of fat, so you can still enjoy the dish without being health conscious.
The broth is rich in flavour and aroma with a bit of spiciness. You can always adjust the level of spiciness to your liking. And if ever you have run out of soup, you can ask them for a refill. You can always never have too much when it comes to the soup!
Also, try ordering rice to pair up with your stew. It will help you smother the burning sensation. If you are a fan of Korean Dramas, try ordering the Bulgogi Rice Balls. You will experience making the rice ball yourself.
They will serve you a bowl of different ingredients such as rice, minced meat and other flavourings for the bulgogi beef rice balls. The staff will provide you with a pair of plastic gloves to use when you roll the rice balls.
Just make sure that you are making it into a bite-size, or else you will be munching your way into a big ball of rice. Address: 3 Gateway Dr, #01-07 Westgate, Singapore.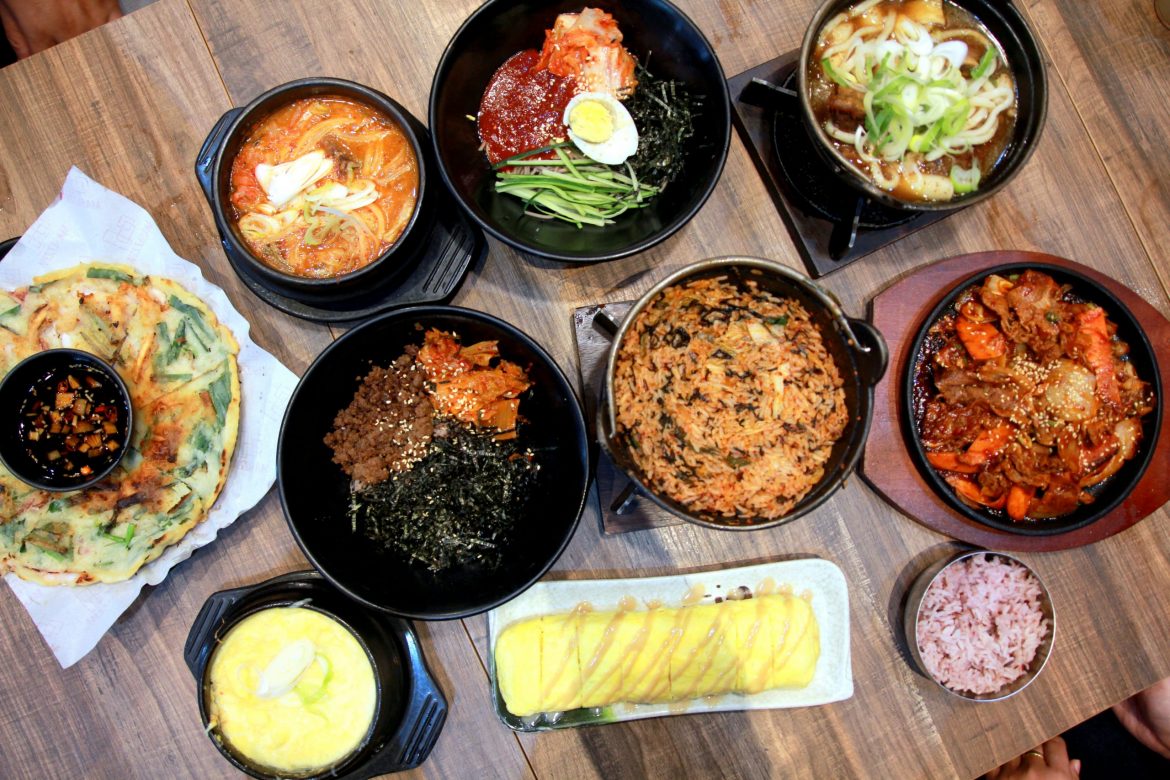 Credit: http://thehalalfoodblog.com/hanok-by-masizzim/
Brio Singapore
Brio is a restaurant that serves European street food specialities. Adding to your list on what to eat in Jurong, it has a casual, trendy and cosy ambience. So it is not a shock that they are serving outstanding quality food for an open concept restaurant.
Moreover, because they are using high-quality and fresh ingredients on their dish, the staffs all work fast and efficiently, and they are also approachable.
So I would like to give them a plus one for a good service. You should try ordering their set lunch! For example, if you are planning on visiting during a weekday between 11 am to 5 pm. You will receive a complimentary soup or drink with your set lunch.
Also, try one of their best sellers Lamb Rib Confit with Honey Bbq sauce and English Fish & Chips. The fish and chips are not oily and seasoned well. They make sure not to cook the fish well done so it can retain its freshness.
Lamb dishes can be a little trick to do. You have to cook it perfectly to have the right texture. The meat is tender and juicy—their mashed potatoes to a buttery and smooth finish. 
They have milkshakes, waffles, churros and cakes. My sweet tooth is in for a treat, alright! I like a vanilla milkshake, but I tried to take it to another level with this salted caramel shake.
It is served in a large glass and is top with whip cream drizzled with salted caramel sauce. I can see why many people recommend this milkshake. It is by far one of the best that I have tasted. You can say that I am saving the best for last.
Their chocolate lava cake is amazing from the other version that I have tried before. The taste is just right. When you cut into the cake, the chocolate runs slightly gooey.
You can pair it with your choice of ice cream between chocolate or vanilla. You can find Brio Singapore at 1 Jurong West Central 2, #02-24/K5 Jurong Point, Singapore
Credit: https://order.brio.com.sg/
Sanook Kitchen
Sanook Kitchen
is known
for its authentic Thai dishes. They use
specially
selected Thai spices and ingredients. It offers casual dining and a familiar menu. You will be spoilt for choice from their affordable menu. They offer a wide variety of appetisers, curries, soup, set meals and more. 
Their tom yam exceeds my expectation. The soup is packed with spicy and tangy flavours. Another dish that has a tangy and spicy taste is the fried chicken wings. But I have to warn you that this dish will be very spicy.
But you can always tone down the spiciness by eating it with rice. Another dish that will go well with rice is their vegetable dish. It is good, simple and healthy. There were strips of carrots, corns, fresh green veggies and mushrooms. All those colours make the dish a feast also for our eyes.
As long as you are craving Thai food Sanok can be your go-to place and add this on what to eat in Jurong. A decent Thai food restaurant with affordable prices. Indulge in the many Thai dishes at 63 Jurong West Central 3, B1-65/66, Jurong Point Singapore.
Credit: https://www.capitaland.com/sg/malls/jcube/en/stores/sanook-kitchen.html
Tongue Tip Lanzhou Beef Noodles
Tongue Tip Lanzhou Beef Noodles came from Lanzhou, Gansu province in China. Lanzhou is a dish that
was passed
on for generations ever since the Tang Dynasty by the Hui people.
They use hand-pulled noodles, halal meats and clear broth with more than 15 spices in their original recipe
.
They have a modest menu but they have a different variation of their signature beef noodles. You can also customise your dish.
They also have different types of hand-pulled noodles, from flat noodles to round noodles
. You can also choose between a dry or soup base. Their open kitchen will give you a glimpse of how their noodle masters
expertly
make the noodles.
There is no way for you to miss ordering their signature soup base beef noodles. The
thinly
sliced tender beef goes well with the clear and flavourful broth. It is not oily or heavy and the noodles are at their right amount of softness. If you want an extra kick in your dish, you can add more chilli. While the soup base is the star you should also try their dry noodles.
You can choose on either beef, braised mushroom or seared chicken dry noodle. I
personally
like the seared chicken dry noodles. This dish will exceed your expectation. The chicken fillet has a hint of charred flavour with a
lightly
crispy texture along the edges.
The noodles are perfectly done. Everything is tossed in a sweet and savoury sauce. Their competent noodles are something that you will like to try again when given a chance. Go give them a visit at Jurong Point, 63 Jurong West Central 3, #03-105, Singapore
Credit: https://www.tripadvisor.com.ph/Restaurant_Review-g294265-d15044111-Reviews-Tongue_Tip_Lanzhou_Beef_Noodles-Singapore.html
Swensen's: Sweet what to eat in Jurong
Swensen's is a cafe restaurant located in Jurong Point shopping centre. It came to Singapore in 1979 and since then won the hearts of many with its ice cream sundaes.
If you are a huge fan of ice cream, you would not want to miss this place. They have a friendly and cosy ambience. As they upgrade their menu they are now selling more than ice cream. They also have Italian dishes, burgers and more.
Let us go classic with their good ol' jumbo banana split. It is a bigger version of the widely known American banana split. Where they add their ice cream scoops with chocolate fudge, strawberries and pineapple.
The tangy and sweet taste of the banana split is perfect to lift up one's mood. You should also try their impossible burger, many people say that this is a must-eat when you go there. The fragrance of the burger is drool-worthy.
The brioche buns are well toasted and soft at the same time. The patty's taste and texture are like real meat. The well-sauteed mushroom and pineapple completed the taste of the burger.
Swensen's is the best place for casual dining with family or friends. Favourite not only by kids but also by those who are kids at heart!
You can find them at 63 Jurong West Central 3 #B1-64 Jurong Point Shopping Centre Singapore.
Credit: https://www.capitaland.com/sg/en/shop/malls/deals/swensen_s_mega_sunda.html?fbclid=IwAR2Ks4taCcswsNOC0HZQbjGgLWKICMy0P2SA7dAigy5yvisKZr-cVNfjZQo
The White Kitchen by Tokyo Latte
The White Kitchen is a restaurant that offers a fusion of Japanese and Western cuisine. It is also known as The Noodle Bar by Tokyo Latte. I what to eat in Jurong, The place has a comfortable and homey feel.
You can find them in the fashion district of Jcube. Their extensive menu offers four types of noodles that you can pair with any of their soup or dry bases.
You also have the option to choose your add ons. Every bowl that they make is up to their customers' imagination and preference.
They are aiming to recreate the familiar feeling of cooking your own noodle at home. Their made noodles are being delivered to them daily.
One of their signature dishes is their Grilled Seafood Tomato. The slightly sweet tomato broth is remarkable. It also enhances the taste of the seafood and noodles. You can say that all the ingredients that they use are fresh just by tasting them.
This is perfect to pair up with their Old-fashioned Orange Crush. A refreshing drink that is freshly made and topped with fruit bits and mint leaves. You would not be able to find this drink elsewhere, because this is their own concoction.
Their goal is for you to leave the restaurant with a full tummy and warm feeling. A perfect place indeed to catch up with your friends and meet up with your loved ones!

Credit: https://www.foodpanda.sg/restaurant/x1jw/the-white-kitchen-noodle-bar-by-tokyo-latte
Zai Shun Curry Fish Head
Zai Shun started 40 years ago in one of the hawker stalls in Yuhua Food Village. Then he relocated to a coffee shop just a block away. The founder Mr Ong Cheng Kee learnt his cooking techniques and recipes from his brother.
The Michelin Bib Gourmand award was first given to them in 2017. And since then he expanded his business and occupied the whole coffee shop. They serve a wide variety of local Zi Char dishes.
Mr Ong is hands-on in selecting the freshest catch of the day. He said that if the fish is not fresh it will not taste good. This is why you will not smell a fishy aroma from the dishes that they are serving.
Nowadays other restaurants serve smaller fish heads in restaurants. But Mr Ong is generous and serves a big portion of fish head curry.
I think this is his way of thanking his loyal customers that keep on supporting him. You can enjoy their many Zi Char dishes at Blk253, Jurong East Street 24 #01-205, Singapore.
Credit:  https://www.streetdirectory.com/travel_guide/singapore/festive_foods_and_flavours/416/fish_head_curry.php
Bonus: Muslim owned restaurants
Sinar Harapan Chinese Muslim Food
Sinar Harapan Chinese Muslim Food is one of the restaurants that give a familiar taste to the residents on what to eat in Jurong. It is well known for its Roasted Chicken Rice. The flavour of this dish is so rich that you would not want to stop eating.
They cook the chicken to make it tender and juicy and adding rice well with a lovely aroma. The chilli is not falling behind as it brings out the flavour of the chicken and rice. You can visit their restaurant at 504 Jurong West Street 51, Singapore 640504.
Credit: https://www.seriouseats.com/hainanese-chicken-rice-set-recipe
Deanna's Kitchen
The owner Denise Deanna is a Chinese-Muslim revert. In what to eat in Jurong East, Deanna's Kitchen is the second outlet. It follows the success of the outlet in Toa Payoh. If you are looking for a tasty Prawn Mee, this is the place that you have to try.
Their Prawn mee is their best seller and it sells out quickly. They achieve the rich taste of the broth by simmering the chicken and adding spices. You can also customise your dish by adding lobsters, clams and crayfish.
This will make any seafood lover happy indeed! Give their kitchen a try at Jurong East Street 21, Padi Emas Coffee Shop, Block 214, Singapore.
Credit: https://www.misstamchiak.com/deanna/
Aiman Cafe in Jurong
This down to earth destination is in business since 2006. They are offering a wide variety of international cuisines. You can find them just across the Al-Mukminin Mosque.
The Malay community patronised this place mainly because they serve halal food. So you can expect a full house even if it is non peek hours. It is also a plus that it has an easy parking place.
Their steak and chicken chops are famous in their western stall. While they offer a really good Lontong Kering on their Malay stall. You also should try their one of a kind tasting quesadilla from their The Bread Gang stall.
I will let you on a not so secret little secret. They say that the Bread Gang stall is a cheese lover paradise. Try their Roti John Cheese and you would know why! You can visit their cafe at 235 Jurong East Street 21, Singapore.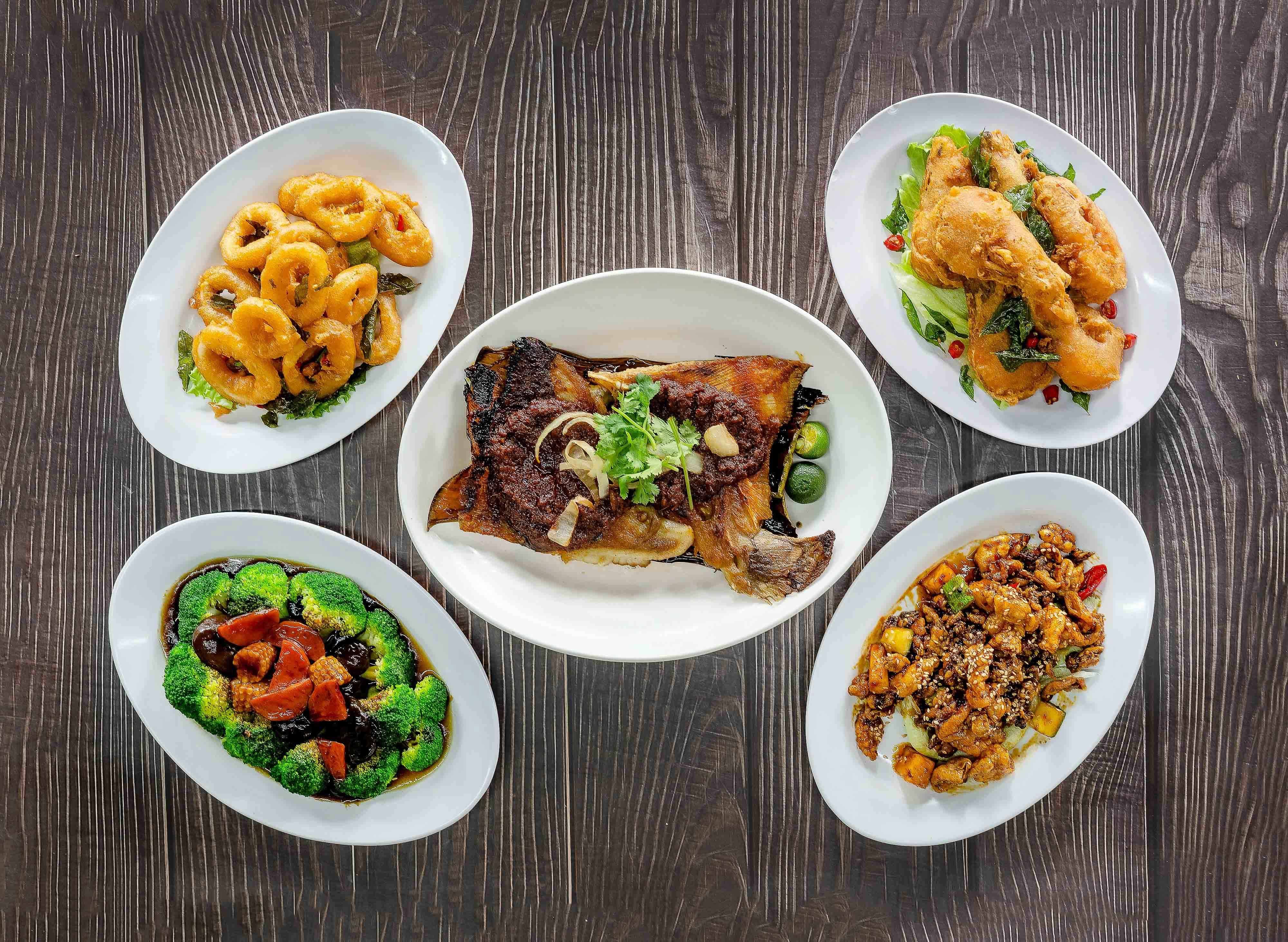 Credit: https://www.foodpanda.sg/restaurant/y9zk/aiman-cafe-seafood
Hajjah Mariam Cafe
Customers know Hajjah Mariam Cafe to serve a tasty traditional Nasi Ambeng. A popular Javanese-Malay cuisine that is seen during festivities and enjoyed together in a tray by up to 6 people. But do not worry you don't need to bring a lot of people for you to try this dish.
They are serving it also in solo and duet aside from their group platters. This rice dish consists of white rice prepared with meat, fried coconut flesh, and vegetables.
It has a fragrant aroma that will make you want to dig in it right away. You can savour this unique dish and other mouth-watering dishes that are available on their menu. 
Have a taste of their Javanese-Malay cuisine at 3 Gateway Dr, #B2-08 Westgate Shopping Mall, Singapore 608532. 
Credit: https://www.burpple.com/hajjah-mariam-cafe
The neighbourhood of Jurong has so many stalls and restaurants to visit. You can get the chance to try many cuisines in your own time with enough money. As your legit money lender, Cash Mart can provide you with many loan products which include their instant cash loan to get just the right amount of pocket money for your trip on what to eat in Jurong.
Related Article: Your Complete Activity Guide: What to Do in Jurong