What To Eat In Joo Chiat: Best Local Advice
Food Guide On What To Eat In Joo Chiat
Get to know more about what can fill your tummy. Then, follow the local's best advice on what to eat in Joo Chiat.
Joo Chiat is a charming neighbourhood. Also, it is rich in heritage sports and historic architecture. Plus, the place also takes pride in several restaurants and cafes. That's why Residents even bring their family and friends to experience the gem the area offers.
Listed below are the top 9 food advice of what to eat in Joo Chiat.
Zaffron Kitchen
Zaffron Kitchen looks like a high-end gastropub when it's not.
The cool downtown vibe paired with the sleek fixtures sets it apart from your typical Indian resto
.
Nevertheless
, the meals served are a real deal of classic Indian fare. The Dum Chicken Biryani is an absolute must-try. It is a dish filled with fluffy basmati rice partnered with pieces of chicken. Other best foods are Butter Chicken, Tandori Chicken, and Aloo Gobi Masala.
Visit it at 137 East Coast Road, Singapore, 428822.
Credit: https://www.zaffronkitchen.com/
Mr and Mrs Mohgan's Super Crispy Roti
Koon Seng Road is famous for its beautiful Peranakan houses.
Adjacent to
it is an old-school eatery named Tin Yeang Restaurant. It boasts various options that diners find it hard to decide what to eat in Joo Chiat.
The signature dish is Mr and Mrs Mohgan's Super Crispy Roti Prata. Although it takes a long waiting time, everything is worth it once you get your order. Their roti prata is the crispiest and fluffiest in Singapore. Plus, the fried egg on top gets refried to double the crispiness. Order it with green chilli for an
additional
kick on your meal.
Take a bite at Tin Yeang Restaurant, 300 Joo Chiat Road, Singapore, 427551.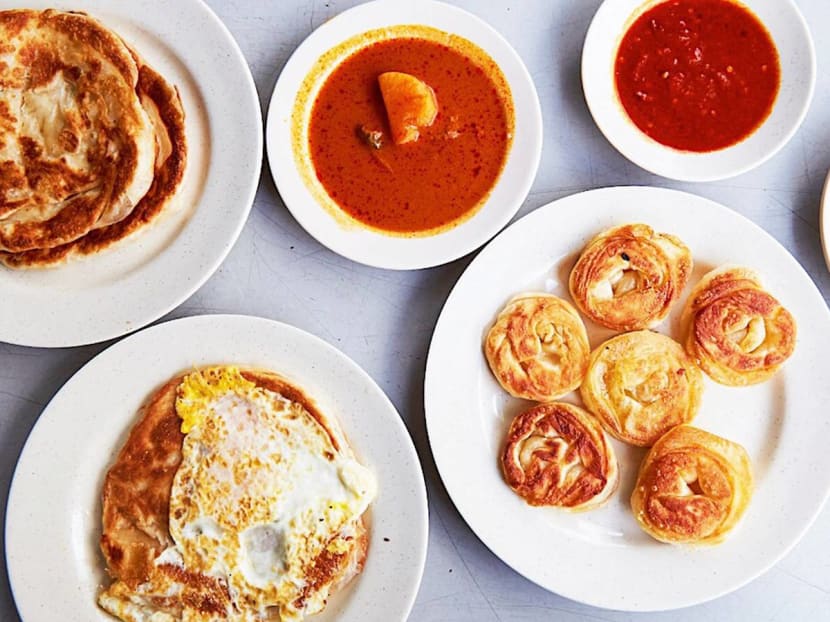 Credit: https://www.todayonline.com/8days/eatanddrink/restaurantreviews/taste-test-mr-mohgans-super-crispy-roti-prata-vs-his-ex
 
328 Katong Laksa
Based on its name, 328 Katong Laksa is famous for its laksa. It is noodles in coconut milk-based curry broth. Although they have specialised in laksa, the shop also serves dim sum.
Laksa is a simple meal but
highly
delicious.
The generous serving includes rice vermicelli noodles, fresh cockles, plump shrimp, and smooth fishcakes
. In addition, everything
is simmered
in a flavourful, spicy, coconut-prominent gravy. So, it's no wonder why it exudes a captivating aroma.
Grab your bowl at 51 East Coast Road, Singapore, 428770.
Credit: https://www.328katonglaksa.sg/
 
Delicious Boneless Chicken Rice
Delicious Boneless Chicken Rice has a colloquial name as Katong Shopping Mall Chicken Rice
. You knew what to eat in Joo Chiate from the name itself – the best-selling dish is chicken rice.
People line up to savour the Chicken Rice meal. Every plate includes a generous
portion
of tender and succulent chicken. Also, the rice is flavourful with a pretty yellow hue. The colour came from the yellow ginger, which
was cooked
in the rice.
In addition
, every dine-in order offers a free-flow cabbage soup and achar. Deep-fried garlic bits are over the chicken meat, too.
Dine at 865 Mountbatten Road, #B1-85/87, Katong Shopping Centre, Singapore, 437844.
Credit: https://sethlui.com/delicious-boneless-chicken-rice-singapore/
Ponggol Nasi Lemak
Nasi Lemak is one of the trademark dishes of what to eat in Joo Chiat.
In Ponggol restaurant, the crispy chicken wings
are paired
with a bowl of flavourful coconut rice
. On top of that, you can add a spicy sambal chilli to heighten the taste.
The rendition in Ponggol Nasi Lemak became one of the crowd's fave. So, it's no surprise why people line up
just
to place their orders.
Nevertheless
, the quality and quantity of every plate are worthwhile.
Experience a mouthwatering dish at 238 Tanjong Katong Road, Singapore, 437026.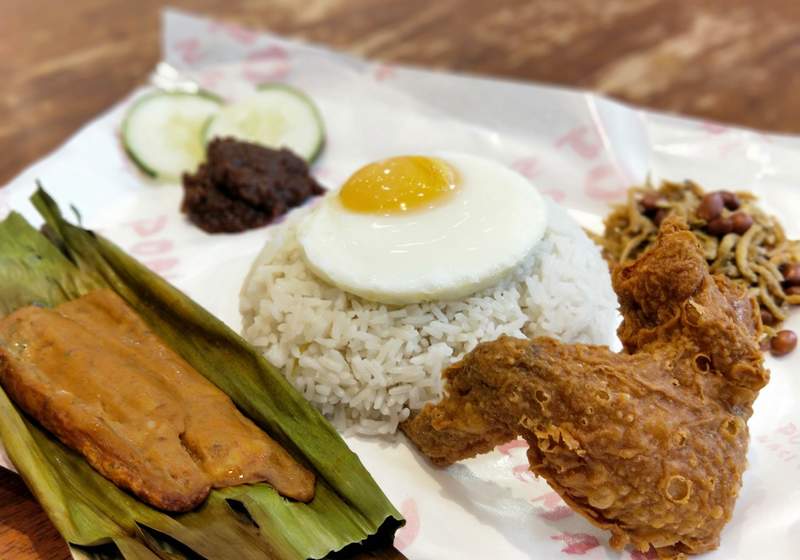 Credit: https://www.klook.com/en-AU/activity/8641-ponggol-nasi-lemak-jalan-besar-singapore/
Petit Pain Bakery
Petit Pain is a perfect find of what to eat in Joo Chiat. The quaint bakery serves delicacies free from improvers, artificial flavours and preservatives. It is quite a name in the area. That's why everything sells out between noon and 2 in the afternoon.
Fortunately
, they put up batch timing to cater to other loyal customers. Now, Petit Pain has three batches daily. So head out first to secure the bread you love.
The shop is famous for its crusty French loaves and flaky croissants. Nonetheless, sweet bakes are also in demand. Also, they offer batch pastries that fulfil your heart's desires.
Avoid disappointment by going to 315 Joo Chiat Road, Singapore, 427566, early to get their excellent pastries
.
Credit: https://www.misstamchiak.com/petit-pain/
The 1925 Brewing Co
If you're up for weekend drinks and treats, The 1925 Brewing Co is the place to visit. The spot serves impressive craft beers. That's why it's a perfect way to bond with your colleagues or catch up with your friends.
Aside from beers, there are modern Teochew delicacies as well. Their dishes include braised duck, otah toast with caviar, and more.
Experience a quick escape from the stressful workload at 261 Joo Chiat Road, Singapore, 427515
.
Credit: The 1925 Brewing Co 
Birds Of Paradise
Birds of Paradise is the home of super-smooth gelato. It is commendable for its
freshly
made daily ice cream. Plus, it comes in a wide array of signature flavours.
The gelato comes from natural and botanical ingredients such as blue ginger and basil
. Also, it is
greatly
influenced by the Southeast Asia palates. That's why the refreshing gelato has an aroma close to home. One of the most favoured flavours is pandan gelato.
Take a cooldown for yourself at 63 East Coast Road, Singapore, 428776.
Credit: https://danielfooddiary.com/category/feature/michelin/feature-michelin-plate/page/5/?filter_by=popular
NineThirty By Awfully Chocolate
Are you yearning for chocolate indulgence? Then, NineThirthy by Awfully Chocolate can quench it for you. It is a top spot with choco goodness.
The shop specialises in various cake flavours that can satiate anybody's appetite. Well-known delicacies are Chocolate Cake, Chocolate Banana Cake, and Salted Butterscotch Brownie.
In addition
, it also serves weekend brunch. Its menu features steak and eggs, rosti, and crepes. The best part of it is that it offers gift sets and hampers. It is the best solution for any occasion.
Satisfy your chocolate craving at 131 East Coast Road, Singapore, 428816.
Credit: https://en.tripadvisor.com.hk/Restaurant_Review-g294265-d3982572-Reviews-or130-Awfully_Chocolate_Bakery_Cafe-Singapore.html
Now you know what to eat in Joo Chiat. So, i
t proves that the picture-perfect shophouses serve a dizzying array of fantastic local food
.
Maximise your dining experience by securing funds in your pocket.
Simply look for a licensed money lender. Then,
take out a personal loan from them. Cash Mart Singapore is one of the best lenders in the country. You will surely not miss a restaurant or cafe to give in to your food craving.