What to Eat in International Plaza: Highrise Foodtrip
Wondering what to eat in International Plaza? Well, this article is perfect for you. Let's get to know and explore the delicious food you can try in International Plaza.
It is a known residential building in the middle of downtown, with different facilities to accommodate their people. They no longer need to leave for their needs.
Located at 10 Anson Road in Tanjong Pagar, one can visit this place easily since it's next to the MRT station on the East-West line. There's a pool and roof garden for residents to view the cityscape.
The amenities found within are not the only ones making the place unique. Food and drinks inside are also top-notch!
Beverage Places in International Plaza
Komala's
Do you want to try the Indian vegetarian food concept? Look no more as Komala's branch in what to eat in International Plaza. The food creator has been in the business for the past 75 years. They are popular with Indians, Malays, Chinese, and even tourists.
Their menu offers traditional Indian food at affordable prices, with customers of all ages, Singapore locals, and tourists. They also offer dining, delivery, and catering services.
Komala's foods feature a unique blend of food called Chindian. Fusion between Indian and Chinese Vegetarian food made the restaurant famous, among others.
The Chindian menu of Komala includes Gobi Manchurian and Kway Teow Noodles. Among their value meals, Biryani Poori and Vegetable burgers are popular. Ghee Masala Dosai is also a snack you might want to try.
Gobi Manchurian is spicy and sour cauliflower stir-fried with onions and bell peppers. It is a famous roadside treat, but the store made it available for the residents to access such an order.
Kway Teow noodles are flat noodles stir-fried with tofu and a generous amount of bean sprouts. The sauce and spring onion also added depth to the flavour of the dish.
Ghee Masala Dosai is a delicious treat for you. Dosa is filled with spiced potato, and you are sure to order more than one. Komala also gives you three sauces that you can choose from.
Credit: https://foursquare.com/v/komalas-vegetarian-restaurant/4b26da04f964a520f98124e3
Alchemist
When you are in a rush to get caffeinated, why not visit the Alchemist? They started selling their coffee in International Plaza in 2016. Since then, they have wowed their customers with brewed coffee and their selections.
Today, they have six outlets in their stores, and they are also available for delivery orders. Coffee beans are also known as their new product line.
They roast their beans weekly so that you can expect a fresh batch. You can order on their website and receive tracking details via email.
Let's now go off their menu. First, one will recognise Alchemist for its modern interior—walls of white and decors that are cool and simple suit the cafe.
Credit: https://danielfooddiary.com/2016/06/20/alchemist/
What to eat in Alchemist
Dark Matter Blend is one of the recommended items you should try in the cafe. The drink can be cold or hot, making it easier to drink in any climate.
The coffee lovers describe the flavour as deep and nutty. Chocolaty and dark brewed with a dash of milk, this blend will make you return for more.
Flat white is another masterpiece from the cafe you can try.
This coffee is a definite choice for those who enjoy a simple white coffee. Compared to the other coffee variants, the Flat White coffee exhibits simplicity, allowing the consumer to enjoy their day more—the thinness of every sip of coffee bursts liveliness and excitement. You can also include side dishes or even customise your coffee.
Add Bonsoy Milk to your Flat White coffee to indulge in creaminess. This choice is famous for those who want to relax and forget their problems.
Another famous coffee in Alchemist is the Kochere expresso. If you are looking for the smoothest cup of coffee, Kochere is the perfect choice! You do not have to worry about its process since this coffee is 100% natural and has no preservatives added.
This coffee originates from Gedeo, Yirgacheffe, and Etiopia. The Kochere expresso captures the ethnicity of this place. However, with its aroma, you can feel that this coffee is not typical.
The coffee has different tasting notes. These include rose, blueberry, and black plums. Imagine a place full of rose petals with the sweetness of blueberry. Add the uniqueness of black plums, and Kochere is your place.
In what to eat in International Plaza, If you want to experience a new level of coffee, visit Alchemist now! This store does not only serve great coffees, but it also applies chemistry to them.
Credit: https://alchemist.com.sg/visit
The Coffee Bean and Tea Leaf
Another great place for beverage purposes is The Coffee Bean and Tea Leaf. This store sells some of the best coffee and tea beverages.
Let us dive into the world of coffee. The Coffee Bean and Tea Leaf allow their customers to customise their drinks. No matter if you want caffeine-free, cold, special, or even brewed coffee.
What to eat in Coffee Bean and Tea Leaf
One of their bestsellers in the caffeine-free category consists of non-fat milk, which has its top filled with a thick foam or whipped cream. Then, they mix it with either chocolate or vanilla powder for extra flavour.
Moving on to the Iced Coffee territory gives us the classic brewed coffee served with ice. You can order whatever brewed coffee you like and convert it into an iced version. This category is for those who want to stay cool.
If you want to feel more special, try The Coffee Bean and Tea Leaf's speciality coffees. These beverages have special powders that you must pick. This category is famous for those who like takeout as their main transaction.
Brewed coffee is the choice for those who want to sit down and enjoy their coffee's warmth. It does not matter whether you like light, medium, dark, or decaffeinated brews.
It is your choice and your enjoyment. This store accepts all the customisation that you wish. However, it is a guarantee that all the beans in Coffee Bean and Tea Leaf come from the world's top 1% of Arabica beans.
Do you want to experience a variety of blends of coffee and tea? Then, in What to eat in International Plaza, the Coffee Bean and Tea Leaf store provides for all your coffee and tea desires.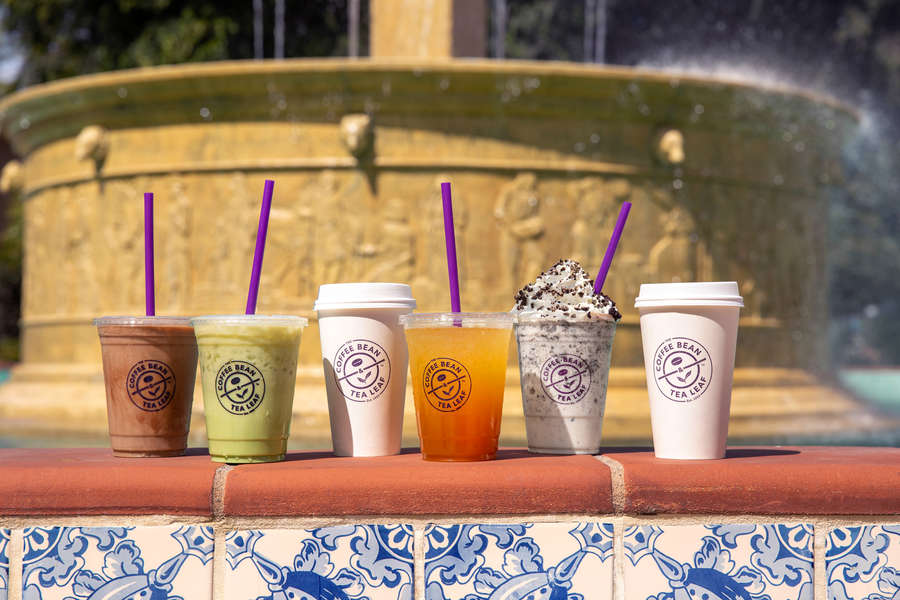 Credit: https://www.chewboom.com/2019/07/22/the-coffee-bean-unveils-new-limited-edition-friends-themed-specialty-drinks/
Restaurants to visit In International Plaza
There is no denying that restaurants are your first query when you visit a mall.
Take this as your guide for what to eat in International Plaza. Here's our recommendation for restaurants you can visit.
Kia Hiang Restaurant
Kia Hiang Restaurant is famous for its authenticity and unique Chinese-style cuisine.
This restaurant also provides set, ala carte, and dim sum menus.
Chicken Set 
The main ingredient of the set menus is their basis. The Chicken set is their most famous set because they collected great cuisines. This set consists of Kia Hiang BBQ Pork Buns, KiaHiang Claypot Spring Chicken, and White Rice. It also consists of Hot Plate Beancurd Omelette, Fred Bean Sprout with Salted Fish, and Gingko Nut.
This set contains a plethora of flavours. Since this set includes them all, you do not have to worry about leaving any flavour behind. The Kia Hiang BBQ Pork Buns cuisine is the main appetiser due to its rich and unique taste.
In addition, with the Kia Hiang Claypot Sring Chicken, the flavour of the set flourishes. With its juiciness and tenderness of the meat. The unique marinade of the chicken uplifts the taste up to a hundred.
The Hot Plate Beancurd Omelette adds a unique flavour to the set with its bitterness and beany taste. Another addition to the beany flavour is the Fried Bean Sprout with Salted Fish. This adds to the set a salty and beany taste combination.
Credit: https://www.thehedgehogknows.com/2018/02/myo.html
Kia Hiang Fish Set
In what to eat in International Plaza, if you are looking for a fish cuisine set, the Kia Hiang Fish Set is the perfect choice.
This set includes Steamed Siu Mai with Mushroom, Garoupa Fillet, and Rice Vermicelli. It also has the Pork Fillet in Chef's Sauce, Sambal Kangkong, and Fried Rice.
This Fish Set is necessary for those who want to experience authentic Chinese-style dishes.
The Steamed Siu Mai is an all-out favourite for every Chinese food lover. With the addition of the steamed mushroom, this dish's taste boosts in freshness.
The Garoupa Fillet, Rice Vermicelli & Luffa is famous for using a Garoupa fish. This fish is expensive due to its high demand and low supply. With this dish, you do not have to worry about your money because every cent you spend is worth it.
The Pork Fillet in Chef's Sauce adds a meat entree to the set. The chef's special sauce is to die for with the uniqueness and the savour of the taste.
If you want a healthy dish in this set, the Sambal Kangkong is the best cuisine for you.
Kia Hiang Restaurant is famous for its authenticity and Chinese-style cooking. Make sure you visit this restaurant whenever you are in International Plaza. And yes, this restaurant is famous worldwide.
Credit: https://www.thehedgehogknows.com/2018/02/myo.html
Siam Sensation
Siam Sensation specialises in Thai food cuisine. In what to eat in International Plaza, this restaurant is famous for its aromatic experience whenever you pass by it. Some of their best sellers include Basil Minced Chicken, Kung Pao Chicken, Phad Thai, and many more.
These specialities are famous for their tastes. You have to order some of these dishes to satisfy your Thai dish longing.
This restaurant also offers promotional sets with its common set, including choosing the main dish, a tom yum soup, and a fried egg. This set also provides a free drink for you.
Siam Sensation also offers student promotion deals. This deal includes 10% off for all ala carte food items. In addition, a 10% discount is also applicable for stacking in certain food dishes. This deal applies from 2 PM to 9 PM, Monday to Friday. On Saturday, this deal is available from 11 AM to 3 PM.
In all your Thai dishes concerns, Siam Sensation is your best choice.
Credit: https://www.burpple.com/siam-sensation-sg
Conclusion
International caters to many beverage places and restaurants. These places vary in their specialities among each other.
For your beverage needs, visit Komala's, Alchemist, and The Coffee Bean and Tea. Leaf. For your restaurant needs, visit Kia Hiang Restaurant and DOCO. Finally, do not forget to visit Old Changkee and Siam Sensation for your restaurant longing.
If you find yourself in International Plaza and short on cash, Cash Mart is your solution. Cash Mart Singapore is your legit money lender and leading online loan provider. Always remember, Cash Mart makes your travels smart.