What to Eat in East Coast: 5 Must-Try Restaurants
East Coast Road has lots of great food to choose from. A foodie's paradise, Katong and the East Coast are home to dozens of restaurants and hawker stalls. Unfortunately, it isn't easy to choose among the restaurants available at what to eat in East Coast.
I've compiled a list of the best five restaurants on what to eat in East Coast Road to save you the hassle.
Credit: https://www.visitsingapore.com/see-do-singapore/nature-wildlife/parks-gardens/east-coast-park/
Zaffron Kitchen
At Zaffron Kitchen, you'll enjoy traditional North Indian food at an affordable price. Besides, a modern setting gives the restaurant a great vibe.
The Zaffron Kitchen has won many awards. It won:
2015 Best Asian Restaurant of the Year, World Gourmet Summit
Epicurean Star Awards(2013, 2014 and 2017)
The restaurant got three consecutive Michelin Guide Bib Gourmand awards. They won the awards from 2016 to 2018.
Among Indian cuisine, biryani is one of the most popular dishes. In what to eat in East Coast, Zaffron Kitchen's Chicken Biryani is a culinary delight. They use a perfect balance of spices in this dish — a pleasant aroma and flavour accompanied by a light sauce. Plus, they then cook the basmati rice and dum chicken masala to perfection.
The Tandoori Mixed Grill is perfect for sharing and has all of the goodness of a tandoor oven. It includes chicken tikkas, fish tikkas, malai tikkas, and mutton kebabs. Suppose you're craving curry or tandoor dishes. Head on to Zaffron Kitchen. Please your taste buds with their authentic Indian cuisine.
137 East Coast Road,
135 Singapore 428820
Credit: https://www.zaffronkitchen.com/
Sinpopo Brand
Sinpopo Brand is a restaurant-café offering a heritage menu infused with modern influences. Through contemporary representations, the restaurant reinvented traditional kueh recipes. So, t
he Gula Melaka Cake is an original creation of Sinpopo Brand, the brand's first bestseller.
This fluffy three-layered cake highlights the smoky aroma of gula Melaka. It's infused between layers of the cake and in the fudge topping. That's why it's a popular choice among the guests in their dairy-free cake.
Sinpopo brand also offers main dishes, cakes, and pastries. One of their bestsellers is their char-grilled pork chop. This pork chop is marinated in some soy sauce and has a light flavour to it. Also, the Hainanese curry dip and potatoes go well with the meat.
458 Joo Chiat Rd,
Singapore 427671
Credit: https://www.sinpopo.com/content/restaurant.html

328 Katong Laksa
There are 328 Katong Laksa branches all over Singapore. But the East Coast branch is the most famous. Especially since celebrity chef Gordon Ramsay himself visited the restaurant. The SingTel Hawker Heroes Challenge, held at Newton Food Centre, features them.
Plus, they beat Gordon Ramsay in the Laksa Challenge. 328 Katong Laksa has called itself the "No.1 Laksa in Singapore" ever since. Its Laksa is well known for having short vermicelli noodles that you can eat with just a spoon.
Also, the store was awarded the Michelin Bib Gourmand for two years.
They cooked their famous Laksa according to a Peranakan recipe. The broth in Laksa is light and flavourful, with a well-balanced flavour profile. Adding dried shrimp allows the broth to be between pleasant, savoury and salty tones.
There is a good balance of coconut flavour and seafood in the gravy. Fresh, sweet, and rich.
51 East Coast Road,
Singapore 428770
Credit: https://www.328katonglaksa.sg/
Birds of Paradise Gelato Boutique
If you're looking for something sweet along the road, you must try Birds of Paradise Gelato Boutique. Nature's botanical essences are the inspirations of the Gelatos here in this Boutique. They steep herbs, spices, fruits and flowers into the gelato base to create these flavours. Also, they offer many flavours, such as Strawberry Basil, Pandan, and Lemongrass Ginger.
But their best seller, the White Chrysanthemum, is a must-try.
Chrysanthemum gelato
is infused
with chrysanthemum florets sprinkled with crunchy cacao nibs.
It has a very fresh scent and a unique light flavour. The texture is very creamy, and the taste is very refreshing.
It pairs well with the thyme-infused cone that has a slight crunch and is very fragrant.
63 East Coast Road, #01-05,
Singapore 428776
Credit: https://www.thedivaeatsprata.com/birds-paradise-gelato-katong/
Al Forno
If you're looking for something fancy, you might want to check out Al Forno—an authentic Italian restaurant. You should not pass up Al Forno because you can see how pizza is made there. The Italian chefs making pizza in their oven is a sight to behold.
Al Forno imports fresh ingredients like tomatoes and cheese directly from Italy. As a result, the food there is of top-notch quality. 'Al Forno' dishes refer to foods cooked in an oven, such as pizza, bread, and pasta dishes, which are Italian favourites.
Their Farfalle Al Granchio gives generous amounts of crab meat, garlic, and chilli in tomato-cream sauce. Then, adding the chilli to the dish adapts the food to Singaporean tastes. Combined with the al dente pasta, this dish has an exquisite oriental taste. In addition, a Spaghetti Cartoccio is made with seafood, capers, black olives, and chilli in a tomato sauce. It's an excellent dish overall.
Additionally, it's great for sharing. Pizzas and bread are other great food choices at Al Forno. They use a traditional wood-fired oven for baking their pizzas. One of their best sellers is the classic Pizza Margherita. There is no way to go wrong with the classics if you're a little overwhelmed with food choices. Head on to Al Forno for a great Italian fine-dining experience.
400 East Coast Road,
Singapore 428996
+65 6348 8781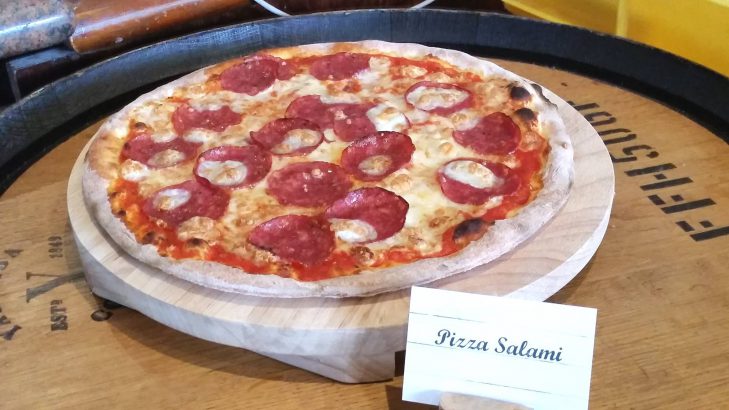 Credit: https://www.mariefranceasia.com/food/hot-spots/recommended-spots/best-places-singapore-thin-crust-pizza-205317.html
Conclusion
I hope this list will help you through your travels once you visit the East Coast. Be sure to prepare yourself and reach out to Cash Mart for your financial needs. As a legit money lender, they can offer a different loan product, such as a personal loan that will fit your needs. So, enjoy your travels, and may your food journey be a satisfying one!