What to Eat in Clementi: The Westies Choice
Immerse yourself in nature, and let's indulge our tastebuds on what to eat in Clementi. No wonder people who love nature and photography love this place. This place has so many to offer. And I know that you will get hungry while you enjoy the view. So, I am sharing the Westies' choice of what to eat in Clementi.
Getting to know Clementi
Clementi is one of the oldest residential towns in the Western region of Singapore, from swampland to a now thriving new town that started in 1975. The steel beam railway bridge crossing Sungei Ulu Pandan is an iconic landmark once part of the Jurong KTMB Railway Line. They transport products and raw materials between Jurong and Malaysia.
Clementi New Town is the primary residential district in Clementi. Consisting of any landed properties, it forms Clementi's identity and residents. They serviced the Clementi MRT East-West line station (EW23).
The Locals love the Western Residential Area's traditional way of life, from the wet market to hawker centres to the small tram that loops around the Clementi MRT station.
Credit: https://www.streetdirectory.com/travel_guide/singapore/singapore_district/248/clementi.php
Uncle Noodle
Uncle Mee was previously known as Jurong Wanton Noodles. They changed their name, but the food quality is still excellent. In what to eat in Clementi, they are recognised for their Char siew and chicken feet. You can find it in #4 Ayer Rajah Food Centre West Coast Drive Clementi, Singapore.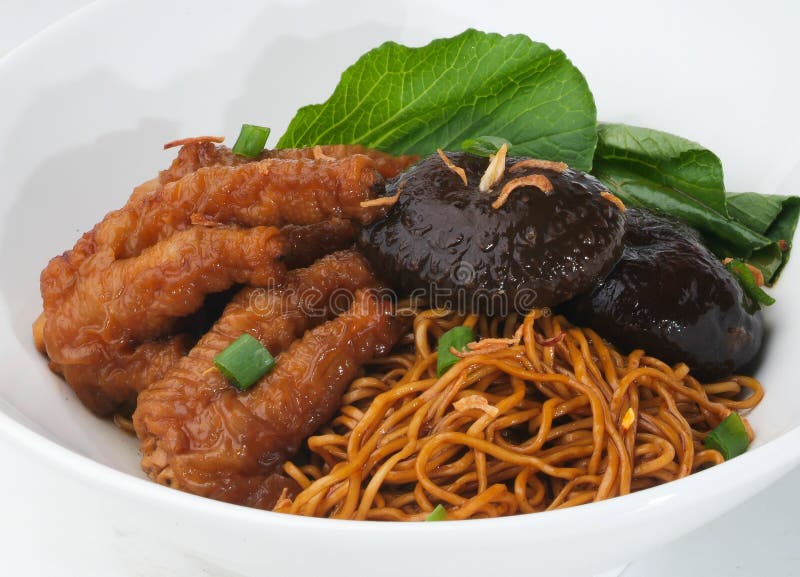 Credit: https://www.dreamstime.com/royalty-free-stock-photos-wanton-noodle-wanton-noodle-chicken-feet-mushroom-dried-image38950208
Wanton Mee
One of Uncle Mee's famous dishes is their Wanton Mee. First, they coated the noodles with the tasty sauce they made using black and chilli sauce, serving wanton noodles—then topping it with some vegetables and char siew to complete the dish. Their char siew slices are thick and flavourful, giving out a significant part. In what to eat in Clementi, Uncle Noodle Wanton Mee is not complete without a bowl of Dumpling Soup. They make their dumplings with soft skin, and the meat is flavourful; every bite is worth it.
Credit: https://www.misstamchiak.com/cck-190-wanton-mee/
Bowl Chap
A couple named Lee Pei Sin and Lee Jin Rong own Bowl Chap. If you are looking for some cheap Japanese food, this is the right place for you. Despite the affordable prices that they offer, they still use premium ingredients. Their menu includes a variety of Japanese dons fused with local flavours.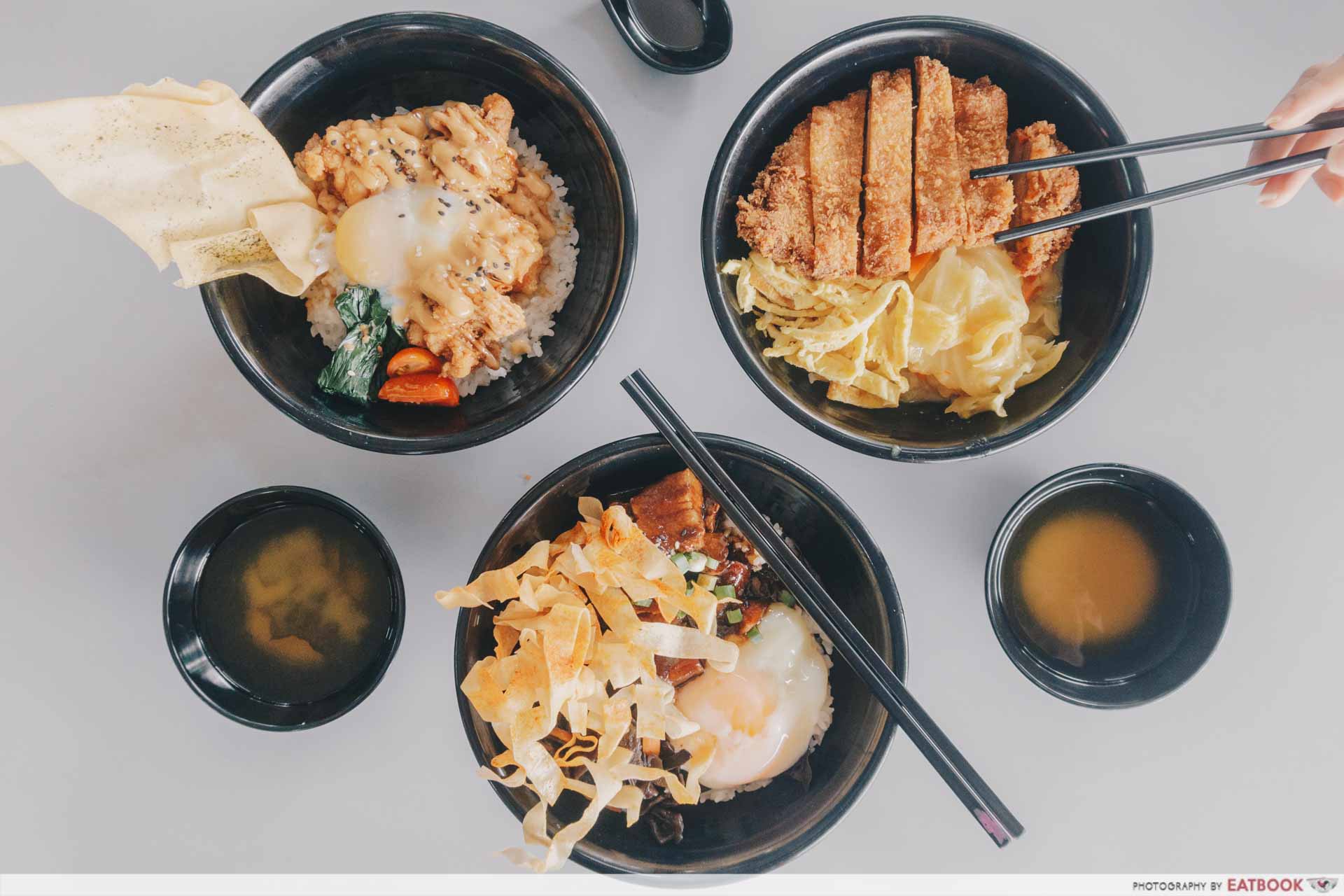 Credit: https://eatbook.sg/bowl-chap/
Apple Braised Pork Belly
The store has a simple five dishes menu, with each of these dishes done well. One of these is the Apple Braised Pork Belly. They use red apples and five spices to braise the pork belly. And then they leave it to marinate overnight. This provides a natural sweetness to the dish. A taste that you can not seem to get enough of. They cut the meat into bite sizes with an even heart-to-fat ratio.
It is easier to enjoy as you do not need to cut a slice or chunk of the pork. As for the rice, they only use premium Japanese koshihikari rice. They also add strips of popiah skin that add a nice crispiness to the dish. They add black fungus and carrots to help neutralise the pork belly's rich flavour. Lastly, they add an onsen egg that gives you a richer and creamy taste.
In what to eat in Clementi, it is no wonder why people like this place! You can visit them at Ayer Rajah Hawker Centre, 503 West Coast Drive, #01-80, Singapore.
Credit: https://cavinteo.blogspot.com/2018/09/bowl-chap-ayer-rajah-hawker-centre.html
Joo Chiat Prawn Mee
In what to eat in Clementi, Joo Chiat Prawn Mee has been known for its wide variety of Indian-Muslim food since 1983. You can find their restaurant at the junction of Crane Road & Carpmael Road. The owner, Madam Lee, had to close it down in 2015 to take care of her husband. However, in 2019, she returned and re-opened it with her son-in-law. You can visit them at Blk 503 West Coast Drive #01-35 Ayer Rajah Food Centre Singapore.
Credit: https://www.misstamchiak.com/joo-chiat-prawn-mee/
Prawn Noodle soup
Prawn Mee is their main dish. You have an option to order it dry or with soup. You can also add pork rib or pig tail. That is why I recommend that you try their prawn noodle soup first. I usually prefer dry prawn noodles, but the prawn noodle soup here is amazing! Joo Chiat Prawn Mee's soup gives out a warm and comforting feeling. It is a boost of savoury flavours and the sweetness of the prawns. After trying this hearty bowl of prawn noodles, I can say this is my favourite!
Credit: https://www.misstamchiak.com/joo-chiat-prawn-mee/
Ah Ma Lor Mee
Generations passed the Lor Mee recipe; you can find it here at Ah Ma Lor Mee. In what to eat in Clementi, their name says it all! This is a must-visit if you crave an excellent lor mee in the West. You can find them at 328 Clementi Avenue 2, Singapore. Lor Mee is a Hokkien noodle dish served in a thick gravy and topped with different toppings.
Credit: https://www.misstamchiak.com/ah-ma-lor-mee/
Lor Mee
Ah Ma Lor Mee's menu includes Fish Lor Mee, which is one of their popular dishes. They served it with a good portion of yellow noodles with a flavourful sauce. One thing that I look forward to when trying a new lor mee is the gravy. It's packed with flavour that I can never get out of my head. And their gravy is not very starchy and not watery.
Moreover, it is the right consistency. The fish is fresh, and they fried the meatballs. It complemented the whole dish. All in all, this is one of the best Lor Mee around. Ah Ma Lor Mee did not disappoint.
Credit: https://thedeadcockroach.blogspot.com/2018/01/ah-ma-lor-mee-blk-328-clementi-ave-2.html
Torched
Torched is a hawker stall founded by Xavier Chang, Ian Lam and Geral Sim, known for its quality Western food. People lined up to order their meat platters and rice bowls. So, if you do not want to wait in line, you may call them and pre-order at 9665 6181.
Credit: https://www.torched.sg/
Rice Bowls and Meat Platters
They sell hand-picked quality meat that will give you great value for money. That is why their meat platters are the first ones that I am recommending for you to try. But if you are travelling alone and still want to try their meat platter, you can try it for two. With ribeye steak, honey soy chicken, pork bratwursts, grilled corn, coleslaw, bbq bean, and fries.
It is a feast that you should prepare with an empty stomach! The steak is tender and juicy. The honey soy chicken is not falling back when it comes to taste. The pork bratwurst is perfectly grilled! It seems like the chef has already mastered the right way of cooking everything regarding meat. The corn can be a little better with more salt and butter. But all in all, it's worth every penny.
I also enjoy balanced meals, which is why I also like their rice bowls. Torched offers a vegetarian-friendly rice bowl called The Impossible Rice Bowl. They grill the meatballs in teriyaki sauce, giving it a sweet taste and charred exterior. It also has the taste and consistency of real meat.
You would not even think it is not real meat with the right chewiness. The rice is lightly drizzled with teriyaki sauce, giving its soft and fluffy texture. And to give the bowl a wholesome look, they added corn and edamame. You've got a bowl of balanced and vegetarian-friendly dishes from rice, protein and greens.
Credit: https://cavinteo.blogspot.com/2020/12/torched-meat-platter-for-2-sunset-way.html
Lai Kee Dim Sum 
Lai Kee Dim Sum was founded by Ah Lai in 2012. He started helping make dim sum in Malaysia with his relatives. Then, he opened his first store in Clementi when he went to Singapore. Lai Kee Dim Sum Clementine branch is located at 107 Clementi Street 12 #01-K1 Singapore.
Known for its quality handmade and variety of dim sum, Lai Kee Dim Sum ensures they make it fresh daily. They served a portion that is good for sharing. Despite the quality and the generous portion, Lai Kee Dim Sum still offers an affordable price.
Credit: https://www.misstamchiak.com/dim-sum-singapore/
Chee Cheong Fun Shrimp
The most eye-catching food on their menu is the Chee Cheong Fun Shrimp. And yes! it is because of the word fun. So, I wondered if the dish would live up to its name. And it surely did not disappoint. It was top-notch in terms of quality and taste. The rice noodle made out of tapioca flour, salt, wheat starch, and water is slippery and smooth.
They fill it with the delicate, sweet flavour of fresh deshelled prawns. Then, adding a bold, salty, savoury taste, it is served with a thin HongKong-style soy sauce gravy. They made the gravy from light soy sauce, sugar, chicken stock, sesame oil and water. Lastly, they garnish with spring onions and fried shallots with chilli on the side if you want it spicy. This is the kind of fun that I recommend!
Credit: https://ivanteh-runningman.blogspot.com/2020/04/lai-kee-dim-sum.html
A Rashid Khan
A Rashid Khan is a mutton soup specialist from Shenton Way. You can visit them at #01-58, Ayer Rajah Food Centre, 503 West Coast Drive, Singapore. Known for their mutton soup that does not have a strong smell that usually puts many off. This place is a go-to for someone who has a craving for Muslim food.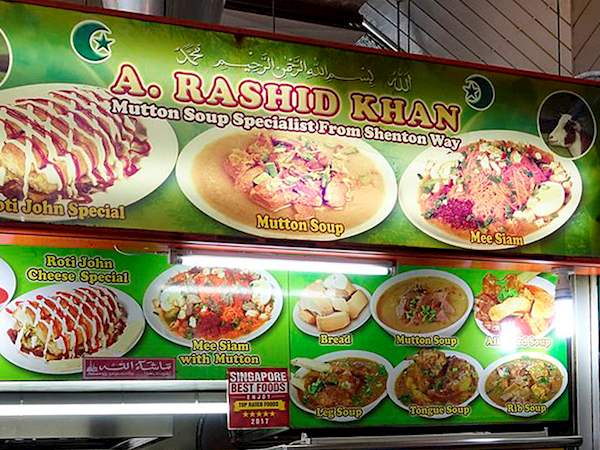 Credit: https://www.tasteatlas.com/a-rashid-khan
Kambing Soup (Mutton soup)
Kambing Soup is best eaten on a rainy day. It gives us a warm and hearty feel. And no stall does it better than A Rashid Khan. They have a good flavour that is not heavy and intense. Inside this spicy broth of mutton soup are chunks of flavourful mutton. It is then garnished with coriander and leek. You'll surely go home satisfied after trying this dish. Also, do not forget to order bread to finish the soup. It is so tasty that you will want no drop of it to be wasted.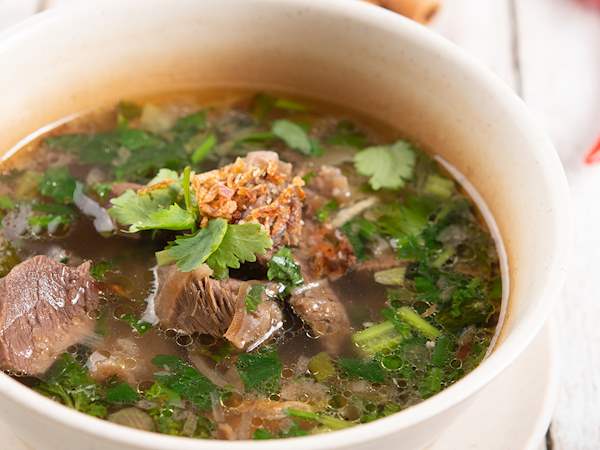 Credit: https://www.tasteatlas.com/soup-tulang
Chai Ho Satay
If you are looking for one of the cheapest satays, Chai Ho Satay is the place to go. The stall started when the Clementi market first opened. They only started with Bak Kwa and then added Satay to their menu. They use Malay sauce for marinating and do not use pineapple sauce like the usual satay stall.
Credit: https://thedeadcockroach.blogspot.com/2014/08/chai-ho-satay-dried-pork-clementi.html
Satay
In Chai Ho Satay, they claim that they are making their satay and peanut sauce. No wonder why many people prefer to line up for this stall. Their satay is packed full of flavour, and it is easy to eat. It is juicy and not dry.
And to level up the satay, they also have the peanut sauce. The sauce is good and has real bits of peanuts in it. It is not too oily, so you will be free of guilt when you dip your satay in it. It is also not spicy so people who can not eat spicy food can enjoy this sauce.
Chai Ho Satay is only found at 448 Clementi Ave 3, #01-10, Singapore. They do not have a plan to expand because they want to focus on providing their customers with the best satay. However, it is cheap and good, so prepare to wait!
Credit: https://sethlui.com/chai-ho-singapore/
Burnt Cones
Of course, there is always room for dessert! So let us tempt your tongue with a Burnt Cones experience. Burnt Cones started in December 2020 and quickly gained many loyal fans. Their mission is to spread the love for incredible food made with fine ingredients. And true to their mission, you can taste the quality of their food in every bite. You will find them at 105 Clementi Street 12 #01-02, Singapore.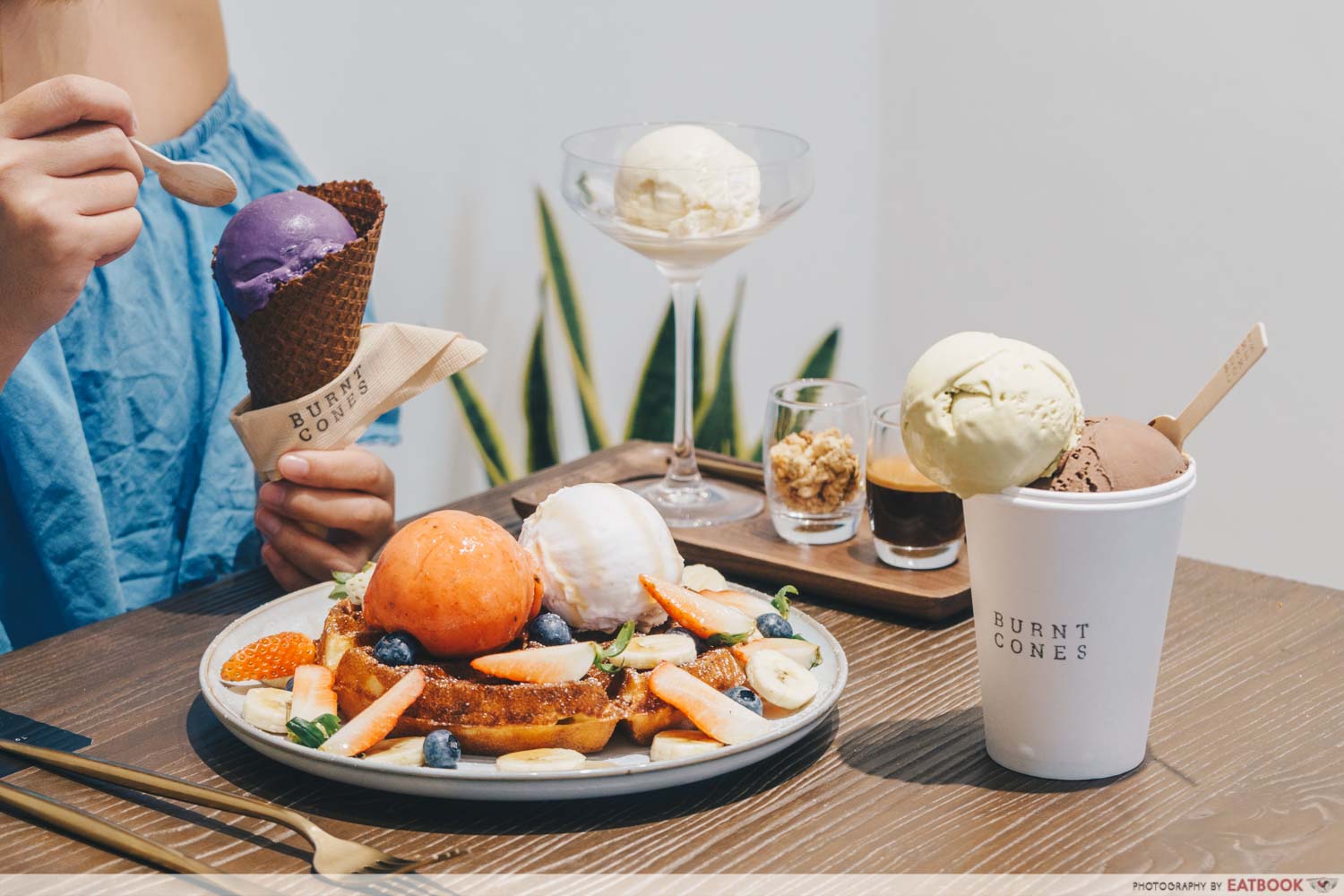 Credit: https://eatbook.sg/burnt-cones/
Ice cream
The cones at the cafe are handmade daily, caramelised or burnt to various degrees, hence the name Burnt Cones. This cafe offers ice cream, waffles and coffee. They have four regular flavours and 8 premium flavours of ice cream. All of it looks so delicious that you don't even know what to order. But whatever you choose, you won't be disappointed. Their four familiar flavours are earl grey, butterscotch, fior de latte and black sesame. At the same time, the eight premium flavours are mango passion, tiramisu, dark chocolate, scamorza, pistachio, bacio, stracciatella, and strawberry basil.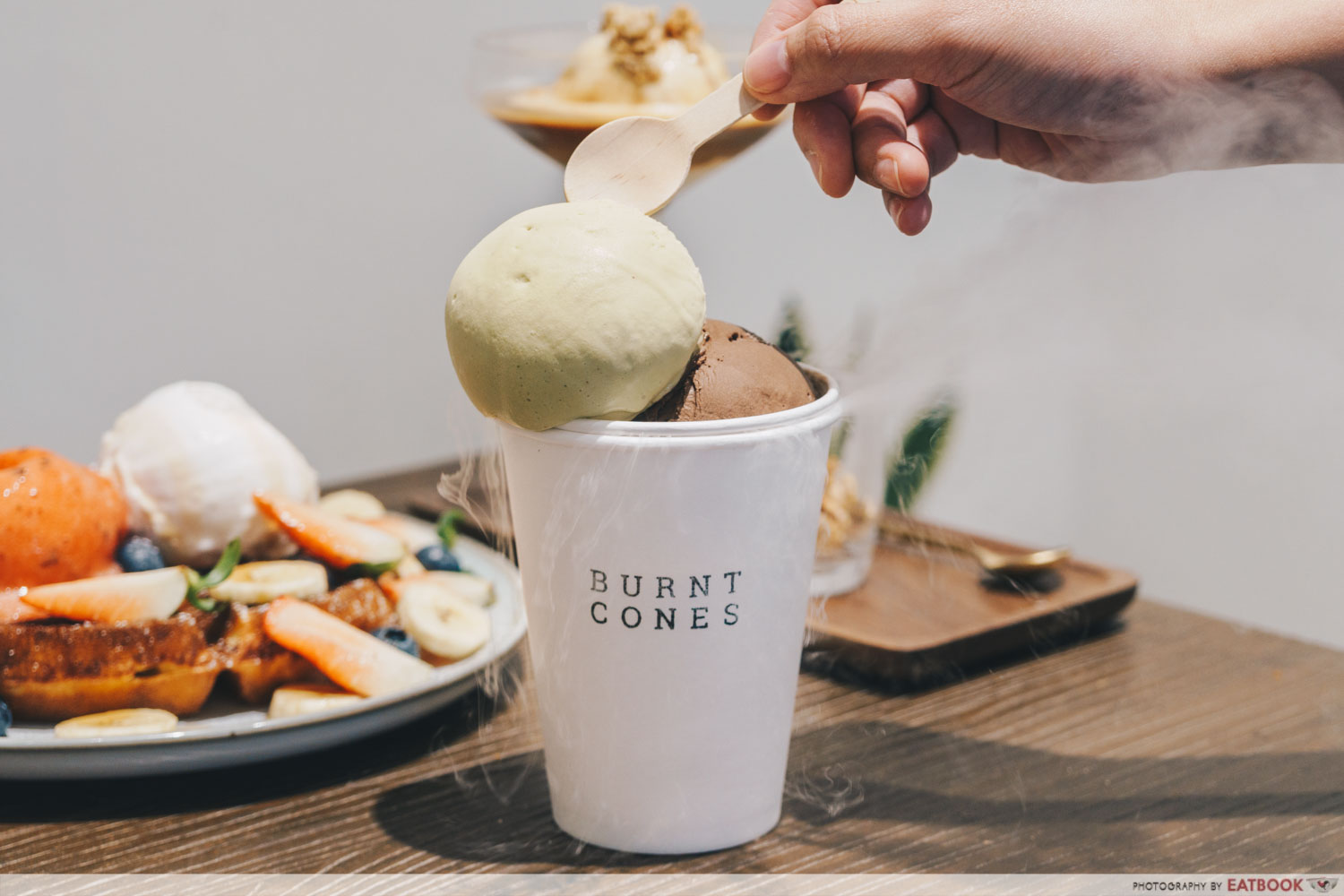 Credit: https://eatbook.sg/burnt-cones/
Make sure to have enough time and money on your trip to what to eat in Clementi. For your financial needs, you have Cash Mart to reach out to. As a legit money lender, They can provide you with an instant cash loan. So now all you need to do is pack up and enjoy the West!
Related Article: What to Do in Clementi: Activities You Mustn't Miss