What to Eat in Buona Vista: 10 Best Food Places
Figuring out your next adventure? Well, we're here to guide you where and what to enjoy in Buona Vista. Join us, find out what to eat in Buona Vista, and get to know their city and famous dishes. Buona Vista is famous for being eye candy, and you can find them in the subzones of Holland Drive in Queenstown, Singapore. Buona Vista means "good sight" in Italian. As the place is living up to its name, Buona Vista is not just a good sight. Buona Vista offers good sights, thanks to the area's mountainous geography.
Here, you can also find a lot of food stalls and restaurants to enjoy good food with a good sight. Buona Vista's food scene is more vigorous than what people know. While most people think of Star Vista when Buona Vista gets mentioned, it is not the only place to enjoy good food. Here is a helpful guide that will help you decide the next time you dine out with your loved ones.
Hin Fried Hor Fun
In what to eat in Buona Vista, Hin Fried Hor Fun is a hawker stall that serves delicious hor fun. This stall gives you the freedom to personalize your meal. You can pick your toppings, including prawns, beef and sliced fish. More importantly, the cost of the dish stays at $5, no matter which toppings you choose to add to your meal. What patrons like the most in this stall is that they are generous with portions, and each plate comes with a strong wok hei.
Known for its popular flat rice noodles dish with its unique gravy, there is another dish you might be interested in. They offer a rice version of Hor Fun known as Mui Fan. Also, the stall is popular, so they're prepared to queue for a few minutes. Yet, it does not take long as they seem like they are very used to serving a lot of people.
You can find Hin Fried Hor Fun at 20 Ghim Moh Road, #01-56, Ghim Moh Market and Food Centre. The stall is open Tuesdays to Sundays from 10 am to 3 pm and 5 pm to 8:30 pm.
Credit: OpenRice Singapore
Kanshoku Ramen
Kanshoku implies "to finish eating every last bit of your food" in the Japanese language. Here in Kanshoku Ramen, they serve meals that make you eat every last bit of your food. There are a lot of places that offer ramen, but this place stands out due to its commitment to serving delicious food.
The broth used in all ramen meals is first simmered for over eight hours with filtered water. They also avoid adding salt and preservatives to the broth. They import the pork from Holland and will marinate it for over four hours. These are just some ingredients that make ramen special in Kanshoku Ramen.
In what to eat in Buona Vista, What patrons order here the most is their Signature Kanshoku Ramen. It is best paired with Pork Gyoza. The noodles and the milky broth make the ramen special, as well as its tender meat that melts in your mouth. You can also opt for their Truffle Broth Ramen if you want a flavour of truffle in your ramen and Flaming Hot Tonkatsu Ramen if you want a kick of spiciness.
Find Kanshoku Ramen at 9 North Buona Vista Drive. Kanshoku Ramen is open Monday to Friday from 11 am to 9 pm.
Credit: burpple.com
Pasta & Donburi by Kenny
Pasta & Donburi by Kenny is famous for serving Japanese-Italian dishes at affordable prices. The restaurant has a consistent flow of customers as they love how this restaurant offers food that is free of MSG. Pasta & Donburi by Kenny only uses fresh ingredients in most dishes.
In what to eat in Buona Vista, their Miso Carbonara & Onsen Egg Pasta is one of the favourites here in Pasta & Donburi by Kenny. The runny yolk makes the pasta extra smooth and adds to the flavour's richness. The carbonara is not complete with shreds of bacon that add saltiness to the dish.
You can also try their Pan-Fried Salmon & Veggie Pasta With Pink Sauce. They mix spaghetti with a tangy, creamy sauce from miso and tomato topped with crispy fish slices. If you are looking for a filling meal with rice, you can try their Salmon Donburi or Chicken Donburi, priced at $7.50 and $6.50.
Try their food at 20 Ghim Moh Road, #01-53, Ghim Moh Market and Food Centre. The cafe is open Fridays to Wednesdays from 11 am to 2:30 pm and 5 pm to 8 pm.
Credit: allaboutceil.com
New Lucky Claypot Rice
In what to eat in Buona Vista, New Lucky Claypot Rice is famous for serving traditional clay pot rice cooked over a charcoal fire. Known to bring out the smoky flavours after cooking them in charcoal. A dish cooked over charcoal takes 45 minutes before it gets cooked, so it is a must to call and order in advance so they prep the food before you can even arrive.
They serve clay pot rice with large chunks of chicken, Chinese sausages and salted fish. Enjoy the sizzling sound from the clay pot as the dish arrives at your table. New Lucky Claypot Rice also leaves the discretion to their customers on how much oil and soya sauce they want to add to their rice. You can adjust and enjoy your meal according to your likeness. Also, mix the rice well so the sauce gets to all parts of your dish.
To wash off the heavy feeling of the clay pot rice, try topping it off with their preserved vegetable soups with pork ribs. Enjoy the tanginess of the soup with preserved vegetables and tomatoes, and chewy pork ribs.
Give their fish a try at 44 Holland Drive. The place is open daily from 11 am to 1 pm and 5 pm to 8 pm.
Credit: danielfooddiary.com
Jiu Jiang Shao La
Jiu Jiang Shao La is one of the most famous stalls in the area. This stall lets you personalise your dish according to your own likeness. You can add sio bak, char siew and roasted duck to your plate.
Their roasted dishes are to die for. The roast pork was delicious, with a good fat-to-meat ratio. As you bite into the meat, you will hear its crackling rind, which has a comforting crunch and a light, sweet-savoury taste.
The patrons also loved the roast duck, which was tender and juicy without any gamey odour. The char siew was fatty but savoury. The char siew has a sweet caramelised taste and satisfying charred aroma. In what to eat in Buona Vista, you can enjoy a variety of meat by ordering their Three Roast Meat Combo Rice.
This stall offers the best roast meat at an affordable price, so you should be ready for a snake-like queue when you visit this stall. Nevertheless, the time for lining up will be worth it as you enjoy your meal. Jiu Jiang Shao La is open from Thursdays to Tuesdays from 10:30 am to 2 pm.
Credit: tidbitsmag.com
Rochester Cafe
If you want a light and sweet meal for lunch, Rochester Cafe is the perfect choice. Rochester Cafe is the first outlet they built in Singapore. Rochester cafe envisions serving you speciality coffee internationally renowned by the best coffee connoisseurs. Each cup of coffee is carefully brewed with single estate and top-tier 1% Arabica coffee beans. They guarantee the coffee beans organic, hand-picked, shade-grown, freshwater washed and sun-dried.
Satisfy your sweet tooth cravings with their Matcha Azuki Crepe Cake. This crepe will surely be a hit for all matcha lovers. Another special dessert is their Charcoal Waffle with Vanilla Ripple and Earl Grey ice cream. This is a perfect dessert with the cool breeze in the quiet area.
For beverages, their Iced Banana Toffee Nut Latte will change your usual latte fix. Enjoy its smooth and rich aroma without the overwhelming sweetness. Find the cafe at 35 Rochester Drive, Rochester Mall. You can visit their cafe daily from 8 am to 7 pm.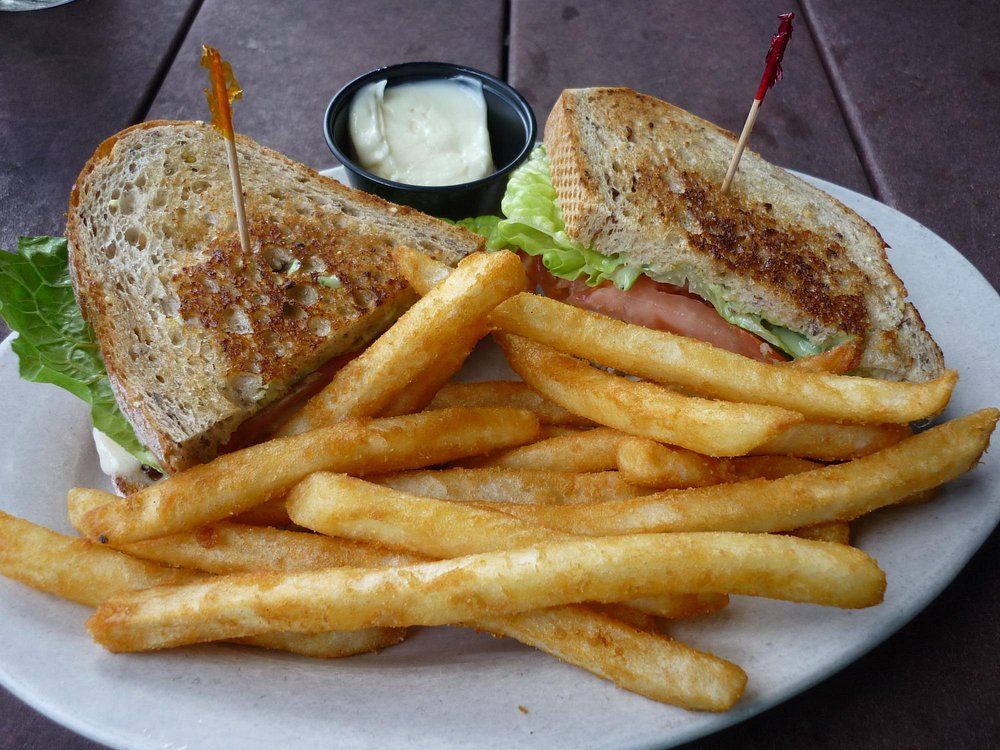 Credit: tripadvisor.com.sg
Holland Village XO Fish Head Bee Hoon
This food stall is generously packed with people during lunchtime; we do not blame them. This stall offers Fish Meat Soup that will fill up your tummies. They filled the dish with thick bee hoon and chunks of fish. The fish chunks in the soup are generously sized and delicious. Of course, the soup is so good that you would not want to leave a single drop.
Har Cheong Gai is the perfect side dish to pair up with their Fish Meat Soup. Har Cheong Gai is the famous Singaporean fried chicken wing dish coated and battered with fermented shrimp paste. This chicken wing dish is surprisingly crispy without the oily feeling in it.
Holland Village XO Fish Head Bee Hoon is open daily from 11:30 am to 2 pm and 5:00 pm to 11 pm.
Credit: danielfooddiary.com
Lean Bento
Are you looking forward to a healthy lunch for a change? Then Lean Bento is the perfect place for you. Encourage your workmates or even your loved ones to enjoy meals that are not heavy for your tummies. Enjoy this restaurant's light ambience as you enjoy your sumptuous meal.
Enjoy DIY meals without even gaining those extra calories. Try out the Mega Hero filled with Honey Miso Salmon, Cheddar Chicken, Cherry Tomatoes, Basil Couscous, Truffle Edamame, Mesclun Salad and Scrambled Eggs.
If you want a lighter meal, try their H3 from their Lean Hero Series. They made the dish with Chilli Chicken, Multigrain Sushi Rice, Scrambled Eggs, Mesclun Salad and Truffle Edamame.
They also have sweet treats to top off your meal. Choose Chocolate Protein Muffin, which costs $4.50 or Iced Chocolate for dessert—Lean Bento they found at 43 Holland Drive. The restaurant is open daily from 10 pm to 9 pm.
Credit: https://sethlui.com/lean-bento-protein-bento-sets-singapore/
Rollie Olie
This Instagrammable place with a touch of California Style will surely be your next spot to dine with your loved ones. As you set foot at the restaurant, you will immediately feel like you are out of the country with their California-inspired interior.
However, here, they do not serve Western food. Instead, they offer Asian fusion dishes to make your heart and tummy full. Try their Cali Dream that made with fried prawns, tempura crunch, avocado, cucumber, tamago and strawberries.
Aloha Poke is also one of the meals that you should try. Aloha Poke is a Hawaiian-style don with ample chunks of tuna and salmon sashimi. This dish is also tossed with cucumber, tamago and red roe. To finish its presentation, it is generously topped with Alfalfa sprouts.
You can locate Rollie Ollie at 1 Vista Exchange Green, Star Vista. The restaurant is open daily from 11:30 am to 10 pm.
Credit: burple.com
Morganfield's
Morganfield's is one of the few places in Singapore that will let you enjoy a huge slab of ribs. This restaurant is famously known as the home of the best ribs in town. They claim to serve their customers only authentic, old-fashioned, excellent pork ribs—Morganfield's offers outdoor dining, which can immediately improve your dining experience. Here, you can enjoy the night's cold breeze while diving into their sumptuous meals.
Their Hickory BBQ Sticky Bones is offered in half and full slabs. The meat is deliciously tender. It is also coated with homemade BBQ sauce that you can only taste in Morganfield's. This dish is so delicious that you would want to lick your fingers clean to make the best of it.
Their Tequila Spiked Chicken is perfect for you if you want to pass from meat. This unique half-chicken is marinated with Spicy Tequila, paprika and lime. This dish is char-grilled and served with roasted potatoes and a side salad.
To complete your sumptuous meal, Morganfield's also offers mouth-watering desserts. Their New York Cheesecake is made with rich, creamy filling with Graham crust baked until perfection. The restaurant is located at 1 Vista Exchange Green, Star Vista. Morganfield's is open daily from 11 am to midnight.
Credit: vkeong.com
Discovering what to eat in Buona Vista has never been this fun and delicious. Indulging in the many delicacies that the city can offer and taking your sweet time to enjoy the view. Be sure to not make your trip abrupt and have enough cash in hand with Cash Mart. As your legit moneylender, Cash Mart Singapore can provide you with an instant cash loan hassle-free.