What to Eat in Boon Keng: 10 Must-Eat Stalls
Boon Keng is a small area in Singapore, yet it's the perfect place for the residents living here. The vibrant town has condos, shops, supermarkets, markets, eateries, and many more! Those who live here are a few steps away from all the good places in the area. It's also the perfect place for foodies who know what to eat in Boon Keng. Especially for those who want a taste of traditional Singapore dishes!
You see, the place consists of Boon Keng itself, Bendermeer, and Towner. The Bendemeer area is well-known for the Bendemeer Market and Food Centre. It's packed with hawker stalls that offer authentic yet cheap Singaporean dishes. Imagine eating a lot without breaking the bank!
As a foodie, you can't miss this place if you want to experience excellent quality hawker stall dishes! Boon Keng's Bendemeer Market and Food Centre is a true paradise for food lovers out there. Here we listed some of the 10 must-eat hawker stall specialities of what to eat in Boon Keng area for you to try!
Guide On What To Eat In Boon Keng
Amigo Bak Chor Mee
Bak Chor Mee is an authentic Singaporean dish served in hawker stalls. When translated to English, Bak Chor Mee means minced meat noodles. There are two ways of serving this. It can be a noodle dish or a minced meat noodle soup. 
The dish consists of several ingredients! Imagine bouncy and chewy noodles tossed in savoury, spicy, and tangy seasonings. You even have the power to choose whether you want thin or wide noodles for your dish. (Remember the words Mee Kia is for thin noodles and Mee Pok for wide noodles!)
On top of the noodles, there are a few mouth-watering components. We have tender slices of braised mushrooms, soft minced meat, slices of pork, and crispy lard. If you order noodles, then the common ingredients of the broth would be chicken stock and fish sauce. Added flavours on the broth vary depending on the store you buy Bak Chor Mee from. 
A famous hawker stall for Bak Chor Mee would be Amigo. The balance of tastes, texture of noodles, and combination of toppings are excellent! It's not hard to notice the long queue at the stall, but this only proves how well-loved it is! The stall location is at 01-12, Bendemeer Market and Food Centre.
Credit: https://www.misstamchiak.com/bak-chor-mee/
Bendemeer Prawn Noodles
Prawn Mee is a popular local dish with various reports of its origin. One thing for sure, this is a prawn noodle soup that people love! Several big-name restaurants serve Prawn Mee. But in finding what to eat in Boon Keng, we know a hawker stall offers the same excellent quality at an affordable price! 
Prawn Mee soup is watery and brown, which is perfect for slurping as it goes down smooth. The broth has a strong taste of crustacean umami, porcine sweetness, and soy sauce savoury. By request, you can add a layer of a peppery heat taste to your order. For the noodles, they use soft Mee Kia noodles coated with spicy lard sauce.
The toppings include fresh and tender shelled shrimp. The prawns are usually the size of an index finger, but you can request a bigger one at the counter. They also include a generous amount of lard croutons and fried shallots. The stall also offers homemade sambal chilli sauce that has the perfect heat for those who love spice!
The signboard of this hawker stall is straight-up Bendemeer Prawn Noodles. It also says that the Prawn Mee is authentic Xiamen style. You can find this well-known hawker stall at 01-42, Bendemeer Market & Food Centre. 
Credit: https://pixelm6.sg-host.com/no-name-prawn-mee-singapore/#
Hainanese Curry Rice
The birth of Hainanese Curry Rice came from different cultures and ethnicities. Nevertheless, it gathered the perfect harmony of flavours to create this. The extraordinary dish is a result of their unification!
Every Hainanese Curry Rice hawker stall has its protected secret recipe! Usually, their special recipe for the curry sauce started generations ago. Elders hand down their family recipe to the younger generations for it to carry on. So, the sauce will be different depending on the stall you prefer!
Some of the stall owners use various curry gravies for each of their Hainanese Curry Rice sets. Usually, there's a different selection available for you! But keep in mind that this could also differ from each stall. Although, some stall owners only use one curry sauce recipe for all their dishes.
The no-name Hainanese Curry Rice stall in Bendemeer Market is famous for its recipe. The available sets are curry chicken, pork chop, braised meat, and fried prawn. They serve quality Hainanese Curry Rice that comes at a very affordable price! You can find them at #01-59, Bendemeer Food Centre & Market.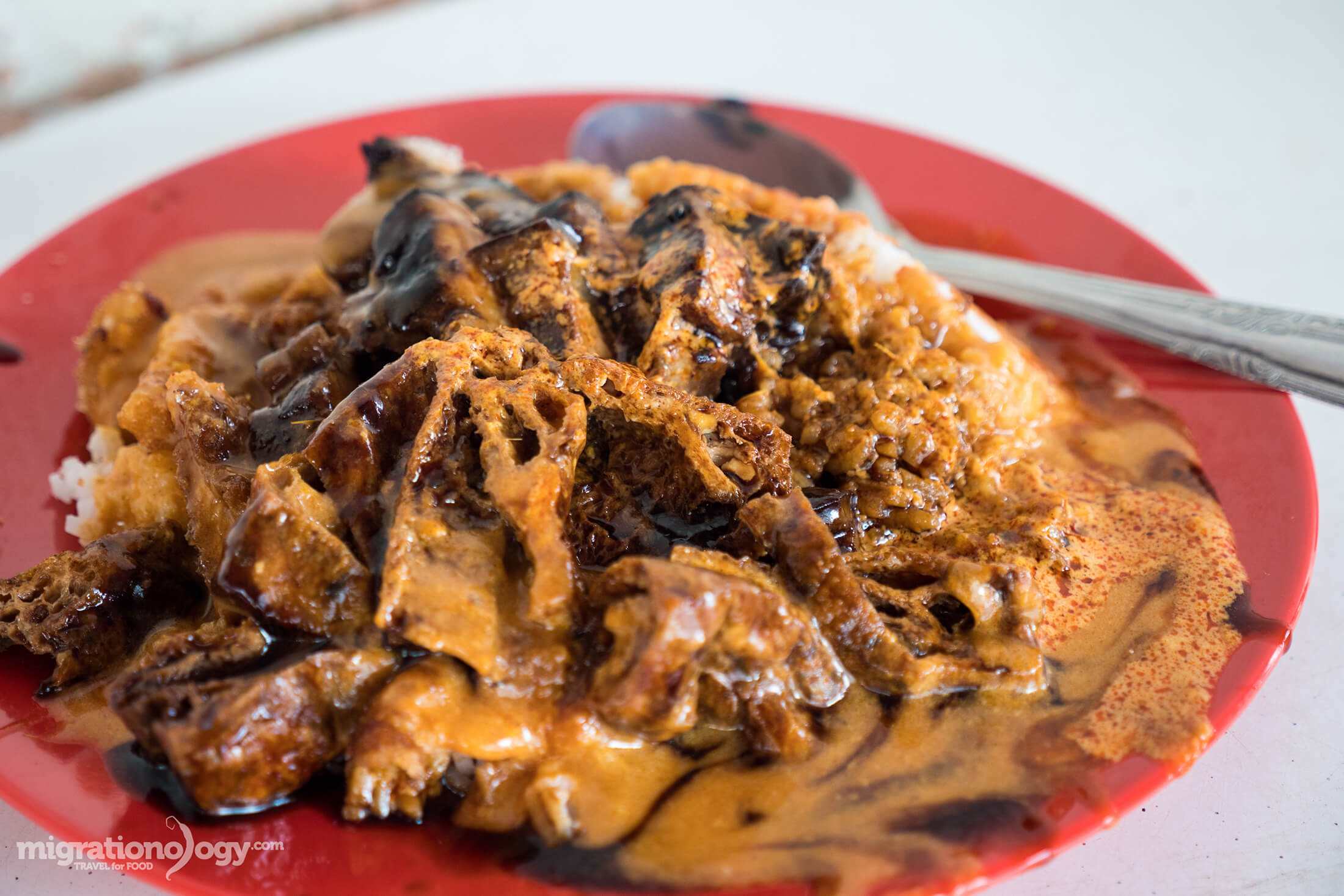 Credit: https://migrationology.com/scissor-cut-hainanese-curry-rice/
Hai Sheng Carrot Cake
Carrot cake is a well-known food all over the world. In Boon Keng, you'll get to taste the traditional carrot cake of Singapore. It's authentic and popular among the hawker stalls of Bendemeer Market. The stall Hai Sheng Carrot Cake serves two types, and they sell out in a few hours after they open!
Hai Sheng Carrot Cakes are either the black version or the white version. Other stalls have black and white versions too, but only the colour is different. In comparison, Hai Sheng shows a clear difference between the taste, texture, and aroma! For them, the versions have their personality and depth, that's why they're famous for it!
The white version looks more like a golden carrot cake than it is white. It's stir-fried well with crispy eggs and plated to look perfect and golden. The chilli gives a beautiful hint of orange to the now fragrant golden dish. The cake gives a slightly crisp and eggy aroma hint of a spicy, savoury taste as you bite through. 
The black version is true to its name. The cubes of soft Kueh fries together with the egg and later covered with dark sauce. The taste harmonises with each other. The Kueh gives it a hint of sweetness, the dark sauce packs a savoury punch, and the egginess completes it all. 
The Hai Sheng Carrot Cake hawker stall usually closes at 10 in the morning. Expect a long line as soon as the hawker stall opens. In mere hours, Hai Sheng is out of stock. You can find them at 01-85, Bendemeer Food Centre & Market, give their carrot cake a try!
Credit: http://www.allaboutceil.com/2013/11/hai-sheng-carrot-cake.html
Heng Kee Lor Mee
The Heng Kee Lor Mee business has been around for more than 40 years in Bendemeer Market. Unfortunately, the younger generations of the original owner took over the stall. However, the passion and legacy of every owner of that stall continue to live! 
Heng Kee's Lor Mee has the perfect starchy texture of gravy that compliments the noodles. The toppings are bean sprouts, hard-boiled egg, fried pork belly, and fried wonton. 
In this dish, the famous fried pork belly is the main star of the menu. The addicting texture and flavour keep the customers coming back!
The deep-fried pork belly is crunchy and savoury from the soaked up flavours of the gravy. However, the fatty layer of the pork has a nice soft texture that contrasts the crunch. The entire dish has a complete harmony of flavours with its teeming ingredients. If you want to add more to it, they can increase the vinegared gravy, minced garlic, and chilli sauce! 
The Heng Kee Lor Mee hawker stall is well-known and a true favourite of locals. Customers wake up early to get a whiff and taste of their Lor Mee. The store opens early in the morning and sells out by lunchtime. You can find this at 01-87, Bendemeer Market & Food Centre.
Credit: https://www.misstamchiak.com/heng-kee-lor-mee/
Min Ji Laksa: The Best What To Eat In Boon Keng
For over 17 years, Min Ji Laksa has stood firm at the Bendemeer Market. The old-school flavour brings the feeling of nostalgia from the good old days. This hawker stall does not disappoint when it comes to their dishes. With years of experience comes mastery; they know what they're doing!
The Laksa comes with uncut, thick, and juicy noodles. The broth is creamy yet light with the taste of coconut milk and a slight hint of dried shrimp. They also provide sambal chilli if you want to add a bit of heat and spice to your dish. You'll find yourself slurping up the broth until the last drop!
There are various toppings to the Laksa that will ensure you'll feel full after the meal. It comes with a hard-boiled egg, fried beancurd, fish cakes, and a generous amount of bean sprouts. The meat has fresh and plump blood cockles and shredded chicken meat. If ever you want extra toppings, ask the counter, and they can give it to you! 
For an affordable price, you'll get a quality bowl of Laksa that your palette will enjoy! You can find Min Ji Laksa at 01-31, Bendemeer Market & Food Centre. 
Credit: https://www.sgfoodonfoot.com/2016/05/min-ji-laksa-bendemeer-food-centre-old.html
One Ton Mee Wonton Mee Char Siew
Wonton Mee is a Singapore hawker dish that has Chinese origins. It is a combination of noodles and dumplings in one steaming bowl of greatness. Char Siew translates to roast pork in English. The Char Siew is then added to this great meal to create perfection in a bowl!
For Wonton Mee Char Siew, you have two options: the wet and the dry one. The wet version has all the components in one bowl, including the soup broth. 
In contrast, the dry version has a separate bowl for the soup broth and wontons and a plate for the noodles and Char Siew. 
The noodles of wonton mee are flat yellow egg noodles that give the meal its springy texture. It's better to go with stalls that have handmade noodles instead of store-bought. Make sure to look for the correct hawker stall if you want to taste quality noodles! 
The Wonton Mee Char Siew has a delicious sweet tomato and chilli base for the broth. The taste isn't too sweet and intense; it has a perfect balance that complements the whole dish. A mixture of prawns, minced pork, and mushroom stuffing creates the wontons. You can choose to have it steamed for a juicy wonton or fried for a crunchy wonton. 
You can consider the slices of Char Siew toppings as the cherry on top. It is a completely balanced meal with satisfying flavours that'll make you want more. The generous amount of the dish comes at an affordable price. Check their hawker stall out at 1-09, Bendemeer Market & Food Centre.
Credit: https://asiantoprecipes.weebly.com/won-ton-mee-malaysian-wonton-noodles.html
Singapore Bao Lo Mai Gai
The menu of the hawker stall, Singapore Bao, only offers two items. A plump, chunky, and meaty Siew Mai and their highlight, the tender Lo Mai Gai. Even though the name of the stall has Bao on it, they do not sell buns! 
The literal translation of Lo Mai Gai in English is Glutinous Rice Chicken. The authentic Lo Mai Gai is a traditional Cantonese dish that started as a snack wrapped in lotus leaf. In Singapore, they eat the Lo Mai Gai straight from the plate. As the name suggests, the dish consists of glutinous rice, chicken, and mushrooms.
The sticky rice is tender yet firm when you take a bite. It has a slight stickiness to it, but it doesn't feel greasy. There is a chewy-nutty taste to the glutinous rice. The sweetness of the rice balances the savoury flavour that the sauces give! 
The hawker stall provides a generous fill of chicken meat! It is tender with a taste of its sauce-soaked chicken, which gives the meal substance. The stewed mushrooms further add depth, texture, and flavour to the rice. They also have their homemade chilli that's salty, sweet, tangy, and spicy!
Singapore Bao only opens in the morning. It is because customers are already lining up the moment it opens. So after the long queue, expect the famous Singapore Bao to be out of stock already! You can check their stall at 01-61, Bendemeer Market & Food Centre.
Credit: https://iamafoodblog.com/chinese-sticky-rice/
Toa Payoh Hwa Heng Beef Noodle
Hwa Heng Beef Noodles has an old-school nostalgic taste to it. The Toa Payoh stall started in the 1970s with a different name. It's why it has that good old memory vibes translated to taste! The well-loved store always seems to have a long queue for their Hwa Heng Beef Noodles. 
There are two versions of their beef noodles. The dry version comes with thick dark gravy drenching the thin slices of beef. The chilli sauce is optional, but it elevates the acidic tang and umami flavour of the meal. It also comes with a small bowl of broth, but it's different from the soup version of the beef noodles. 
The soup version of the beef noodles is a piping hot bowl of a hearty meal. The broth is light and has a more subtle flavour. The soup has bits of beef fat that give it more flavour and balances it to the right level of saltiness. It contains the same beef slices but with added pieces of beef tendons. It's a wholesome, comforting, and warm bowl of beef noodles.
Toa Payoh Hwa Heng Beef Noodles offers exceptional dishes for only a low price. They even give the customers the freedom to customise their meals. You get to choose the version, noodles, and toppings you want! You can visit the hawker stall at 01-01, Bendemeer Market & Food Centre.
Credit: https://www.misstamchiak.com/toa-payoh-hwa-heng-beef-noodle/
Yong Xiang Kueh
An essential part of Singapore's culinary identity is the traditional bite-sized snack, Kueh. The love for Kueh is universal. So, Southeast Asians have a soft spot for Kuehs that they even have different versions of it! 
To make the traditional Kueh, you'll need coconut, palm sugar, pandan, rice, and tapioca. Now that options are available, it depends on what Kueh you're trying to make. In Bendemeer, there's a hawker stall famous for their Kuehs. The way they make it is an art according to their customers!
Yong Xiang Carrot Cake is well-liked for its unique fried Kueh! They also sell carrot cake there, but their Kuehs are the ones who receive praise. What's so special about their Kuehs, you may ask. Well, traditional Kuehs aren't fried, so this discovery adds more to the snack!
In Yong Xiang Carrot Cake, you can choose from Teochew Png Kueh and Soon Kueh. It's up to you if you want them to fry it for you, but it's very recommended that you let them. You can also choose to add eggs and chilli while it's fried. After that, it's also your choice if you want to drizzle their sweet dark sauce on top of it!
The chunks of Kueh have a crispy exterior and a nice chewy interior. Pan-frying gives it the pleasant smoky aroma that it secretes. The complete new dish is sweet, peppery, and has a slight hint of umami. The addicting crisp and balanced taste of the Kueh, egg, and chilli brings the snack to a whole new level! 
People end up feeling revolutionised with the Kuehs of Yong Xiang Carrot Cake. It is why customers keep coming back for more! If you want to check them out, you can find them at 01-35, Bendemeer Market & Food Centre!
Credit: https://www.sgfoodonfoot.com/2016/04/yong-xiang-carrot-cake-bendemeer-food.html
Conclusion
It is fascinating to know that there are various food stalls in the area. Locating what to eat in Boon Keng is easy. Furthermore, enjoying a food adventure is more fun if you have sufficient funds with you. Make it possible by securing quick cash from legit, licensed moneylenders such as Cash Mart Singapore. 
Cash Mart is reputable in the industry. One of its well-known products is the instant cash loan. So, borrowers like you have the great convenience of taking out a loan without too much fuss. And explore more about what to eat in Boon Keng has to offer.   
Related Article: What to Do in Boon Keng: Must-See Delights