What to eat in Anson Road: 10 Best Food Places
Named after Archibald Anson, the land where Anson Road rests was once a part of Mount Wallic. Now, it is beaming with high-rise commercial and residential buildings and structures. The International Plaza, Fuji Xerox Tower, and the Anson Centre are notable structures. With so many restaurants, one would ask what to eat on Anson Road.
Anson Road is a place not only where history meets the present but also a pot of different cuisines you don't want to miss. The listed shops and restaurants here are the ones surely you would like to visit. Read until the end. Number 6 might be your next favourite.
Golden Mile Food Center
Not looking into hawker stalls is a big miss out when in Anson Road. Having many stalls in one place, you will find the dish you are looking for at Golden Mile Food Center!
From Anson Road, via Beach Road, it will take 11 min to go there by car. Here are two stalls recommended for you to visit for their best sellers.
Credit: https://sethlui.com/golden-mile-food-centre-guide-singapore/
Hainan Hokkien Mee
Hainan Hokkien Mee offers a dry version of the dish, which makes it distinct from others! The noodles dry out from the steaming stock, so it will trap the flavours on each egg noodle and bee hoon.
Shrimp shells and pork fat make up the stock. On the side, it comes with sambal chilli and lime. The cooked dish will always make you come back. Visit the stall in B1-34 in Golden Mile Centre to try the dish.
Credit: https://danielfooddiary.com/2020/06/10/hainanhokkienmee/
Ah Xiao Teochew Braised Duck
Coming from a generation of passed-on recipes, the braised duck of the  Ah Xiao Teochew is one of the must-try dishes. The current owners are the 2nd generation, continuing the recipe for the years to come.
Their duck slices were even and very delicate. It was good alone, yet they braised their secret sauce, which made the dish more delicious, and they also offered chilis on the side for another unique experience.
The stall is at B1-43 of Golden Mile Food Center. If you are near Anson, the hawker centre is a good place for food variety.
Credit: https://sethlui.com/ah-xiao-teochew-braised-duck-singapore/
Anson Town
If you're looking for Malay food on Anson Road, there is no place like Anson Town. It is 14 min from Anson Road to its location, 324P Changi Rd. Anson Town is also known as Teluk Intan. It is a town in Perak state in Malaysia.
The former owner of Anson Town was from Teluk Intan, so is the current. Ingrained in their products are their love for Malaysian cuisine and their influences.
Credit: https://foodinlocal.com/anson-town-the-authentic-ipoh-style-cuisines-in-singapore/
Chee Cheong Fun
It is also called the Anson Special. Soft rice roll filled with turnip fillings accompanied with mushroom dried shrimp, then topped off with sesame seed and spring onions, Chee Cheong Fun is one of their best sellers.
Credit: https://cavinteo.blogspot.com/2020/11/anson-town-bistro-serving-malaysian-perak-food-yishun-sembawang-gambas.html
Soya Bean Curd
After a heavy meal, it is best to end it with a dessert. Anson Town offers their own Soya Bean Curd. They have their regular made from soya bean milk curd and topped with syrup. In addition, They also have other toppings such as apple, mango, and other fruit flavours.
Credit: https://www.misstamchiak.com/best-chilled-beancurd-pudding-recipe/
Killiney Kopitiam
Singapore's oldest and still existing cafe has a branch near Anson Road. It is 9 min away via Robinsons' Road. Kopitiam is another word for coffee shop serving. The shop was first known for its coffee and grilled toast, but its menu evolved later on with full meals.
These include curries, rice and other dishes. However, this article will feature their version of kaya toast.
Credit: https://hoodline.com/2021/05/singapore-s-oldest-cafe/
Kaya Toast
Killiney Kopitiam's kaya toast was famous. The main components of a kaya toast are kaya jam, the soft butter on the toast, and the Pullman loaf slice.
Their kaya toast comes in a set of 2 pieces. The texture of their kaya was cross-grain, making it unique among their competitors. Also, Kaya consists of coconut milk, eggs, sugar and pandan flavour.
Credit: http://www.makeyourcaloriescount.com/2013/07/sg-killiney-kopitiam-best-kaya-toast.html
Graffiti Sky Bar
It is inside the Carlton City Hotel, 6 minutes away via Anson Road. So, if you're looking for a place with great food, drinks, and a view, this is for you.
You can see a glimpse of the harbour coastline while enjoying your food and drinks. Their menu includes various types of wines, cocktails, and spirit drinks.
In addition, You can pair these drinks with their bar bites, which are  Salted Egg Cauliflower Poppers and their small plates that include Thai fish cakes, Assorted Sausage Platter, and many more.

Credit: https://www.carltoncity.sg/dining/graffiti-sky-bar
Breakfast Club
If you are looking for a heavy, tasty breakfast but not too heavy for your wallet, then the Breakfast Club is the place for you. It is 17 minutes away from Anson Road via MCE and KPE.
They offer an all-day brunch menu that will please your cravings. The most recommended items are the Breakfast plate, pancake, and french toast.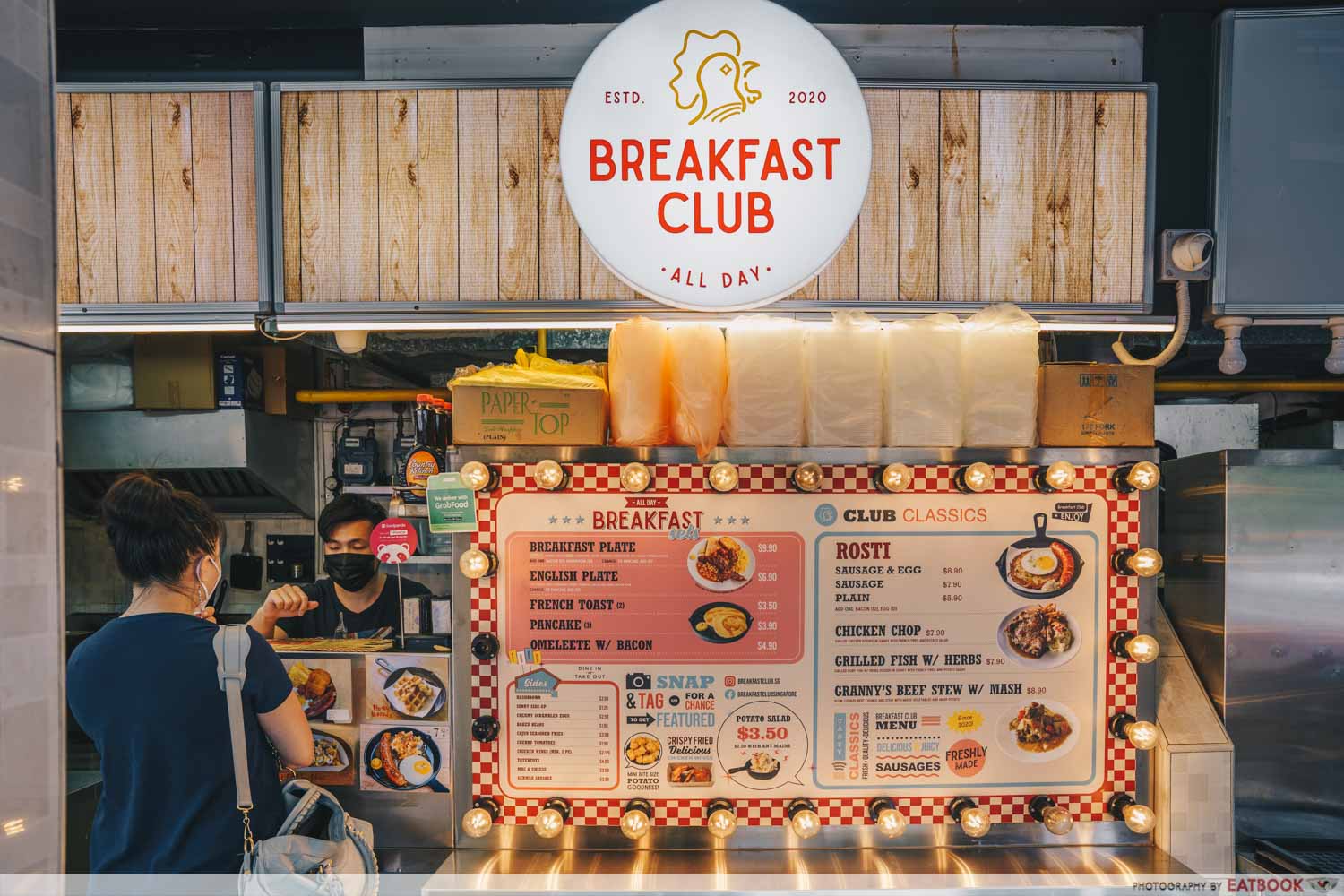 Credit: https://eatbook.sg/the-breakfast-club/
Breakfast Plate
It is scrambled eggs, sausages, tomatoes, beans, and hashbrowns with a slice of French toast. This is the Breakfast Plate.
The plate had a generous amount given, and only for $9.90. Also, It is recommended to add on bacon for a more delectable experience. The well-seasoned meal will get you going back for another serving.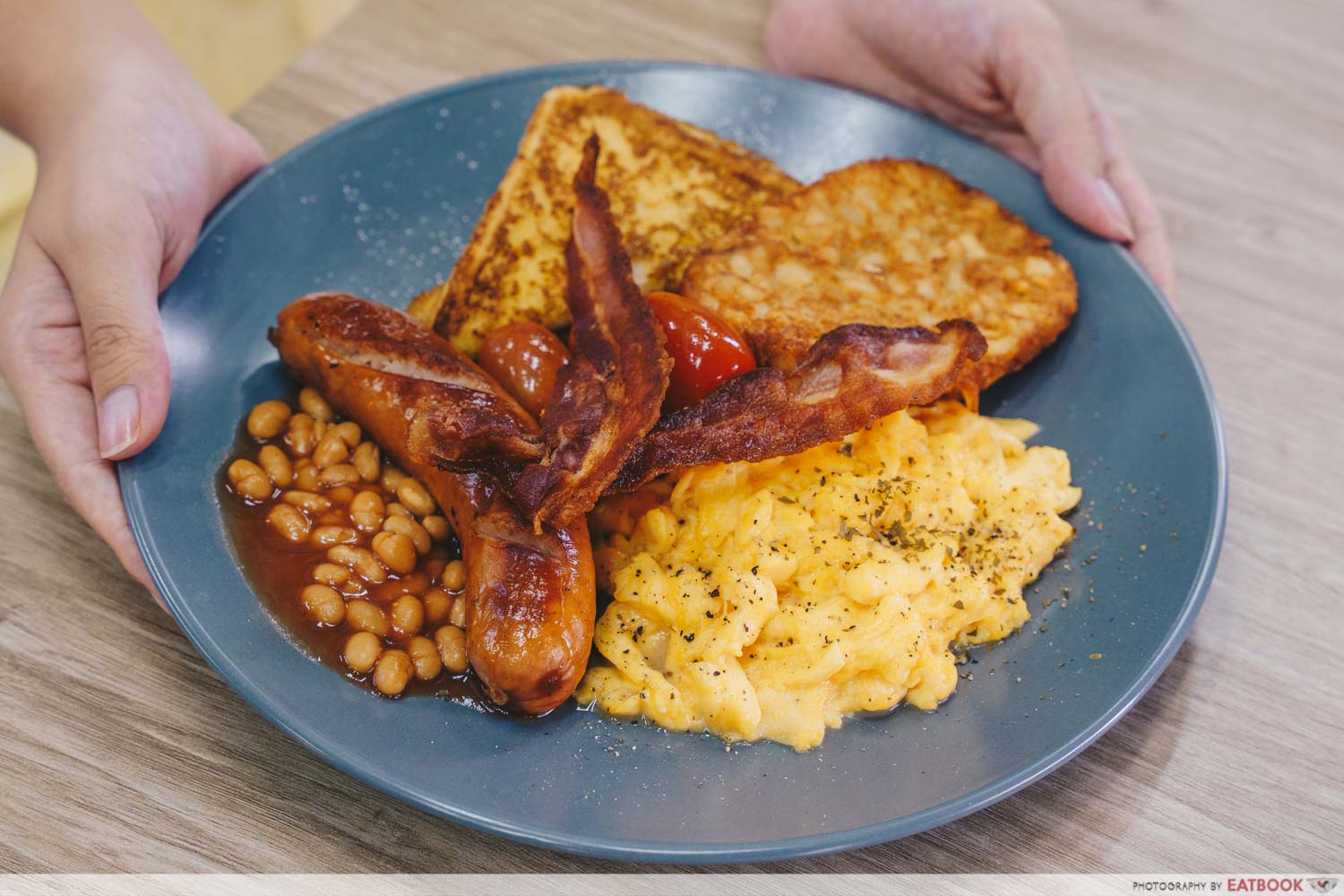 Credit: https://eatbook.sg/the-breakfast-club/
Pancake and French toast
Their pancakes are fresh and fluffy. What makes them unique is the Planta margarine used as a replacement for butter. The sweetness is brought forth by the margarine. Truly, You can expect it in every bite.
French toast made from milk-battered sour bread. Let it soak with maple, and you'll have a wonderful experience. The pancakes cost $3.90, while the French toast cost $3.50.
Credit: https://sethlui.com/breakfast-club-singapore/
Café 2000
Located at 81 Anson Road, it is a place for those who want an eat-all-you-can buffet.  In this section, we will look into their Meat the Seafood Buffet. In addition, they have their Salad Bar, which includes the Apple Waldorf salad with Nuts and Raisin. Soup of the day is available all day.
You should also try their Seafood on Ice. Some examples are the Poached Tiger Prawn, Alaskan Snow Crab, and Pacific White Calm. Australian Angus Sirloin, Crispy Pork Crackling Roll, and Spare ribs are for meat lovers.
There are other dishes such as pasta, seafood barbeque, and chicken satay, and they also have a dessert section where you can have ice cream, praline and a chocolate fountain.
Credit: https://eatigo.com/sg/singapore/en/r/cafe-2000-m-hotel-1527
Hokkaido Sushi
Inside the M Hotel Singapore, a must-visit Japanese restaurant resides. It is also found along Anson Road.
Their menu includes an ala carte menu, a set menu,  and a buffet menu. The set menu includes Kaiseki all day, Sushi sets, and Soba Udon sets. The buffet menu offers noodles, rice, Agemono, Sashimi, and Sushi.
This part will focus on Ikura Chawanmushi. This item is in all three said menus.
Credit: http://fundamentally-flawed.blogspot.com/2016/05/hokkaido-sushi-restaurant-m-hotel.html
Ikura Chawanmushi
One of their signature Ikura Chawanmushi is a steamed egg custard topped with Salmon egg roe. Inside is a mixture of mushrooms, shrimp, and shellfish inside the soft custard.
The amount of soy sauce and dashi stock gives the egg a distinct taste. Along with the Ikura, each bite gives you the ocean taste.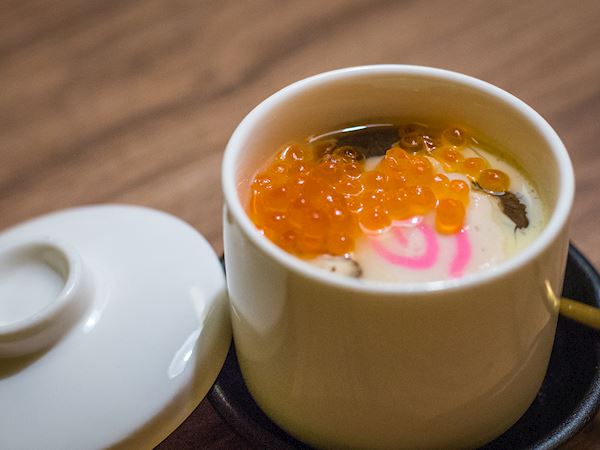 Credit: https://www.tasteatlas.com/ikura-chawanmushi
Jewel Coffee
For coffee lovers, Anson Road doesn't run out of places to go for you. Jewel Coffee is at 442 Orchard Road. Via Zion Road, it might take 15-16 minutes to travel.
Jewel Coffee started its business in 2011 and is still growing now with ten outlets in Singapore. They serve breakfast meals, pastries and cakes, and even squeezed juice, and their hot-seller is their coffee.
Their friendly staff and the service they provide are fast and consistent. The concept of each location differs from one another. You can choose from a lot of their bean variants, which change weekly.
The coffee menu consists of signature, brewed, and coffee beverages. A signature coffee example is the Terminator, which includes four espresso shots. In addition, Latte, Iced Americano, and Affogato are their offered coffee beverages.
Credit: https://www.burpple.com/jewel-coffee
Brothers Ramen
Another Japanese restaurant along what to eat in Anson Road is the International Plaza. Brothers Ramen offer fresh noodles made from scratch. Cai Weili and Cai Weisheng opened the place with a self-service vending machine.
Their noodle broth includes ingredients such as chicken, pork, fish and vegetables. Each assembled ramen has springy noodles and rich broth brought by the spices. The meals came with sides of bean sprouts and mashed potatoes, which made the ramen tastier.
Examples of items on their menu include their signature dishes such as Brothers Ramen, Chicken Ramen, and Belly Ramen. Also, the soup base can be spicy or original.
Brothers Ramen dish has menma, chicken and pork chashu on top of steaming soup and noodles. Slices are whole and melt in your mouth. In addition, You can also add eggs and drink for a complete meal.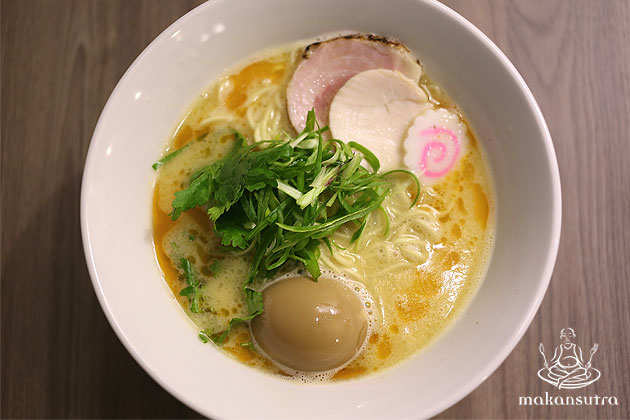 Credit: https://makansutra.com/brothers-ramen-ramen-from-the-heart/
Jade
The last place we have on the list exudes luxuriousness. The Jade welcomes you with a traditional look filled with silk and fine wood. It has 120 seating capacity, but tables have privacy as they are well-spaced from one another.
Expect the high quality of food served here. They have set courses such as Roasted Peking Duck and Lobster Feast. This is a 2-course meal having these many items. It includes Pecking Duck, Steamed Lobster, and Egg noodles with Beef Brisket.
They also have their appetiser, soups, meat menu and their dim sum list. One of which is Bak Kut Teh Xiao Long Bao dim sum.
Credit: Trip Advisor Singapore
Bak Kut Teh Xiao Long Bao
Broth of pork ribs, herbs, spices, and other herbs are infused inside a dumpling skin with minced pork. Due to its richness, Bak Kut Teh soup is often a favourite Malay soup. The moment you rip the soft chewy dim sum, the rich soup overflows to your taste buds.
One basket might not be enough for you! The pepper and garlic sauce will hook you into eating this dim sum.
Credit: https://coconuts.co/singapore/food-drink/yum-cha-combined-bak-kut-teh-xiao-long-bao-national-day/
In Summary
Anson Road is a good place for all food audiences. There is food for everyone to try out among hawker stalls, coffee shops, buffet restaurants, and others. So, you don't have to wonder what to eat on Anson Road.
Anson Road has a history of buildings and landmarks as well as food. However, what we have today might not be there anymore in the future. So let the present meet the future by keeping the food you have grown with you and the new food you now like. 
Explore its historical sceneries and enjoy more of its delicious cuisines without any worries by reaching out to Cash Mart.
With their instant cash loan, you can continue your adventures on what to eat in Anson Road without delay.
Find out more about the loan products that they can provide as your legit money lender.
Related Article: What to Do in Anson Road: Take a Joyful Adventure