Food Adventure: What to Eat in West Coast
Food on West Coast, Singapore is something you should try. People in the area are fond of the different dishes available. Buckle up with a food adventure on what to eat in West Coast. Get a pen and paper and jot down the most favoured restaurant and food stalls locals highly advised. But first, let us get to know more about West Coast, Singapore.
West Coast, Singapore
West Coast is a subzone of the western area of Singapore known as Clementi. Also, it lies in the West Coast GRC.
West Coast came out from the reclaimed land in the 1970s. Nevertheless, it developed into a neighbourhood with a recreational area and industries. The majority of the western region of the West Coast is mainly industrial. As a result, the buildings. Meanwhile, the central part is the location of private housing and a single HDB estate.
With this, entrepreneurs started lining up menus to cater to residents and employees. Because of this, several restaurants and food stalls grew within the area to serve delicious every day.
Find out what fits in your palate as we tackle more about what to eat in West Coast.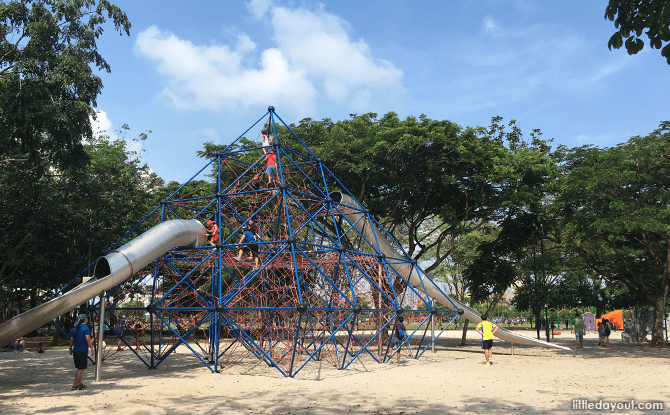 Credit: https://www.littledayout.com/west-coast-park-playground-singapore/
Guide On What To Eat In West Coast
Are you on a food search for the best dish in this part of Singapore? Well, you're in luck since we list what to eat in West Coast.
He Ji Braised Duck
If you're up for delicious roast meat, visit West Coast Market Square. The place is home to this dish because it offers different stalls with long snaking queues. Nevertheless, He Ji Braised Duck is one of the best stalls that serve it.
Duck Rice Set Meal is top-selling in their menu. It comes with braised duck, egg, and tau kwa. The soy sauce-flavoured rice is covered by robust gravy. And it intensifies the plating and taste of the meal.
Kway Chap is another bet of the loyal patrons. It has an intense herbal broth, giving an enticing aroma. Also, every serving has a generous amount of simmered pork belly and intestines. Plus, it has a nice dark sauce that soaks in every bite.
Another best thing about He Ji Braised Druck is their homemade hae bee hiam-based chilli paste. It is an excellent combination of ingredients that gives a taste of watery, slightly sour, spicy, and garlicky. That's why it complements the braised dishes.
Dine at 726 Clementi West Street 2, #01-162, West Coast Market Square, Singapore., 120726
Credit: https://www.misstamchiak.com/he-ji-braised-duck/
Island Penang Kitchen
Island Penang Kitchen is the place to be when hungry while on a tight budget. The menu offers meals without busting your budget.
The number one hit in the place is the Penang Special Hokkien Prawn Noodles. It is a bowl full of juicy prawns, huge scallops, pork ribs, pig trotters, pork belly, and crispy fried lard. Plus, it has a sweet, full-bodied prawn broth. On top of it all, it is perfect for sharing. Every serving has value for money since it is pretty big enough for two.
Penang Assam Laksa is another hot favourite in the restaurant. It is tangy mackerel soup noodles. Meanwhile, Penang Char Kway Teow is the next best thing. It is a spicy stir-fried rice noodle with a bursting wok hei.
On top of it all, you shouldn't miss trying Cendol. It is a coconut milk and palm sugar dessert. So, isn't it a perfect way to cap off your dining experience at Island Penang Kitchen?
Enjoy a sumptuous meal at Blk 721 Clementi West Street 2, #01-126, Singapore, 120721.
Credit: https://www.tripadvisor.com/Restaurant_Review-g294265-d8603888-Reviews-Island_Penang_Cafe-Singapore.html
Dario Pizza & More
Dario Pizza & More is a perfect host for authentic Italian specialities. The restaurant dishes are handmade thin-crust pizzas, plates of pasta, and Italian desserts.
The Classic pizzas come with basic toppings. The delicious taste justifies the price you paid. Also, they serve pizza with fancy toppings like ham, salami, and various types of cheeses. It's pretty pricey but definitely worth your money.
Most diners enjoy the Burratina. It is a fresh creamy ball of burrata cheese served alongside a savoury parma ham and arugula.
Satisfy Italian craving at 6 Clementi Road, Singapore, 129741. Dario takeaways are always a favourite option if you're quite in a hurry for dine-in.
Credit: https://ordinarypatrons.com/2015/05/05/dario-pizza-more-a-new-pizza-place-along-clementi-road/
W39 Bistro & Bakery
W39 Bistro & Bakery is quite a big name for its brunch menu. Also, it offers a suitable drink that matches every fantastic meal. Moreover, it draws people from across the island since it is one of the few hipster cafes.
Savoury French Toast is a flavourful combo of sweet and savoury. The bacon and sausage are on the fluffy, crispy, and eggy brioche. The maple syrup drizzled on top makes you love every bit.
Also, try out the Chef's Specialty Housemade Crab Cakes. Every serving has two pieces of pure, juicy crab meat. Plus, it comes with spring onions and capsicums. Dip it in sambal mayo to add more flavour.
Their outstanding meals are Nasi Lemak with Roasted Chicken Thigh, Chicken Roulade, Ribeye Steak, and Chef's Special Nonya Mee Siam.
Also, W39 is quite famous for its takeaway special. Lazy Couple Dao Pao is an example. It is a perfect meal to enjoy while being too homey.
Have a lovely afternoon brunch at 39 Jalan Mas Puteh, Singapore, 128637. Take your pets with you since the place is a certified pet-friendly shop.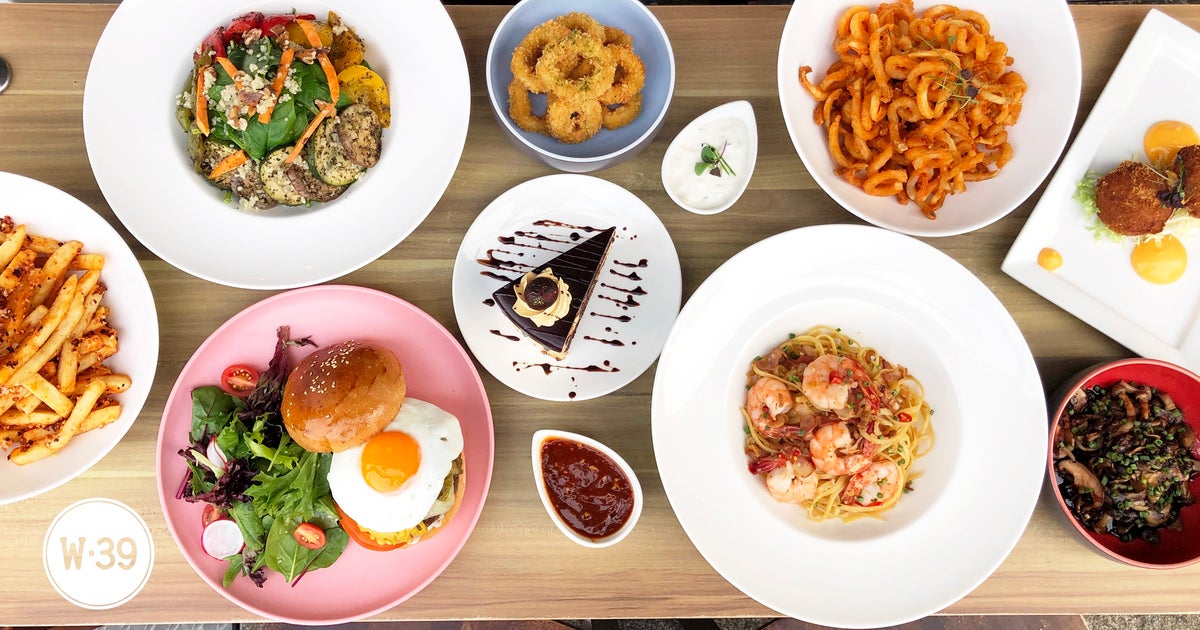 Credit: https://deliveroo.com.sg/menu/singapore/west-coast/w39-bistro-and-bakery?day=today&geohash=w21z3n51pj0r&time=1215
Fu Yuan Handmade Dimsum
Dimsum is a handcrafted food that everybody loves. If you're searching for what to eat in West Coast, Fu Yuan Handmade Dimsum is the best food stall. It is a one-person show who mastered the art of making pau. Nevertheless, every dish is exquisitely flavourful and fulfilling.
The signature Lui Sha Pua is handmade. It is surprisingly soft but hefty. Every bite releases a delightful wave of salted egg yolk sauce. Plus, it is thick and luscious but with powdery bits of the salted egg yolk.
Jo Wo Pau is another best option. It serves as a meal since the stuffings include chicken, mushrooms, and glutinous rice.
Experience a different cuisine at 710 Clementi West Street 2, Singapore, 120710.
Credit: https://www.pinterest.co.uk/pin/233835405639537511/
KEK Keng Eng Kee Seafood
KEK Keng Eng Kee Seafood is a modern outlet. Most of its menu includes wacky burgers and plates of pasta, unlike the ones available at Alexandra Village. Instead, that place serves most traditional zi char fare, such as chilli crab and coffee pork ribs.
Wok-Hei Burgers is a popular dish in the shop. It has a salted egg chicken burger, salted egg sotong or Blurger, and pai gu wang or pork ribs king burger. It looks like the zi char dishes are in between lightly toasted buns. In addition, every order has a side of fries.
Devour delicious burgers at 200 Pandan Gardens, #01-12, Singapore, 609336.
Credit: https://www.tripadvisor.com.ph/Restaurant_Review-g294265-d3359846-Reviews-KENG_ENG_KEE_SEAFOOD-Singapore.html
Ah Hoe Mee Pok
Ms Reina Kuribara is a Japanese head noodle tosser of Ah Hoe Mee Pok. She works hand in hand with her father in preparing mee pok for their customers.
The Signature Mee Pok is Teochew yellow noodles filled with minced meat. It has a subtle chilli paste, a perfect meal for spice-phobes. But if you feel adventurous, you can go for Japanese Fusion Mee Pok. Here, you can choose between shoyu and miso base available in dry and soup versions. Plus, the serving comes with slices of cha shu as well. Also, you can get more meat depending on the price you pay.
Nevertheless, placing an order here means you are willing to wait. The yummy mee pok needs at least 45 minutes in preparation.
Give in to your Japanese craving at Blk 710 Clementi West Street 2, Singapore, 120710.
Credit: https://danielfooddiary.com/2017/02/07/ahhoemeepok/
Daisy's Dream Kitchen
Daisy's Dream Kitchen serves authentic Peranakan food. If you know the movie Crazy Rich Asians, its cast visited the restaurant to try out their meal. The daughter of Daisy, Dim Sum Dolly Selena, is the owner and chef of the place.
Babi Buah Keluak is an iconic and must-try dish. The spice paste or rempah is thick yet smooth with a slightly tangy and earthy taste. The pieces of pork meat are outstandingly fork-tender and melt in your-mouth texture. The buah keluak nuts complete the Peranakan dish. The delightful gravy is spicy yet tangy gravy. Thus, it complements the whole dish.
Aside from their best seller, Black Ink Sotong, Beef Rendang, and Ngoh Hiang are other crowd-favourites you should try.
Splurge into local goodness at 131 Rifle Range Road, #01-01, Singapore, 588396.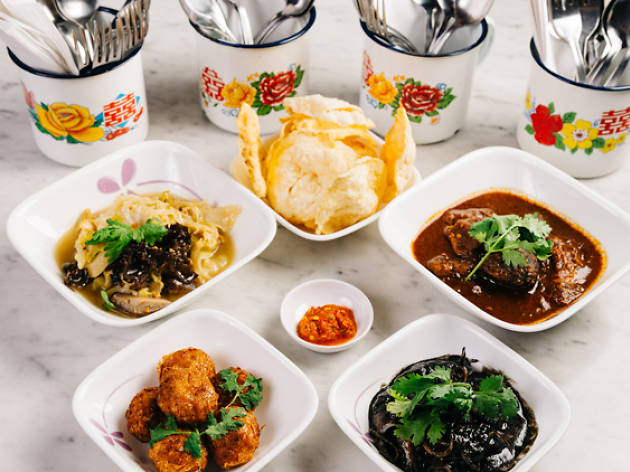 Credit: https://www.timeout.com/singapore/restaurants/daisys-dream-kitchen
Habib's Rojak
Habib's Rojak serves out mouthwatering Indian Rojak. They offer a wide selection of vibrant yellow, orange, and red fritters. Also, the dish includes fish cakes and whole squids. Every component is mixed well. You'll never know what you picked until it is in your mouth.
The Indian Rojak is a mixture of flour and ingredients. Every day, they hand out freshly prepared dishes. Once you place your order, they refry it. So it is warm and crispy on every bite. The dipping sauce takes the Rojak to another level. It has sweetness and spiciness blended perfectly. Try it out and understand why it is a must when looking for what to eat in West Coast.
Get the best Indian rojak fix at 503 West Coast Drive, #01-69, Ayer Rajah Food Centre, Singapore, 139957.

Credit: https://chefquak.com/2017/05/22/good-rojak-so-so-chilli-habibs-rojak-stall-68-on-18may2017/
Birdfolks
Birdfolks serve an all-time favourite dish at any age – fried chicken. The shop offers crispy American-inspired fried chicken but with a twist. Instead of the regular seasonings, it has a flavour of a mix of local spices.
The signature Hot Devil Wings is incredibly spicy chicken wings. You can order six or 12 pieces, depending on how you manage the tongue-tingling taste. It comes with a unique blend of batter filled with white chilli. So it's no surprise that every crispy chicken skin makes your mouth fire.
Birdfolks also caters to burger lovers. The unique Hawa yaki Burger is a crossover between teriyaki and Hawaiian flavours. Two sesame-studded buns have a juicy chunk of teriyaki chicken in between. Plus, it comes with a slice of honeyed pineapple. So it seems like a pizza with pineapple.
Have a magnificent dining experience at 1 West Coast Drive, #01-75, Singapore, 128020.
Credit: https://sethlui.com/birdfolks-asian-style-fried-chicken-singapore/
Ice Cream Frenzy
To cap off your food adventure of what to eat in West Coast, visit Ice Cream Frenzy. It is a hidden gem in West Coast GRC with a 73-year-old owner named Uncle Tom. The cosy ice cream cafe has run for about ten years already. That's why you have to set yourself up for some wild and wacky flavours.
The D24 Durian is a crowd favourite. Although it is not the strongest flavour, it has Durian's intense taste and fragrance. Also, it is creamy and refreshingly cool. It is a perfect dessert to beat the summer heat.
If you're up for something wild, try out their Salted Egg Fish Skin with Caramel. From the name itself, you can figure out what you're about to receive. It is a cold treat with salted egg fish skin and curry leaves for garnishment. It might sound weird, but it surprisingly works well. Each flavour blends perfectly. The savoury notes match well with the sweetness of the creamy caramel.
Taste a different flavour of ice cream at 501 West Coast Drive, #01-250, Singapore, 120501.

Credit: https://www.burpple.com/ice-cream-frenzy/reviews
Cheng's Gourmet Food Bar
Cheng's Gourmet Food Bar is a place suitable for brunch. Also, it is an excellent location for night drinks without background noises and loud music. The restaurant serves fries, craft beer, and wine.
Truffles Scramble is a scrumptious meal. It includes scrambled eggs with a tinge of summer truffles. Steak Frites is a satisfying meal you should try. It features an eight-ounce slab of rib-eye steak. The meat is pan-fried with bearnaise sauce. Also, it has crispy fries on the side which makes it a perfect heart dinner.
For dessert, Cheng's Gourmet serves Gula Melaka Hotcakes. Every dish has one thick hotcake drizzled with gula Melaka syrup. On top of it is a scoop of coconut ice cream. It is an absolute sweet treat after a stressful week of work.
Complete your weekend food adventure at 28 Clementi Road, Singapore, 129754.
Credit: https://www.tripadvisor.com/Restaurant_Review-g294265-d10463873-Reviews-Cheng_s_Gourmet_Food_Bar-Singapore.html
West Coast genuinely caters to all your needs. Aside from employment and housing, it offers a great food adventure. Let this article guide you when looking for what to eat in West Coast.
Figure out what to eat in West Coast. Make sure you enjoy every dish by securing money in your pocket. It is possible with Cash Mart Singapore. It is a licensed money lender in the country that lends out quick cash to those in need.
Indulge into your craving without worrying about your budget. Instead, look for a licensed moneylender like Cash Mart and apply for their online loan.